Amy Schumer Celebrates Getting Vaccinated in Sparkles and a Dirty Joke
Comedian Amy Schumer's signature comedy and style were on display as she arrived at her Covid vaccine appointment looking red-carpet ready. She also entertained the medical team and other recipients delivering some of her signature comedy gold.
Comedian Amy Schumer dazzled in gold sparkles when she got her Covid-19 (coronavirus) vaccine while delivering a joke that is pretty on-brand for her standup.
Husband Chris Fischer drove Schumer to her vaccination appointment as the comedian fist pumped in the car. "This is my 'going to get the vaccine' energy,'" Schumer said in a video she shared on Instagram. She also thanked the medical professionals in New York City for their tireless work and sacrifice. "I want to thank all the brave people in the medical field," she wrote.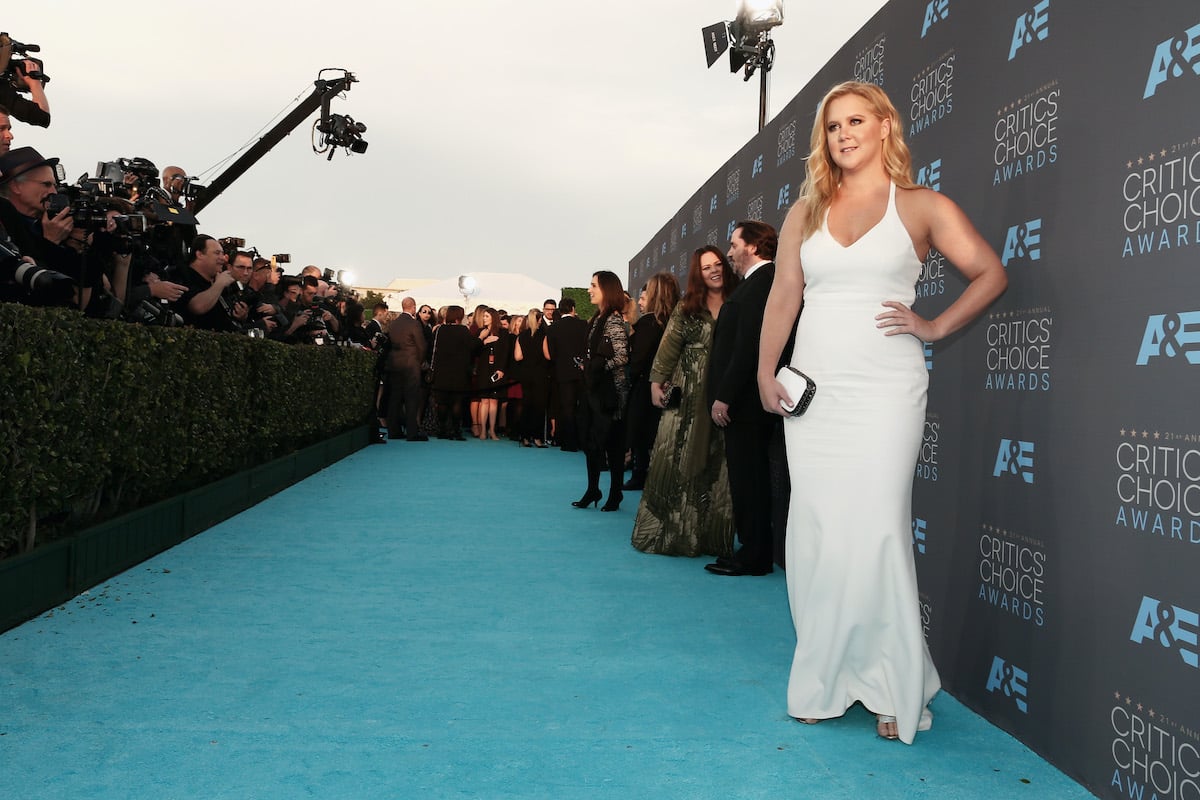 Amy Schumer celebrated by wearing gold and sparkles
When Schumer arrived for her appointment Fischer filmed his wife sitting in a chair at the vaccination site. She's wearing a gold, red-carpet-ready dress, which she partnered with a pair of black leggings and sneakers. The fitted, long-sleeved dress is perfectly designed for Schumer to receive the vaccine. It features stylish cutouts on each arm so she did not have to compromise the design while she received her vaccine. Plus it allowed her to proudly rock her band-aid, post-vaccination.
She suggested that everyone arrive wearing their finest for the vaccine and share a photo. #downtogown if you want to join me and support @pencilsforkidsinc take a pick of yourself getting the vaccine in your best suit or nicest dress," she captioned her video. "Use #downtogown Nice way to show respect to the people working there who understand the enormity of what it is they are doing."
"I just wanted to maybe entertain some of the workers here during our 15 minutes," Schumer said in her video. "I'm sorry if you were going to use this time to meditate." Medical workers ask vaccine recipients to wait in the area for at least 15 minutes post-vaccination so they can be monitored for an allergic reaction.
Amy Schumer got the crowd laughing with her signature humor
"I know some people are scared of getting the vaccine," she continued. "But I was like, I don't care what's in there." Then she joked about not caring where the vaccine was injected, even into her nether regions. Of course, the joke completely landed as someone working at the vaccine site is seen bending over in total laughter.
Schumer closed her eyes tightly when it came time to get her vaccine and flashed the peace sign to the camera. But she didn't flinch and took it like a champ. "That's it?" she said looking surprised. "Oh!"
"I just want to say thank you and I love New York and I love all of you," she said in her video. "And thank you everyone here. We got the vaccine!"
"Thank you heroes," she added to her Instagram post. "You are selfless and your humanity inspires us all. I love you New York and everyone working at this site every #downtogown @guyoseary will donate 5 dollars for each suit or dress to pencils4kids.org thanks guy!"