Amy Schumer's Hilarious Thanksgiving Carrot Has 2020 Written All Over It
Amy Schumer and husband Chris Fischer brought levity to Thanksgiving when Schumer decided to do a rare Instagram live to share the unusual phallic formation of a carrot from their holiday bounty.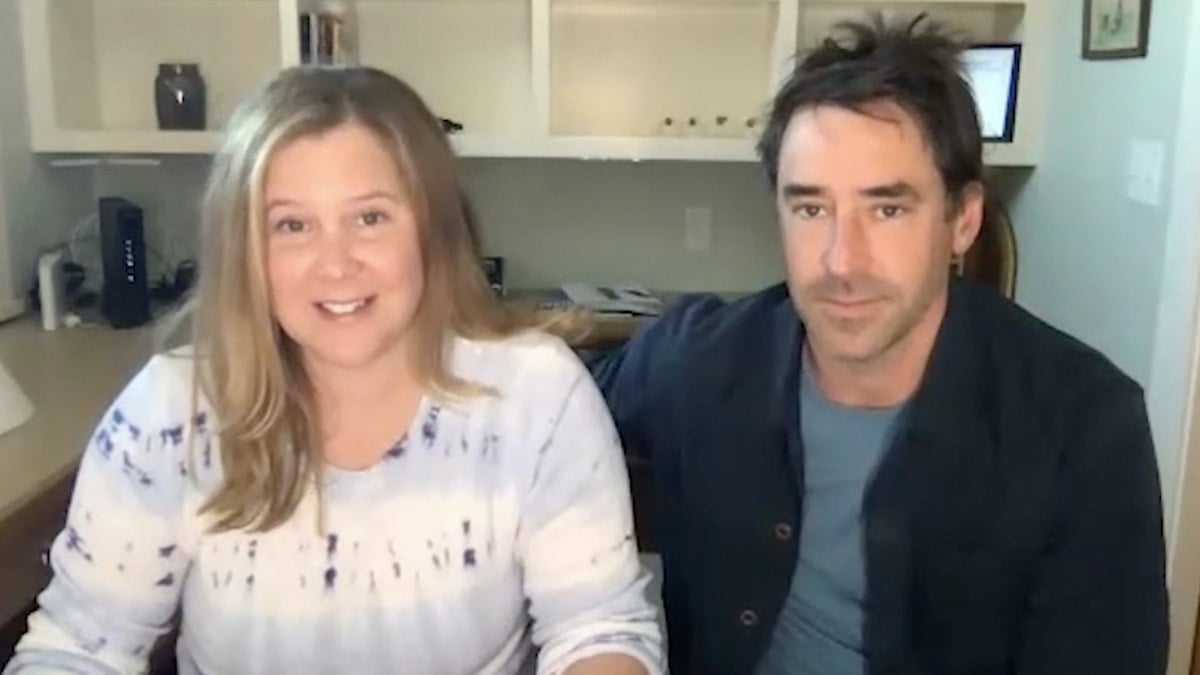 Schumer posted a video of her husband cooking in the kitchen and insisted he showed fans the illustrious carrot. The couple joked about how since Schumer never does an Instagram live, the whole carrot unveiling felt like a big announcement.
"Yeah it's big," Schumer exclaimed and she filmed her husband working in the kitchen. Fischer explained he was just making dinner and Schumer walked into the kitchen after putting their son to bed.
Chris Fischer thought the carrot was funny
Schumer may be the comedian in the family, but Fischer has a great sense of humor too. He told Schumer that he had to show her the carrot he was prepping for dinner. "You said, lemme show you this carrot," Schumer laughed.
Fischer laughed as Schumer narrated the video, preparing fans for the big carrot reveal. "Okay people at home are you ready to see the carrot," Schumer said, building up anticipation. "This is big. Please show the people on this Instagram Live …"
Grinning widely, Fischer walked over and holds up the now infamous, weirdly shaped carrot. "This is the carrot," Schumer remarked still deadpan. "This is an existing carrot." Adding, "This is not a joke carrot." The vegetable appeared to be two carrots fused together at the top with a small carrot peeking down between the two large carrots.
"You can understand why I needed to come on because this is a carrot," Schumer said as the couple laughed.
A great way to get people to eat their vegetables
Fans and friends were happy Schumer and Fischer went "public" with their carrot. A dietitian joked, "As I dietitian I have to say this would get more people to eat their veggies FOR SURE." Another person shared that the reveal was totally worth it. "I was getting impatient with the long buildup, but that was totally worth the wait."
"Get that carrot an @onlyfans account STAT," another person remarked referring to the R-rated nature of the produce. One fan joked about how the couple's carrot may have just replaced the eggplant emoji. "Just a carrot' may be the new eggplant emoji."
The jokes kept coming. "I mean… Is it single??" one person wrote. Followed by someone who wrote, "Please make it your new elf on a shelf HAHAHA."
Of course, fans also begged Schumer and Fischer to return with their hit series, Amy Learns to Cook on the Food Network. Schumer and Fischer's breakout quarantine cooking show became a source of comfort and giggles for fans.
"Chris and I are excited to make this project with Food Network combining our two passions — for Chris it's cooking and for me, eating," Schumer shared in a statement. "With everything going on in the world right now, we are so grateful to be able to share an entertaining and informative experience with viewers."