Amy Winehouse's Nose Piercing Reportedly Got Her Expelled From School
At the age of 16, Amy Winehouse began her journey to becoming one of the world's biggest celebrities. Her undeniable vocal talent garnered attention and landed her a record deal, exposing more people to her iconic jazz and R&B style. Though many of our favorite singers found fame at a young age, it's especially poignant that Winehouse achieved success so quickly. Thanks to her early start, listeners enjoyed over a decade of her incredible performances before her untimely death. 
Winehouse spent much of her youth in the public eye, where fans learned of her penchant for rebellion. But as it turns out, her reputation began before her singing career. In fact, she landed in trouble at school. 
Amy Winehouse was an award-winning jazz vocalist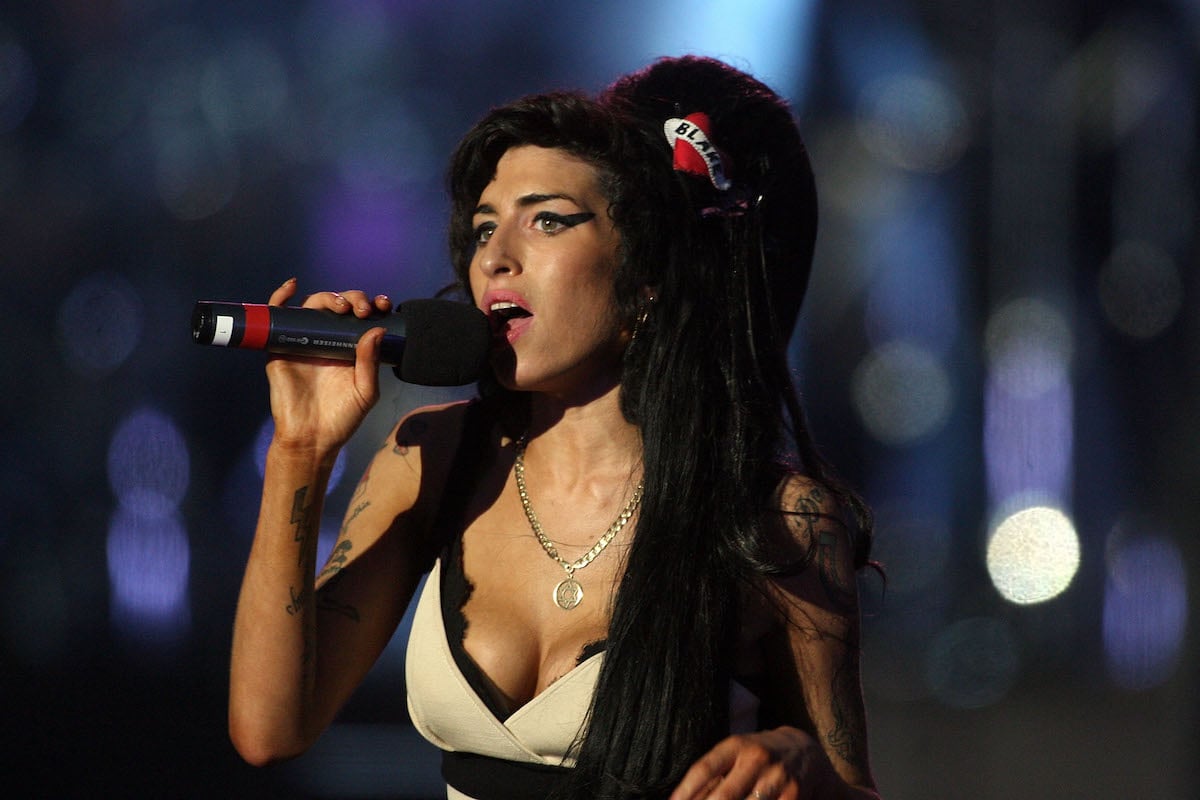 Though Amy Winehouse released only two studio albums during her career, her songs left a great impact on listeners worldwide. Hits like "Back to Black" and "Rehab" earned the singer loyal fans and a slew of Grammy nominations. Winehouse even won a 2008 Grammy for the latter song. And she earned one posthumously in 2012 for "Body & Soul," IMDb reports. 
To this day, Winehouse frequently receives credit for other artists' remixes, samples, and covers. Her contemporaries also often verbally recognize her as a huge inspiration. Citing "honest lyrics and classic reproduction," NPR named the London native one of the 21st century's most influential women musicians.  
But despite her many accolades, Winehouse frequently made headlines for actions beyond her stunning performances. Rolling Stone reported her "remarkable musical achievements were often overshadowed by her tumultuous personal life."
And even before she stepped into the spotlight, observers judged her on her appearance. 
Amy Winehouse's edgy brand began at a young age
Winehouse's parents weren't directly involved in the music business, but distant relatives were popular in the jazz scene. So the art was an integral part of Winehouse's childhood. But beyond the family's genre influence, hip-hop and R&B fascinated Winehouse. She even started her own group at only 10 years old. 
According to Biography, her immense talents didn't go unnoticed. Two years after she founded her rap group, Sweet 'n Sour, Winehouse earned a spot in the Sylvia Young Theatre School, a famously competitive program. There, Winehouse began exploring her skills more seriously and playing her first guitar. However, she was soon at odds with the administration. In fact, four years after her admission, the school expelled her for "'not applying herself' and piercing her nose."
While Winehouse was known to say she was expelled, as she told The Guardian, Sylvia Young stage school has stated it was just a rumor she expelled from the institution, as Spin reported. Still, her time at Sylvia Young wasn't a complete waste. One of her classmates, Tyler James, got Winehouse's demo to a record label. The rest, as they say, is history. 
The singer tragically died in 2011
In 2011, Winehouse's death devasted family, friends, and fans. At just 27 years old, the singer was found dead in her apartment from apparent alcohol poisoning. 
Though journalists and tabloid writers had been built their careers on reporting Winehouse's downward spiral, her untimely death still shocked many. Her legacy has been inextricably linked with her notorious lifestyle and intense marriage to British actor Blake Fielder-Civil, but sources have recently made efforts to shed light on the true Winehouse. The 2015 documentary Amy helped tell her true, multifaceted story in a respectful and nuanced way. 

And more recently, BASE Hologram has been working with the Winehouse family to develop a hologram tour of the late artist. Indeed, Winehouse's spirit and talent will endure for many years to come. 
Editor's note: This article has been updated to include Sylvia Young's account of the story of Amy Winehouse's departure from the school.