An 'Ozark' Season 2 Recap Before You Dive Into Season 3
Ozark is back for season 3, and fans can't wait to dive back into Marty Byrde's (Jason Bateman) complicated criminal life. It's been over a year since the last season aired. So, for those who need a quick refresher, here's a quick recap of Ozark season 2.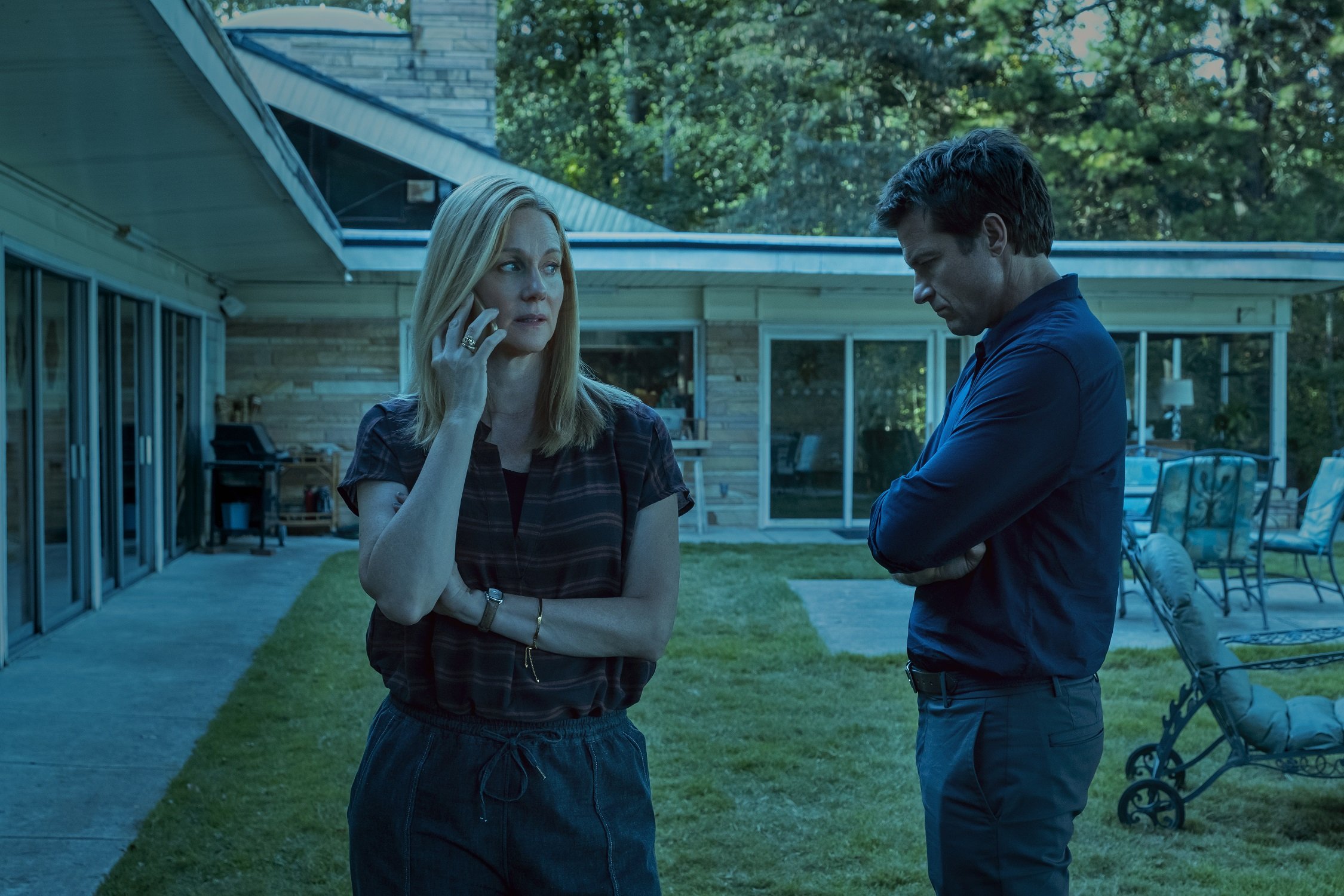 Marty and his family are now Ozark casino owners
In the second season, Marty and Wendy (Laura Linney) pulled together financial and political resources to build a casino. With the Navarro Cartel and the FBI breathing down their throats, they figured the casino would be the perfect way to launder the money without being present.
In order to get the casino built, Marty makes a deal with the Kansas City Mafia to unionize their workers. However, when the cartel causes trouble, Marty has to nix the deal and finds himself on the mafia's hit list. At the end of the season, Marty narrowly escapes the bomb they send to his office.
Before the casino is built, Marty plans to leave the Ozarks as soon as it is up and running. But knowing that they could never really escape the cartel, Wendy decides to stay and embrace her newfound power.
Rachel is dead
Rachel (Jordana Spiro), the owner of The Blue Cat, was struggling throughout season 2 because of the predicament Marty had put her in. FBI Agent Roy Petty (Jason Butler Harner) blackmails her and gives her drugs in exchange for information on Marty.
But some of the drugs she's taking come from the Navarro Cartel. And unbeknownst to her or Agent Petty, those drugs were actually tainted by Darlene Snell (Lisa Emery) in an act of revenge against the cartel. Rachel takes the poisoned drugs, overdoses, and dies in season 2.
Darlene caused a lot of trouble in season 2 of Ozark
Rachel wasn't the only major character to die last season. After agreeing to let Marty build the casino on his land, local drug kingpin Jacob Snell (Peter Mullan) is poisoned and killed by his wife Darlene.
Darlene also kills Pastor Mason's (Michael Mosley) pregnant wife in season 2. Left as a single dad, he struggles to make things work. When he can't take care of his baby Zeke, Child Services takes him away.
Now unhinged, Mason kidnaps Wendy and tells Marty to bring Zeke back to him. When Marty brings the baby to Mason, they get into an alteration, forcing Marty to shoot and kill the pastor. Marty then takes baby Zeke to Darlene, who plans on raising him as her own.
Cade Langmore and Agent Petty were killed
Ruth's father, Cade Langmore (Trevor Long) bashes Agent Petty in the head with a brick and leaves his body in the river. Cade then makes a deal with Wendy to take $500,000 to leave town. However, it turns out to be a setup, and Cade is killed by the Navarro Cartel.
In one of the last scenes in the season 2 finale, Ruth (Julia Garner) is in the coroner's office identifying her father's body. She has proven to be a trustworthy ally for Marty so far. But if she finds out Wendy is responsible for her dad's death, she may have a change of heart.