An Unexpected Visitor Arrives in 'The Good Place'
An unexpected visitor from The Bad Place arrives on the newest episode of 'The Good Place.'
Warning, this article contains spoilers for the newest episode of The Good Place. For weeks, fans of the show have speculated that Michael and Janet were replaced by demons in the first episode of the fourth season. The newest episode, "Tinker, Tailor, Demon, Spy" gives fans of The Good Place an answer to their theory when a mysterious visitor arrives.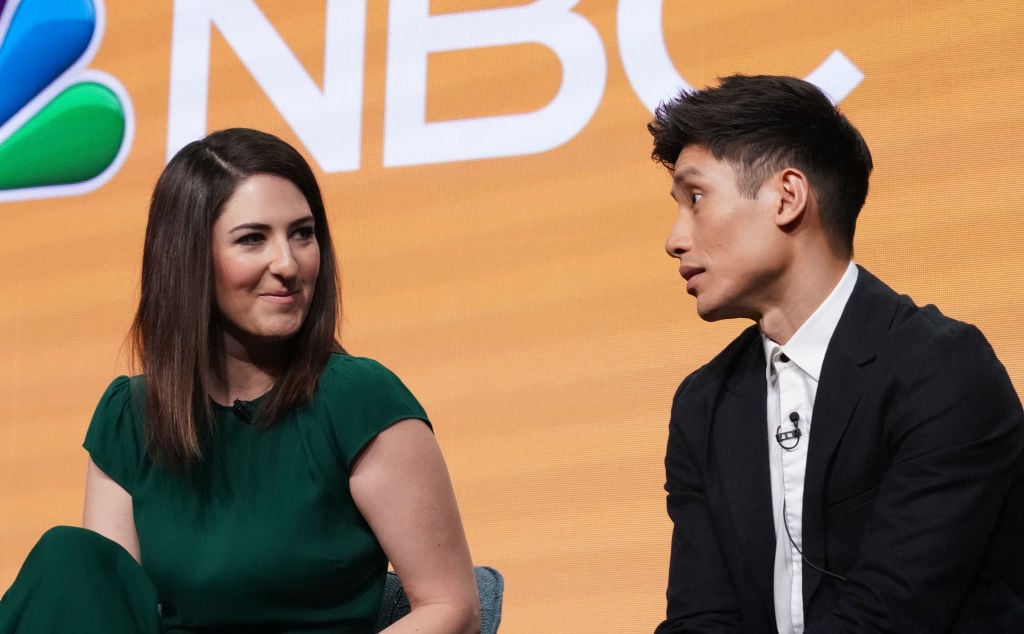 Glenn from The Bad Place is the visitor
After a game of Pictionary goes wrong, Team Cockroach is alerted about an arriving train. Glenn, a demon from The Bad Place, arrives on a handcar. As soon as he greets the group, he tells them that Michael is actually Vicky wearing a Michael suit.
The group takes Glenn back to Mindy's house to interrogate him. Glenn reveals that he helped design a Michael suit and Vicky was intended to wear it. He says that Shawn is mean to him and he believes humans are possibly capable of change so he does not want to torture them anymore.
Michael reveals his lies on 'The Good Place'
Originally, Michael told Eleanor that he faked his panic attack to encourage her to step up as a leader. In reality, he did not tell the group that Shawn told him about the creation of the Michael suit because Shawn's tactic of getting in his head worked. When Michael reveals his lies, Eleanor loses faith in him.
Eleanor and Michael's friendship is a cornerstone of The Good Place. The betrayal Eleanor feels from Michael shakes all of her confidence. When the group asks Michael to simply reveal his demon form, he refuses.
It's a great acting moment from Ted Danson, who tearfully explains to the group what his true demon form looks like. Without his Michael form, he is actually a fire squid. Not only does Michael not want to ruin the experiment by the residents seeing him, he also does not want his friends to see him as a demon.
Jason saves the day and discovers the real impostor
Before the episode aired, fans of The Good Place suspected either Michael or Janet were replaced, or both. When Glenn appears as the visitor, he tells the group that Michael was the one who was replaced. However, fans noticed Janet's odd behavior in past episodes even more so than Michael.
To try and test Glenn, Janet builds a demon lie detector, but ends up blowing up Glenn. Michael explains Glenn isn't dead, and he will slowly reform into a demon over the course of several months. Because he cannot handle his friends not being able to trust him, Michael offers to blow himself up.
Just before Michael goes through with it, Jason leaps up and handcuffs Janet, who immediately turns into Bad Janet. Jason explains that earlier he called Janet "Girl" and she thanked him instead of responding with her typical, "Not a girl" comeback.
Bad Janet explains The Bad Place's plan
While handcuffed, Bad Janet explains The Bad Place's plan. Glenn was right about someone from The Bad Place replacing someone, but was wrong about who. Shawn rebooted a Bad Janet millions of times so she would be capable of impersonating Janet without exploding.
As Eleanor talked with a Bad Janet outside the train, the rebooted Bad Janet marbleized Janet without Michael seeing. Jason decides to go to The Bad Place and retrieve Janet. Michael accompanies him, and the episode ends with the two traveling on the handcar to The Bad Place in disguises.