An Update On a Possible *NSYNC Reunion
With more than 50 million records sold, *NSYNC is one of the biggest boy bands to ever do it. They dominated the charts between the late '90s and early 2000s with their sweet ballads and bubbly pop songs, attracting legions of fans and solidifying their places in music history.
The group would sadly split at the height of their fame and have yet to grace the stage again. But there has been chatter about a potential reunion for years. The rumors resurfaced in recent days, with sources saying the chances of the group getting back together are now at an "all-time peak."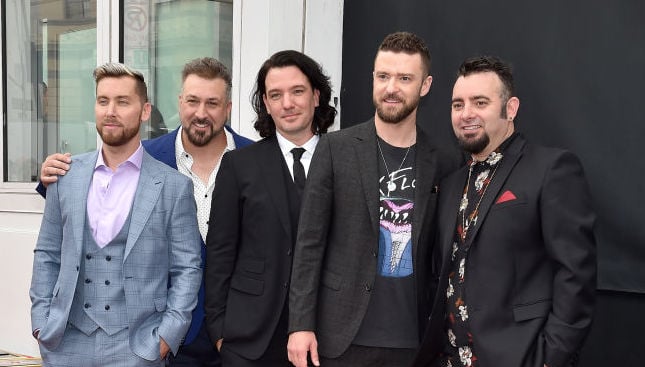 A quick history of *NSYNC
Like a lot of bands at the time, *NSYNC was put together in 1995 by pop impresario Lou Pearlman. Made up of Justin Timberlake, JC Chasez, Lance Bass, Joey Fatone, and Chris Kirkpatrick, the group reportedly got its name due to how great the singers sounded together.
After touring around Europe and making a name for themselves, the group returned to the United States in 1998 and released their self-titled debut album through RCA Records. The album didn't cause much of a stir initially. But after *NSYNC rocked a Disney TV concert special, it blew up and eventually received diamond certification (via PopSugar).
They also made waves with the 1998 holiday album Home for Christmas. But it was 2000's No Strings Attached that launched them to superstardom. Featuring hits such as "It's Gonna Be Me" and "Bye Bye Bye," it topped the charts and later became the best-selling album of the year.
A year later, the group released its final album, Celebrity, which included "Gone," "Pop," and "Just Got Paid." At that point, *NSYNC was on fire and could have easily continued its run. But in 2002, the group went on hiatus.
The band members told The Huffington Post in a series of interviews that they took a break to pursue solo projects under the impression that they would get back together. But it never happened — though some of them did take the stage during Ariana Grande's set at Coachella in April 2019.
Justin Timberlake recently talked about getting the band together again
On March 20, Timberlake appeared on Bass' podcast The Daily Popcast in celebration of the 20th anniversary of No Strings Attached. During the wide-ranging chat, Timberlake mentioned that he is still in touch with the band and said he hopes they can talk more about a potential reunion soon.
His remarks came just days after Bass told Variety that there had already been some discussions about one.
"We've been talking about it," Bass told the outlet in a March 16 report. But he also said: "No plans have been made."
"If there will even be plans, who knows? … I think if we did anything, it would be for the fun of it — the world needs something fun to listen to and I think we could bring some positivity to it. That's what we need right now. It could be something simple to test it out, and if it works, it works and if it doesn't, it doesn't," he continued.
Insiders say there's a good chance the group could get back together
On March 24, a source told HollywoodLife that the possibility of a reunion is now at an "all-time" high.
"Now that the boys have celebrated the 20th Anniversary of their biggest album [No Strings Attached] and since they all recently got together to talk on Lance's podcast [The Daily Popcast] about *NSYNC, thoughts about what could be, what could they do have been at an all-time peak," the insider said.
"Reunion talk for sure got reignited with Ariana [Grande] last year at Coachella," the insider continued. "And now with the anniversary reunion on everyone's mind, they all want to do one more thing. Especially now thanks to the unknown of the coronavirus."
"It kind of has hit them all that they don't know what tomorrow might bring, so once we all get out of this on the other end they all want to really sit down and figure out a single, a show and maybe even a tour for their fans," the source added.
"There has been so many starts and stops and never was chances on it all, but now more than ever they are on the same page and it's looking like they will actually attempt to do something," the source went on before concluding, "They are all very excited."
EEK! So are we. Let's cross our fingers and hope this thing really does come to fruition.
Read more: Justin Timberlake Gives His Fresh Take On the Infamous Denim Outfit He Wore With Britney Spears