An Update On Past 'Housewives of Atlanta'
'Real Housewives of Atlanta' is returning to Bravo for season 12 on November 3. Fans are wondering what's been up with former cast members.
Real Housewives of Atlanta is returning next month for season 12 and fans are eager to find out if Nene Leakes and Cynthia Bailey have reconciled as friends. Viewers will also follow Kandi Burruss' journey to motherhood via surrogacy, the demise of Kenya Moore's marriage, and follow the birth of Eva Marcille's third child. While fans wait in excitement, it's only natural that former cast members who are absent from this season are on everyone's minds. The show has had plenty of housewives along the way. Here's an update on all past peach holders.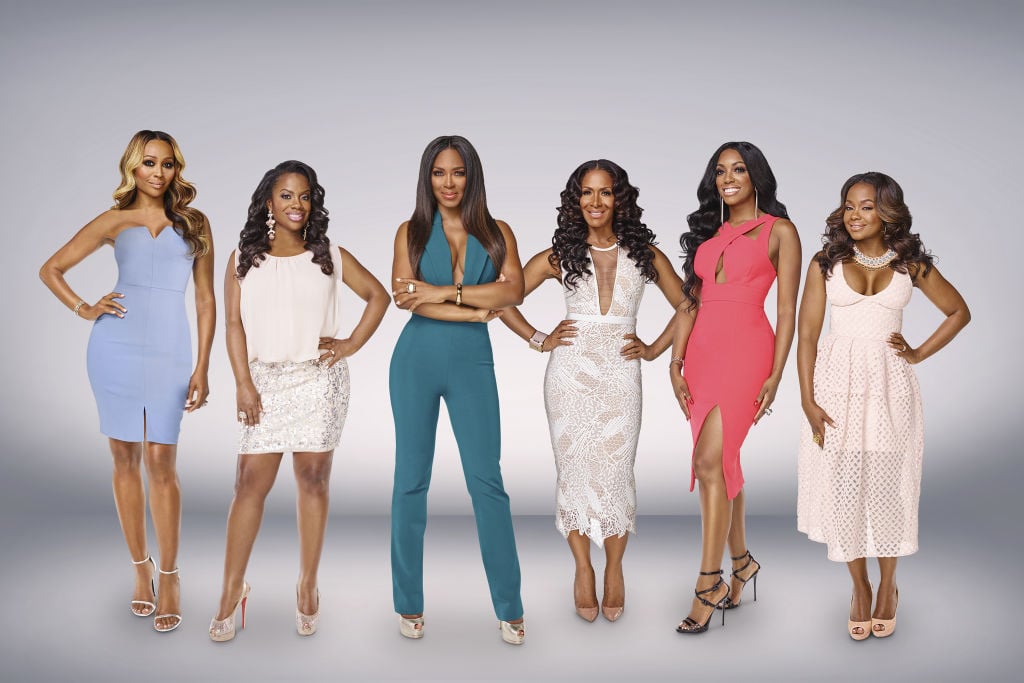 DeShawn Snow
DeShawn was on the inaugural season of RHOA as part of the debut cast. She was the neutral one in the group, steering clear of all of the drama with her storyline focusing primarily on her life as a basketball wife with her husband, former NBA player Eric Snow. The two had been married for over a decade when the show premiered and they shared three young sons. The series showcased the Snows contemplating having another baby, preferably a girl, and DeShawn working with various charities. She was cut from the show and replaced with singer-songwriter, Kandi Burruss, in season 2. Production sources cited DeShawn not bringing enough drama. Thankfully she was cut when she was as just a few months after season one wrapped, news broke that Eric had been in an ongoing affair and the two were divorcing. He later married his mistress and had two children with her while DeShawn focused on rebuilding her life. She shed more than 30 pounds with a modified diet and exercise, released children's books, became a motivational speaker on self-esteem for young girls and women and is currently in talks to return to reality television.
Sheree Whitfield
Sheree was part of RHOA from the beginning. Seasons 1 and 2 chronicled her life as a soon-to-be divorcee who was committed to maintaining the luxurious lifestyle she grew accustomed to as the wife of former NFL star, Bob Whitfield. A former luxury clothing boutique owner, Sheree set her sites on starting her own fashion line, She by Sheree. She was longterm friends with castmates, Nene and Kim, but their friendships took a turn for the worse once filming began. Luckily, she and Kim resolved their issues and are close to this day while she and Nene remain estranged. After dealing with ongoing issues related to her divorce and lack of child support and a difficult co-parenting relationship with Bob, she left the show after season 7. Sheree returned during season 8 and attempted to reconcile with Bob but that soured during season 9. During her final season of the show, she finished the long-awaited construction on her 10,000 square-foot mansion, Chateau Sheree. She opted to not renew her contract after not being offered her desired salary after season 10 ended. Sheree continues to work her fashion line. She rebranded She by Sheree as a fitness apparel line to coincide with her life of exercise.
Lisa Wu
Lisa was introduced in season 1 as the spunky wife of NFL star, Ed Hartwell. The two were parents to a young son and she also shared two sons with her ex, singer Keith Sweat. The show primarily focused on Lisa's life as a wife, mother, and businesswoman. She was the owner of several boutiques and jewelry lines, and she worked in real estate alongside her husband selling real estate to celebrities in the Atlanta area. Lisa left RHOA after the second season and she and Ed subsequently divorced. She later remerged on the TV One reality series, Hollywood Divas, where she and other actresses worked to reclaim roles in Hollywood. She was open about the discrimination reality stars face from casting directors during her time on the show. 
Kim Zolciak-Biermann
Kim was a fan favorite of RHOA. She joined in season 1 as the only white cast member but did not let race affect her. Mother of two girls, she was in a longterm relationship with a man she referred to as "Big Papa" who funded her lavish lifestyle. After falling out with Nene, it was revealed that "Big Papa" was legally married. She continued to date him for a few seasons before meeting her now-husband, former NFL star Kroy Bierman. Much of her storyline focused on her tumultuous relationship with Nene and the demise of her once-close friendship with Kandi after Kim recorded and performed a song penned by the singer. Kim and Kroy went on to have two children during their time on the show and she left the after season 5 to focus on family. They married in 2011 later welcomed a set of twins, making them a full family of 8. She returned to the show as a full-time housewife for season 10 but quit once and for all after a tough season combatting accusations of being a racist from her cast members.
Claudia Jordan
Claudia joined as a "friend to the show" in season 7. Newly relocated to Atlanta, she worked on comedian Rickey Smiley's morning show, an extension of castmate Porsha's job on the television side. Claudia worked to build a friendship with Porsha but was met with resistance due to Claudia's close relationship with Kenya, who Porsha was not fond of. The two battled it out the entire season. The drama extended beyond Porsha and Claudia soon found herself in hot water with Nene and had a tense relationship with Phaedra, leaving a huge divide between the cast. They all made amends during the reunion show but Claudia did not make a good enough impression to be asked to return for season 8. She was soon fired from her radio gig as well after clashing with Smiley. Claudia went on to participate in the TV One reality show, The Next 15, that documented reality stars who had horrible experiences on their respective shows vying for a second chance. She now is co-host of a popular radio show in Dallas.
Demetria McKinney
Demetria joined alongside Claudia in season 7 and worked to document her life as an actress transitioning into a singing career but that was cut short when the cast grilled her on her longterm relationship with beau, producer Roger Bob. Things came to a head when a friend of the group accused Roger of cheating on Demetria. She also had an ongoing feud with Phaedra. Demetria did not participate in the RHOA reunion and did not return for another season. She's currently touring as part of the cast for the stage play, Set It Off.
Kim Fields
Actress Kim Fields joined the show in season 8, hoping to bring something new to the table. She did not quite fit in with the cast and was accused of being judgemental towards the rest of the group. Tensions escalated between her and Kenya after a fallout over a career opportunity that caused them to argue the entire season. Out of all of the cast, she was closet to Phaedra and the two connected based on their shared motherhood experiences. Kim struggled to find her footing with the group and often left group functions, opting to spend time with her husband and two sons. She left the show after one season as she felt it was not a good fit. Kim returned to acting, directing and producing, working on shows like Greenleaf on OWN and Insecure. She also competed on Dancing With the Stars. Kim also released an autobiography. 
Phaedra Parks
Everybody knows that Phaedra Parks was RHOA viewers' favorite southern belle. Known for her wit, snappy one-liners, love for over the top parties and her bragging of her educational and career achievements. She joined the show in season 3, pregnant with her first child by her new husband, Apollo Nida. With the exception of Kandi, her castmates did not take to her. She was accused of living a fraudulent lifestyle and putting on for show to make up for the fact that her husband was an ex-con. A lawyer by trade, Phaedra switched gears and earned her degree in mortuary science with dreams of opening up a funeral home. Despite her success professionally, her personal life struggled. Her marriage to Apollo began to crumble, beginning with his flirtatious relationship with Kenya, causing the two co-stars to become enemies. Apollo was later convicted of wire fraud and sentenced to eight years in prison, causing Phaedra to file for divorce. She and Kandi's relationship took a hit after Phaedra felt her BFF did not support her during her tough time. Phaedra was fired after stirring up rumors about Kandi in season 9. She's been focused on charitable work and raising her and Apollo's two sons and is in a new relationship that will be documented on the upcoming season of WeTV's, Marriage Bootcamp.
Shamari DeVoe
Shamari joined in season 11. Her storyline focused on her life as a new mom of twin boys, her marriage with New Edition member, Ronnie DeVoe, and her eagerness to return to the music industry. Shamari was the fun one out of the bunch, always down for a party. Though small in size, she had the courage of a pitbull and did not back down from any fight, which was apparent during her many arguments with "friend to the show," Marlo. Though she was a fan favorite, she decided not to return for season 12 and focused instead on supporting her husband as he toured and reunited with her girl group, Blaque. 
Season 12 of RHOA begins November 3.