'And Just Like That…': Is Miranda's Big Mistake a Callback to Carrie's Terrible Moment as a Friend?
Miranda Hobbes (Cynthia Nixon) makes a bad moves as a friend on 'And Just Like That...' which is similar to a 'Sex and the City' episode.
Sex and the City showed the main characters weren't always good friends with each other. And Just Like That… keeps that the same, and Miranda Hobbes' (Cynthia Nixon) latest mistake might be a callback to one of Carrie Bradshaw's (Sarah Jessica Parker) terrible moments.
[Spoiler alert: Spoilers for the episode "Tragically Hip" of And Just Like That…!]
Miranda lets down Carrie on 'And Just Like That…'
"Tragically Hip" showed Carrie complaining about having a bad back. She later finds out she needs surgery on her hip. 
Miranda later goes back to Carrie's apartment to help with her recovery. However, Che Diaz (Sara Ramirez) comes over, and they do a shot together and smoke weed. They started having sex, and it woke Carrie up. Carrie needed to go to the bathroom, but Miranda didn't hear her. Carrie peed in a bottle and later yelled at Miranda.
"You said you would be here for me, and you weren't," Carrie said. "I was alone peeing in a diet peach Snapple bottle." Miranda apologized and said she had too much to drink. Miranda later revealed that she's unhappy with her life. This situation is very similar to a previous episode.
Was the mistake a callback to Carrie's terrible moment in 'Sex and the City'?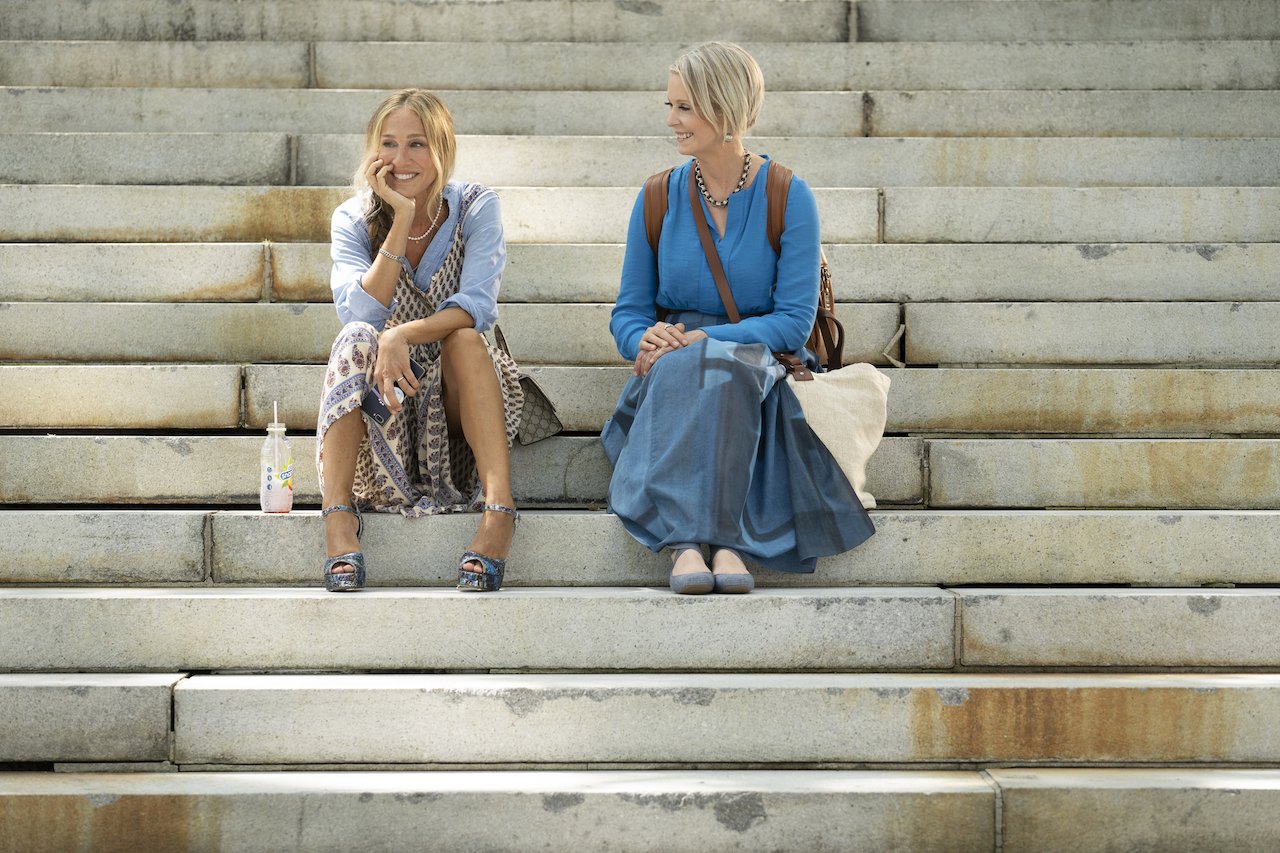 "Time and Punishment" shows Carrie and Aidan Shaw (John Corbett) back together after she had an affair with Big (Chris Noth). But things are awkward between them, and Carrie can't stop talking about it. Miranda later hurts her neck after getting out of the shower. She calls Carrie to come over and help her. 
But Carrie already had a meeting to go to, so Aidan offered to go and check on Miranda. He later finds Miranda naked on the floor of her bathroom. Aidan helps her, but this leads to a big fight when Carrie goes to Miranda's home the next day with bagels.
"You are bullsh*t!" Miranda said. "You and your bullsh*t 'cheer me up, bagel.' They're just a decoy, so you could talk about Aidan, look! You didn't even bring cream cheese." 
The lawyer later adds, "It's bad enough you send your boyfriend to help me when I call you. But now, the bullsh*t bagels." Miranda pointed out that she would never send her boyfriend to help Carrie if she fell. Carrie then apologized.
Where will Miranda and Carrie's friendship go from here?
Chances are Miranda and Carrie's friendship is safe. The episode ended with Miranda realizing she should stop drinking. Time also passed by three months to where Carrie fully recovered from her surgery.
Fans didn't get to see whether Miranda stopped drinking or if she told Steve Brady (David Eigenberg) about her cheating. Hopefully, the next episode will answer those big questions.