'And Just Like That …' Mr. Big Chris Noth and Andy Cohen Recreate 2016 Kiss – Their Second Joke Kiss!
Chris Noth from 'Sex and the City' and 'And Just Like That ...' and Bravo's Andy Cohen recreated their 2016 'WWHL' Clubhouse kiss during their appearance on SiriusXM Radio Andy Annual Holiday Hangout.
Chris Noth who played Mr. Big in Sex and the City's HBO revival And Just Like That … jokingly planted a kiss on Andy Cohen – but that wasn't their first time in a prank liplock. In fact, they may have been recreating a hilarious moment they shared when Noth appeared on Cohen's talk show in 2016.
Noth recently appeared alongside Cohen on SiriusXM's Radio Andy Annual Holiday Hangout in New York City, which is when he and Cohen gave the audience something to laugh about.
Chris Noth and Andy Cohen share a hand over mouth kiss
Cohen shared a photo of the moment on Instagram. "Kissed by Mr. Big last night!" he exclaimed. "Listen to the @radioandysxm Holiday Hangout on Demand on the @siriusxm app!"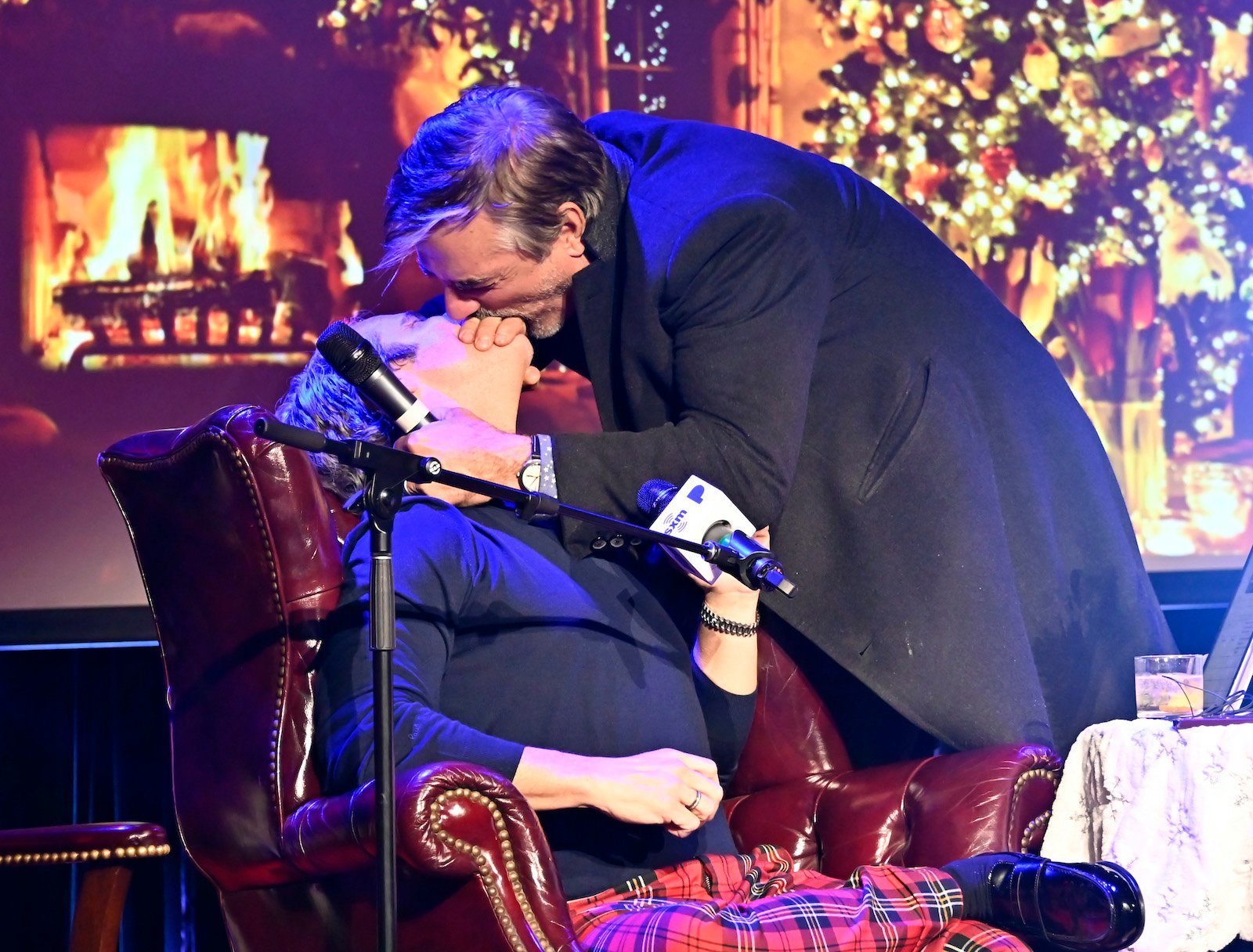 Friend Amy Sedaris commented, "You two." Close friend Bruce Bozzi added, "Epic." Of course, the post was filled with comments about Mr. Big's fate during the first episode. "BIG!!!!! I'm still recovering from the first episode but this is helping!" Katie Maloney-Schwartz from Vanderpump Rules commented.
Earlier that night, Cohen shared a video on his Instagram story hanging out with Noth having a great time and having a few drinks.
They recreated a 'Sex and the City' scene – and another joke kiss
Noth appeared on Cohen's Bravo talk show Watch What Happens Live with Andy Cohen in 2016, which was when Cohen and Noth recreated a scene from the series. "As you may know, Sarah Jessica Parker is my homegirl and is a huge fan of SJP and Sex and the City," Cohen said. "I always kinda wondered what it would be like to be Carrie Bradshaw."
Cohen was in luck because Noth was his guest that evening. "Tonight, I finally get my chance," he continued. "Here's what, Chris Noth please indulge me in an epic Clubhouse Playhouse as we reenact Carrie and Big's season 6 fight right before she leaves for Paris." Cohen added a brunette wig as the audience giggled. "Yes, she had brown hair then," he joked.
Noth laughed, "I get it. I'll try."
Cohen and Noth execute the scene with passion but added a bit of an impromptu ending. "Big" caresses "Carrie's" face. "I'm coming to Paris to get you," Big said to Carrie and then … Noth came in for the hand-over-mouth kiss as the audience went wild.
Andy Cohen is a longtime friend and fan of 'Sex and the City'
In addition to being Sarah Jessica Parker's close friend, Cohen is a big fan of the show. He was such a big fan, he managed to score a few small roles in the original series. "You may know that I was a Barney's shoe salesman in the last season of #SATC but were you aware I appeared in Season 4 (I think) shirtless in a gay bar standing next to Carrie Bradshaw? (Sounds about right!!) The shot is cut out of the TV version and now only lives on DVD & Amazon," he shared on Instagram in 2018.
Cohen recalled on WWHL when Parker was the guest that he originally auditioned for Mario Cantone's role on the show. "Michael Patrick King for some reason was like, 'Come in and read' for, I think the part that wound up going to Mario Cantone!" he recalled.
"He's the party planner which was a huge part," Cohen added. "I don't think the expectation was for it to wind up being such a huge part. But Mario is so great that they were probably like, 'OK, we have to …"