Anderson Cooper Spilled Why The Kardashians Were Banned From His Show
Anderson Cooper is known around the globe for his compassionate coverage of a wide variety of news topics.
Cooper never fails to deliver accurate reports regarding politics, social issues, and natural disasters. He has traveled to war-torn countries and areas ravaged by monstrous storms. He covers issues close-to-home as well, always reporting with genuine empathy for the subjects of his stories. 
Cooper's daytime talk show, Anderson Live, welcomes many guests from all kinds of backgrounds. Even some of the Kardashian clan has stopped by the set of Anderson Live–it's also possible that Cooper banned them from ever coming back.
Who is Anderson Cooper?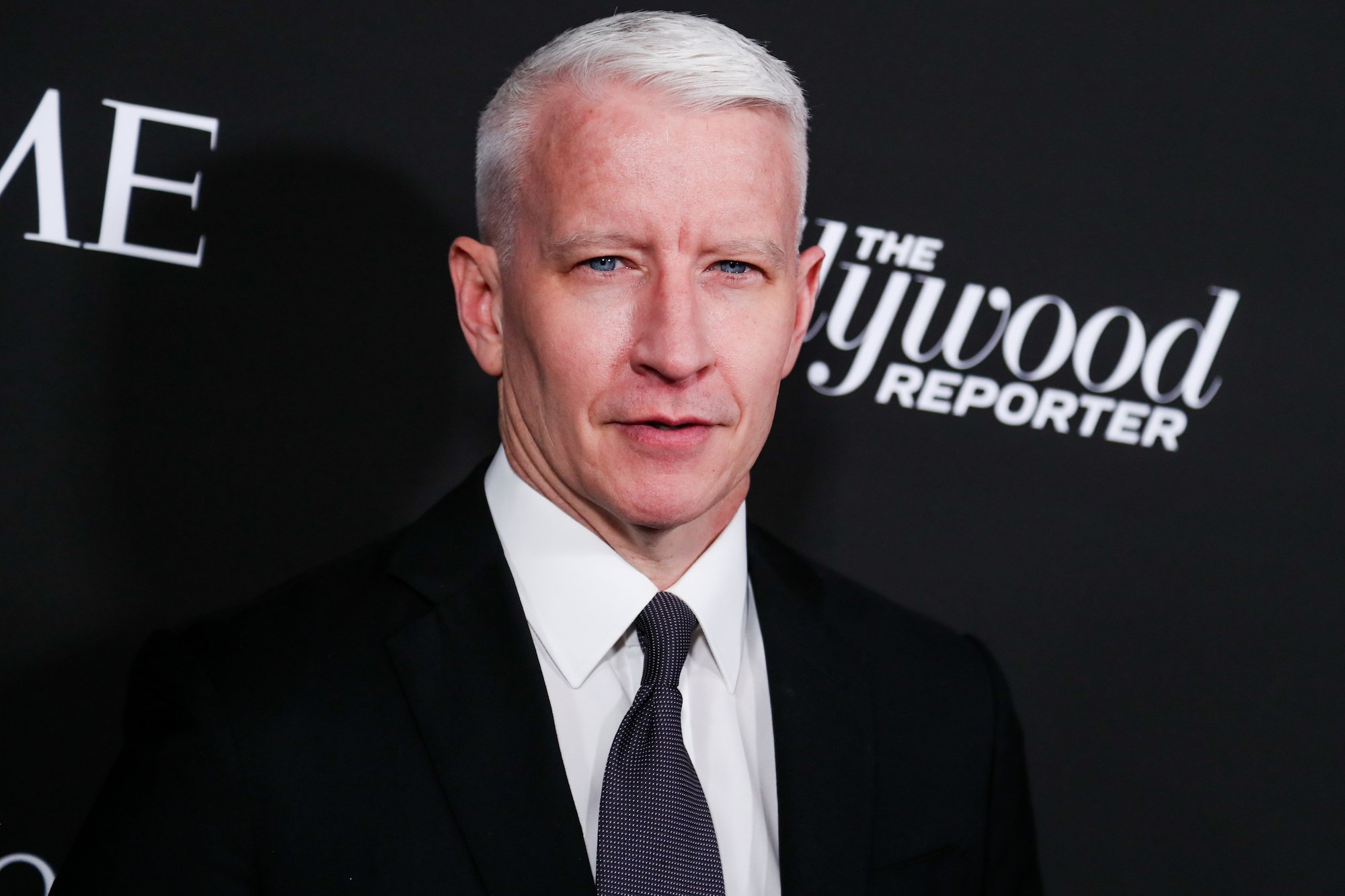 Anderson Cooper is known for his work in journalism, and widely recognized as an anchor for CNN. The incredibly talented journalist is the son of Gloria Vanderbilt and Wyatt Emory Cooper.
Cooper earned a B.A. in political science from Yale, and began working in his field as a fact-checker for Channel One News. His self-produced coverage of political turmoil in Myanmar secured Cooper a job as the news program's chief international correspondent.
In 1994, Cooper became a reporter with ABC. He worked as an anchor on World News Now before hosting the reality show The Mole. In 2001, he made the move to CNN, and by 2003, he had his own show, Anderson Cooper 360°. In 2005, Cooper traveled to the devastated U.S. Gulf Coast region to cover the aftermath of Hurricane Katrina.
Anderson has continued to work for CNN while contributing to other news programs, including 60 Minutes. He had his own daytime talk show, Anderson Live, and in 2006 his memoir, Dispatches from the Edge, became a bestseller. He continues to investigate and bring us detailed reports of issues that are important to people all around the world, from social injustices to pandemics.
What was his show about?
RELATED: Anderson Cooper Shares Touching Tribute About His Mom Gloria Vanderbilt After Her Death
Related post url: 
Anderson Live ran for two seasons, but couldn't seem to compete with other, more popular talk shows. It's rather strange, because Cooper has a large fan base and charming, intellectual personality that people generally love. When the show entered its second season, it attempted to bolster ratings by updating the set and filming live.
For whatever reason, the show failed to secure the necessary ratings to continue. Some feel its lackluster performance was due to the fact that audiences are used to seeing Cooper reporting on hard-hitting issues. The investigative journalist's talents seemed wasted on fluff pieces like celebrity news and recipes.
Another reason for the show's poor ratings may have been the guests or the fact that Cooper's daytime audience was a whole different crowd than his usual prime time viewers. 
Why were the Kardashians banned?
Although Anderson Live was cancelled after just two seasons, the celebrated journalist has plenty of exposure in other shows. His series, Anderson Cooper 360°, is still going strong.
Cooper welcomes plenty of guest stars to the news show, including celebrities like George Clooney, Jeff Corwin, and Angelina Jolie. Guests often discuss special projects they are working on, and the effects these projects are having on society or the environment. 
As you can imagine, Cooper has met numerous celebrities during his time as a journalist. He has admired some and supported their endeavors wholeheartedly, while others have undoubtedly left a bad taste in his mouth. In fact, he went so far as to ban one entire family from ever appearing on one of his shows again, according to HuffPost. 
Cooper apparently has no love for the Kardashian clan, a family that much of the world obsesses over. In a 2012 episode of Watch What Happens Live With Andy Cohen, Cooper took part in the game "Plead the Fifth." When he was forced to answer the question "who is one guest you would ban from your show forever?", Cooper went the extra mile and chose a whole family–the Kardashians.
It wasn't the only time Cooper expressed his disdain for the popular family, per Heavy.
On an episode of Anderson Live, he referred to the renewal of Keeping Up With the Kardashians as "depressing." His disgust for the amount of money the family makes was apparent, "What made me really depressed is they're going to get $40 million for the three years."
The Kardashians probably don't mind the ban all that much, as they have plenty of exposure elsewhere.