Is Andre Braugher Leaving 'Brooklyn Nine-Nine'?
Actors come and go from TV shows all the time. Sometimes, they get big announcements, and other times, it's a bit more subtle. When Chelsea Peretti left Brooklyn Nine-Nine, fans of the comedy were pretty bummed out, as this is a series that relies heavily on its comedic cast. Now, we're worried — could another cast member be on their way out? Here's what we know.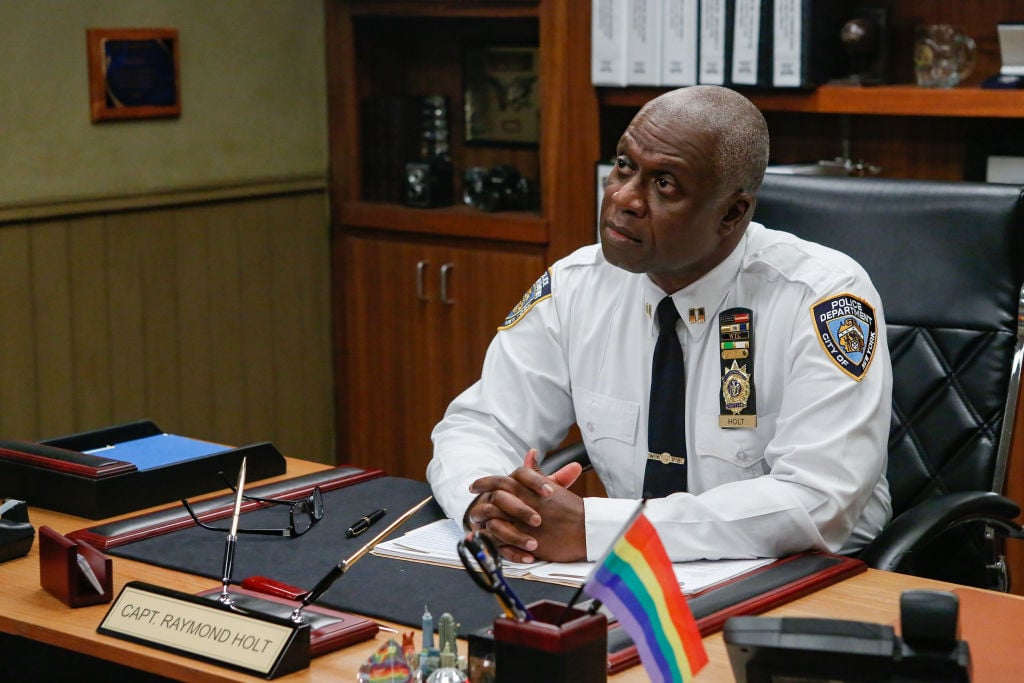 Andre Braugher stars as Captain Raymond Holt

Brooklyn Nine-Nine began when the 99th precinct was appointed a new captain. Enter Raymond Holt, a serious, no-nonsense leader who had made waves as the first gay, black man in the NYPD to achieve his ranking. It took a little time, but now, the core group wouldn't make sense without him.

Braugher is an accomplished actor. He's perhaps best known for portraying another cop, Frank Pembleton, on the '90s procedural Homicide: Life on the Street, for which he earned an Emmy. In addition to playing a member of the police force, Braugher has also been cast as a doctor multiple times; you may recall his appearances on House.

Braugher recently joined Twitter

Many of the stars of Brooklyn Nine-Nine are active on social media. After all, the show was at least partially saved from its Fox cancellation by fans (including Lin-Manuel Miranda) on Twitter. Up until this year, Braugher was not one of them, but he changed his mind this season.

Braugher joined Twitter on February 26, the day before Brooklyn was picked up for a seventh season on NBC. For his first tweet, Braugher posted a video in which he was, essentially, in character. While wearing his Holt uniform and sitting on the couch in his character's office set, he said, "Hi, it's me, Andre Braugher. I'm here." Classic to-the-point Holt.

The actor live-tweeted the Season 6 finale

Braugher has certainly embraced Twitter, especially when it comes to promoting Brooklyn Nine-Nine. In fact, he's taken to live-tweeting each episode that has aired since he joined. Sometimes, it's just a few little comments. But most of the time, Braugher really gets into the live-tweeting spirit, even posting little polls for his followers.

The hour-long Season 6 finale was no different. Braugher seemed to have an excellent time live-tweeting, adding in plenty of gifs and tagging his co-stars. The episode ended (small spoiler alert) with Holt taking a giant step back in his career and becoming a patrolman once again, in order to help Terry stay on as Lieutenant. At the end of the episode, Braugher tweeted the above message, which may have sounded a bit ominous to some viewers.

Is Braugher leaving the show?

Fortunately, there's no reason to believe this is the end of Holt's arc on Brooklyn Nine-Nine. If anything, it actually offers up intriguing new situations, as he and his co-workers adjust to his lower-ranking. As for the tweet, there's a simple explanation: Braugher was signing off for the seasons, Raymond Holt style.

In the finale, we're reminded that Holt signs all of his text messages "Sincerely, Raymond Holt." Braugher was clearly just imitating this with his own tweet. So though we'll have to wait a while, it seems as though we'll be getting more Braugher live-tweets when Brooklyn Season 7 returns (hopefully in the fall).