Andrew Garfield Stole 1 Technique from Lin-Manuel Miranda for 'Tick, Tick…Boom!'
Andrew Garfield copied a technique from Lin-Manuel Miranda for his role in 'Tick, Tick...Boom!'.
Lin-Manuel Miranda has plenty of experience when it comes to writing musicals and coming up with song lyrics. He has been incredibly successful within his career so far with In the Heights and Hamilton, along with Disney films including Moana and Encanto. While Andrew Garfield played the lead in Tick, Tick…Boom!, Miranda gave him plenty of tips to help with his performance. 
Lin-Manuel Miranda used his experience to help Andrew Garfield in 'Tick, Tick…Boom!'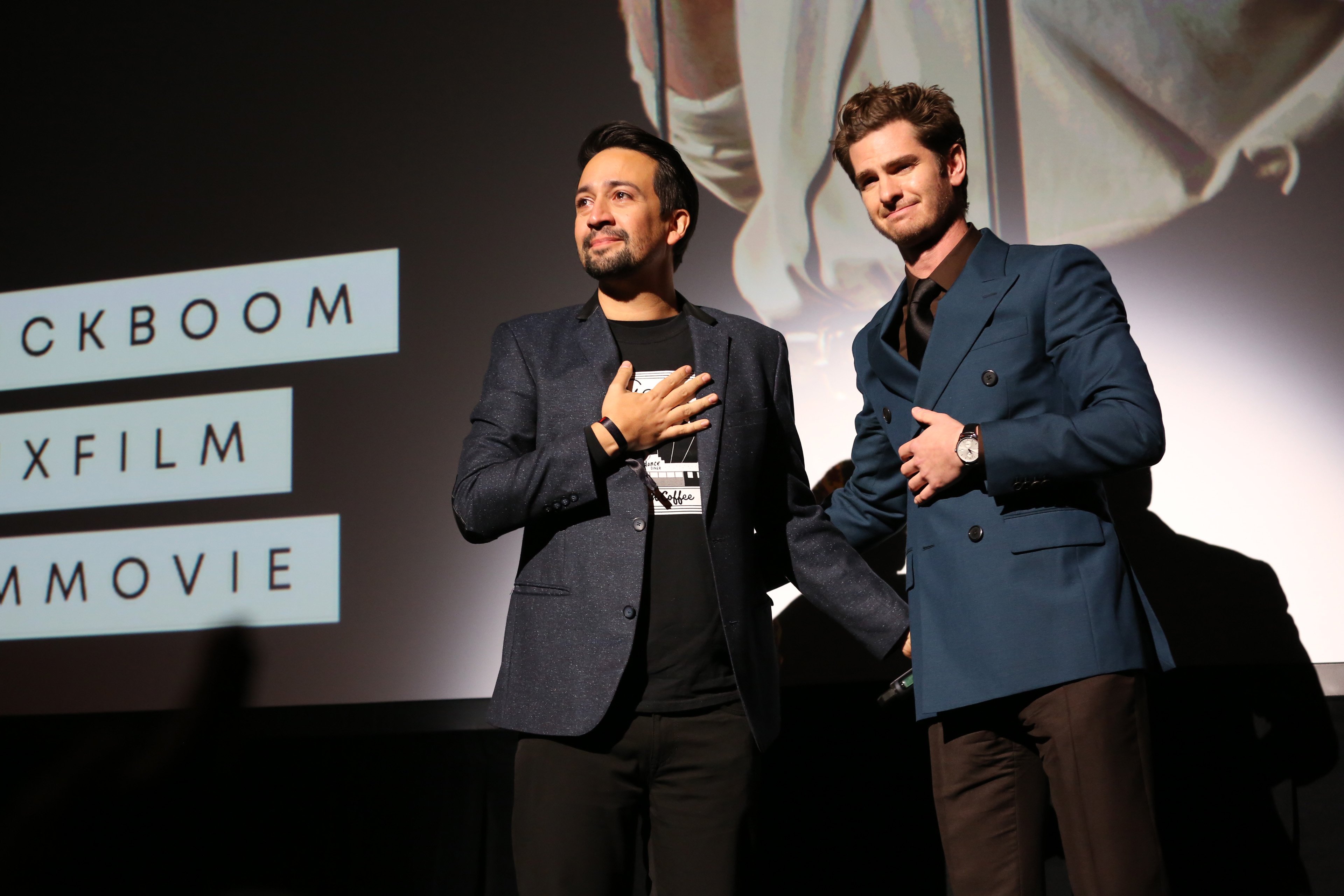 Directed by Miranda, Tick, Tick…Boom! is the story about Jonathan Larson, the creator of Rent. In the film, Larson is struggling to create his first hit musical before his 30th birthday. It captures the difficulties both financially and socially that an artist can face when working night and day to perfect their craft. 
Miranda can empathize with Larson's experience and used his experience as a creative to help Garfield with his performance as Larson. In a video interview with West Side Story's Ariana Debose for Vanity Fair, Miranda speaks about bringing his personal experience to his directions for Tick, Tick…Boom!. 
"What I felt I could bring to it because a lot of people could make a great movie of Tick Tick…Boom!, but I have been a struggling songwriter on a deadline," Miranda tells Debose. "That was where I felt I could be useful to Andrew as this is what it's like."
Garfield stole one of Miranda's techniques for his performance
In the film, whenever Larson is trying to come up with song lyrics or a catchy rhyme, he often puts his eyes up, almost looking into his brain for the words. Miranda says that this is a move that he often does and Garfield stole it for his performance. 
"There's one moment where he straight-up steals a move of mine," Miranda explains. "If he gives me a note like this lyric isn't quite working, I always try to fix it right then so I don't have to think about it later. I look up into my brain and he jacks it for the movie."
The video features a clip showing this moment where Garfield looks into his brain and it is reminiscent of how Miranda demonstrates it. Still, it does work for the film since it gives us a look at Garfield's character getting into his creative zone. 
Garfield borrowing this technique has led to awards success
Tick, Tick…Boom! did very well with critics and while the film isn't nominated for Best Picture, Garfield is nominated for Best Actor at the Academy Awards. So far, he was won at the Golden Globes and at the Hollywood Critics' Association for his role as Larson. This is Garfield's second nomination for Best Actor; the first being for his role in Hacksaw Ridge.
Miranda is also nominated for an Academy Award, but not for his directing work. He is nominated for Best Original Song with "Dos Oruguitas" from the Encanto soundtrack. If he wins, then he will have completed the EGOT (Emmy, Grammy, Oscar, Tony). Miranda previously was nominated for Moana. 
Tick, Tick,…Boom! Is currently streaming on Netflix.