Andy Cohen Is Loving the Lullaby Versions of the Grateful Dead Songs
Being a Grateful Dead purist, Bravo producer Andy Cohen resisted diving into the lullaby versions of the Grateful Dead tunes. As a new dad, Cohen has properly indoctrinated his infant son into the Dead, playing tunes every chance possible.
So as someone who prefers the original songs, Cohen admits he resisted playing the lullaby versions at home for some time. "These lullaby versions of the Grateful Dead are actually really, pretty good," Cohen says as he serves baby food to his son, Ben. Cohen looks a little surprised but admits there is nothing like the original.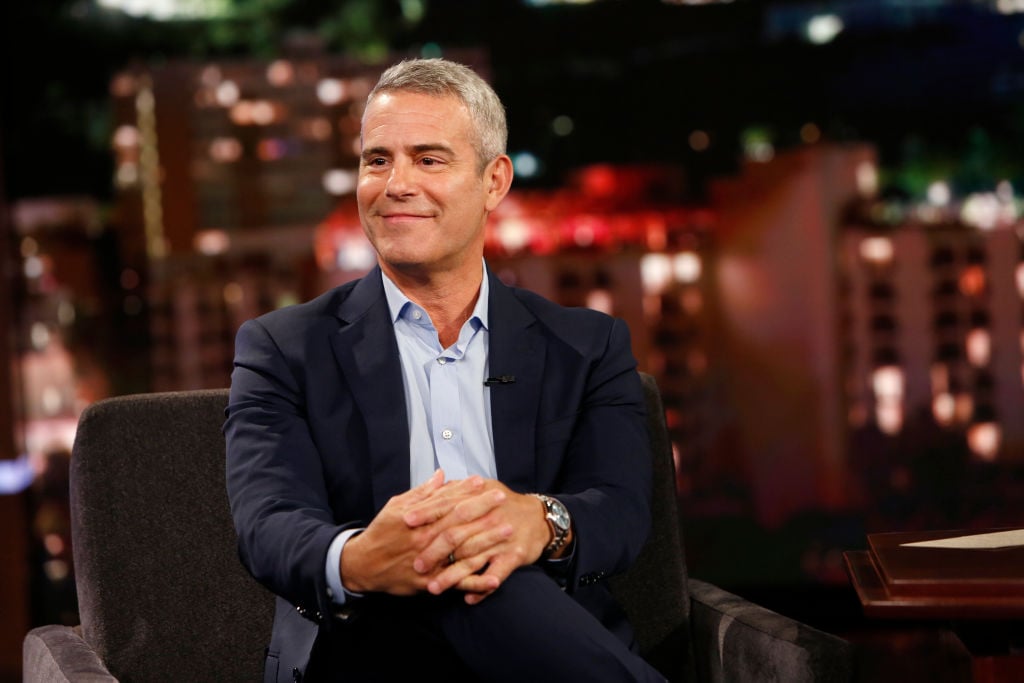 "They're not as good as the Dead songs themselves," he says in his Instagram story. "But they are very sweet." Cohen has the tunes playing in the background as he continues to feed his son. "We've been listening to a lot of them. Lullaby versions of the Grateful Dead. They're on Spotify."
Ben seems to love them too
Cohen is certainly giving the lullaby versions a chance. "I was fighting it and only listening to the original," he admits. "But … I'm into it." The instrumental versions allow for Cohen to add in the vocals.
He laughs and adds, "I mean this is like an LSD trip. Well, it's like an LSD trip of an LSD trip." Little Ben scoots forward to get a view of the camera. Cohen then laughs, "Yeah! 'U.S. Blues!'"
After breakfast comes a nice bottle for Ben. This means it is time for Cohen to sing a Dead signature, "Casey Jones." Cohen continues to share on Instagram the sweet tunes, matched with his vocals. "Driving that train, high on cocaine," Cohen says. But then grimaces. "This doesn't seem right." Meanwhile, Ben grabs onto Cohen's sweater as he enjoys his bottle. Released in 2015, "Rockabye Baby! Lullaby versions of the Grateful Dead" include many Dead favorites. Featured songs are Truckin'," "Casey Jones," and "Touch of Grey."
Cohen had turned to the Dead for a smart parenting hack
Cohen has found that playing the Dead has a calming effect on his son. During a summer road trip, he turned on his favorite band to get Ben to stop crying. "The second I put him in the car, he starts crying and crying and I was like, 'Oh my God,' " Cohen told People. "I have this rearview mirror thing over his car seat, so I could just see him in terror."
"Once we started rolling and I got the Grateful Dead playing, which always calms both of us down, he was great," he added. "He was a champ. I actually think it's the way to get him to fall asleep — put him in the car." Cohen also likes to sing Dead tunes to his dog Wacha.
Researchers have found an actual cause and effect between relaxation and listening to the Dead. "Scientific researchers have shown that mindfulness and associated practices—including Tai-Chi, Yoga, and going to Grateful Dead Shows—directly improve both medical and mental health," Jacob L. Freedman, MD, is a board-certified psychiatrist wrote in Relix. Freedman added, "I've never had a patient who held back a smile when The Grateful Dead came up in the office."