Andy Cohen Reacts to Lisa Rinna Calling 'RHOBH' Season 10 Reunion 'Bulls**t'
Lisa Rinna from The Real Housewives of Beverly Hills was fired up after the season 10 reunion was shot. The Bravo star was upset that Brandi Glanville was cut from the special, to allegedly appease Denise Richards. Andy Cohen, the host of the reunions, is now breaking his silence about Rinna's claims and how he thought the filming went.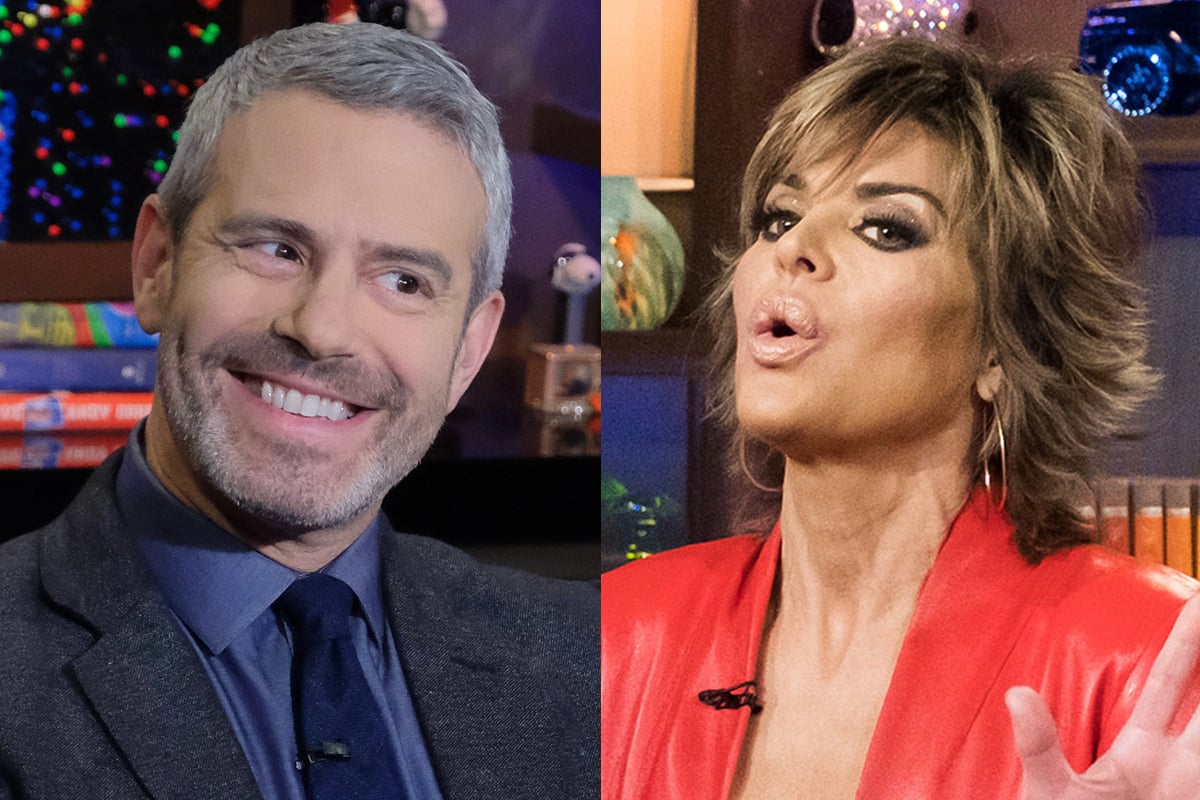 How did Andy Cohen take Lisa Rinna's reaction?
After finishing the reunion for RHOBH, Rinna took to Instagram to vent her frustration. The QVC star was seemingly upset at what happened during filming of the show.
"Reunion was bulls**t today," Rinna posted on Instagram Stories. "I've never said that in 6 years. I guess cease and desists work."
After Rinna's outburst, Cohen took to his radio show to give his take on the former.
"We shot the Beverly Hills reunion the other day, virtually," Cohen said on Andy Cohen Live. "[Rinna] said it was bulls**t, she was really upset that Brandi was not there. And I was not."
Although Glanville was set to make an appearance it was decided that she would not attend on the very same day the reunion filmed.
"We were going back and forth about whether she should come, spoke to Brandi about it," Cohen continued. "I think when you see the finale you will see… The bottom line is, we will all hear from Brandi."
Cohen also spilled the tea about how long the reunion take to shoot and it seemed like it was draining.
"We started filming at like 2 something on the East Coast," Cohen spilled. "I was kind of annoyed, I was the only one on the East Coast. We wrapped about 11:15 or 11:30 on the East Coast. I came home and poured myself a big cup of tequila."
What did Brandi Glanville say?
Glanville is driving a lot of the storyline for the latter part of RHOBH Season 10. The former housewife makes claims that she hooked up with Denise Richards, something the latter has denied. After word got out that Glanville was not part of the reunion, she took to her podcast to explain why.
"I was set to do the [RHOBH] reunion yesterday with all the ladies," Glanville said on Brandi Glanville Unfiltered. "I had the tech rehearsal and everything. You all know that I don't cancel, I don't run away. I'm not a coward and I'm happy to get in there and fight."
The Celebrity Big Brother alum said that she got a call from producers the day they were to shoot the reunion and talked things out.
"We honestly came to a mutual decision that instead of going to the reunion, as I was set to do, that I would sit down separately with Andy [Cohen] and do a one-on-one," Glanville explained. "[Producers] didn't want what happened last year where Camille [Grammer] came on in the end and everyone piled on Camille and Camille went crazy. Ultimately let these bi***es earn their paycheck."
Producers thought that it was better Glanville sit out the reunion so the ladies would talk about other issues they had during the season.
The Real Housewives of Beverly Hills airs on Wednesday nights at 9 p.m. ET on Bravo.