Andy Cohen Reveals His Favorite and Toughest 'Housewives' Reunion Specials
Andy Cohen has been the head honcho of the Housewives franchise since its inception. Some fans have accused Cohen of having favorite housewives or showing special treatment to different franchises. Cohen admits that he has favorite moments throughout his time hosting the explosive reunion specials.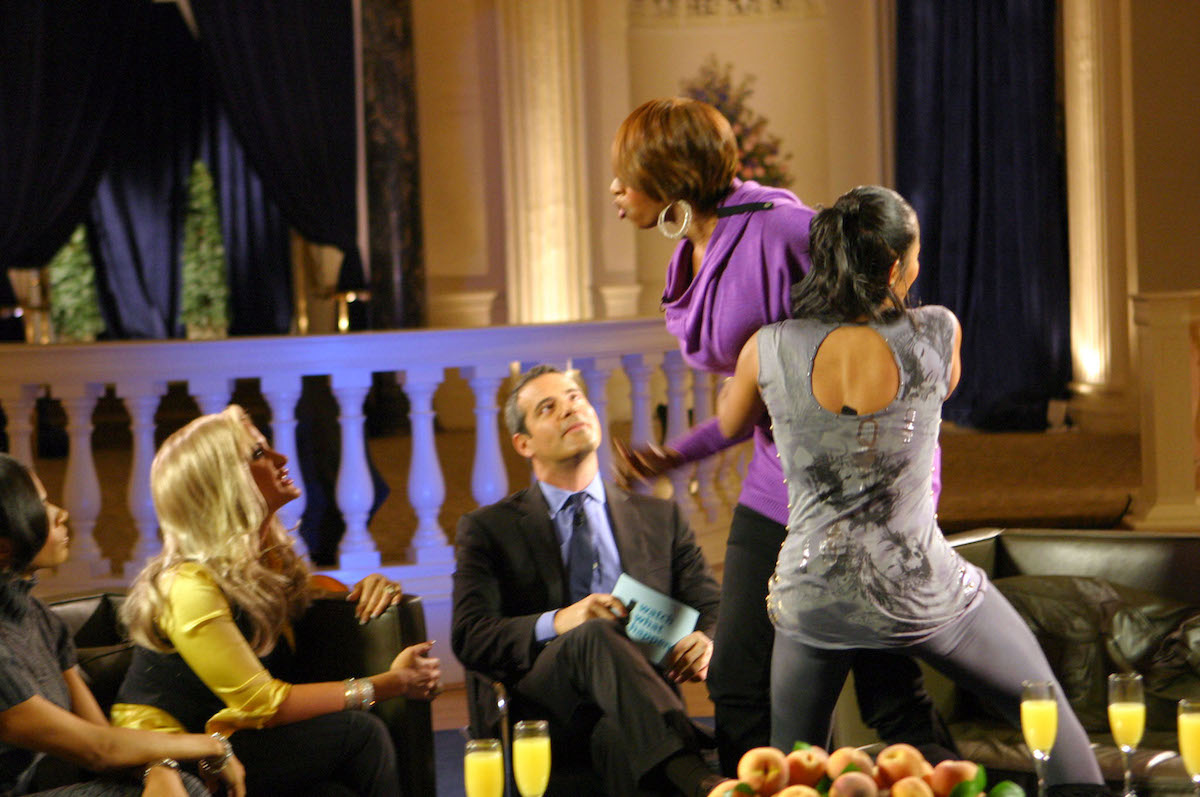 Andy Cohen's favorite reunion is season one of 'RHOA'
RHOA premiered in 2008. The inaugural season chronicled the lives and friendships of Nene Leakes, Kim Zolciak (now Kim Zolciak Biermann), Sheree Whitfield, Lisa Wu Hartwell, and DeShawn Snow.
Much of the season focused on the breakdown of the friendship between Leakes and Whitfield and Zolciak playing mediator. Despite trying to remain neutral, Zolziak ultimately sided with Leakes in much of the drama.
Ironically, by the time the show began airing months after filming ended, Leakes' own friendship with Zolzciak was unraveling. The two stars began beefing on social media and rumors about Zolziak dating a married man whom she referred to as "Big Poppa" ran rampant. Leakes confirmed the rumors.
Related: Titus Burgess Isn't the Only One: Celebs Who've Called Out Andy Cohen
The women came face to face for the first time during the season one reunion and Leakess ripped into Zolciak. At one point, she even had to be restrained from physically attacking Zolzcak.
Cohen later revealed that it was Leakes who demanded he give the show a proper reunion like other franchises. A reunion was not in the cards for RHOA until Leakes left a voicemail on Cohen's answering machine making a case for one.
In a recent Tweet, Cohen revealed to a fan that his favorite first season reunion of any Housewives franchise is Atlanta.
Why Andy Cohen calls season one 'RHONJ' reunion his 'toughest' in the franchise's history
While RHOA is Cohen's favorite and most memorable, he didn't have the same experience filming the first season reunion for RHONJ. Cohen told a fan on Twitter that the ladies of The Golden State made the reunion his "tougest," saying of their interactions with one another "those early years of Jersey where it was blood warfare."
Fans of the RHONJ recall seasons one and two documented the cast against Danielle Staub. Staub was isolated from the group of tight-knit family and friends and accused of being shady behind the scenes. Furthermore, Staub's alleged sketchy past was front and center during season one and she was accused of having a lengthy arrest record and once working as a prostitute.
Related: Former 'RHONJ' Star Danielle Staub Slams Andy Cohen; Claims Cohen Orchestrates Drama on the Show
During the season two reunion, things became heated between Staub and Teresa Giudice. Giudice famously pushed Cohen down on a sofa when he tried to restrain her from going after Staub.
How does Andy Cohen currently feel about hosting 'Housewives' reunion specials?
According to Bravo's The Daily Dish, Cohen admitted that it's becoming increasingly difficult for him to not give his opinions during the reunion specials. He was previously lauded for his ability to stay neutral but has recently been called out for appearing biased.
"I used to say absolutely nothing," he said. "Sometimes now people say I take sides, or I say too much, but I really try to let everyone's voice be heard and try to mediate if I can."
He also admits that he becomes agitated because of the long filming schedule on reunion days.