Andy Cohen Reveals the 2 Questions on 'WWHL' He Felt 'Nervous' Asking
Andy Cohen has asked hundreds — maybe thousands — of questions in his tenure as host of Watch What Happens Live with Andy Cohen (WWHL). But there are some questions the talk show host has admittedly been hesitant to ask guests. Ahead, learn what questions Cohen posed on WWHL despite feeling nervous and how guests responded. 
Premiering in 2009, the talk show is currently in its 17th season. It's hard to think Cohen, with a decade of experience on WWHL, gets worried about posing awkward or embarrassing questions to the celebrities and TV personalities who appear on the show but it's happened. 
In an April 2018 interview with Jason Kennedy of E! News, the 51-year-old opened up about specific questions he felt uncomfortable asking. 
Andy Cohen felt 'nervous' asking Shaquille O'Neal that question
During a Season 11 episode of WWHL where Cohen sat down with former NBA player, Shaquille O'Neal, the talk show host had reservations asking the now-47-year-old retired athlete about the size of his manhood.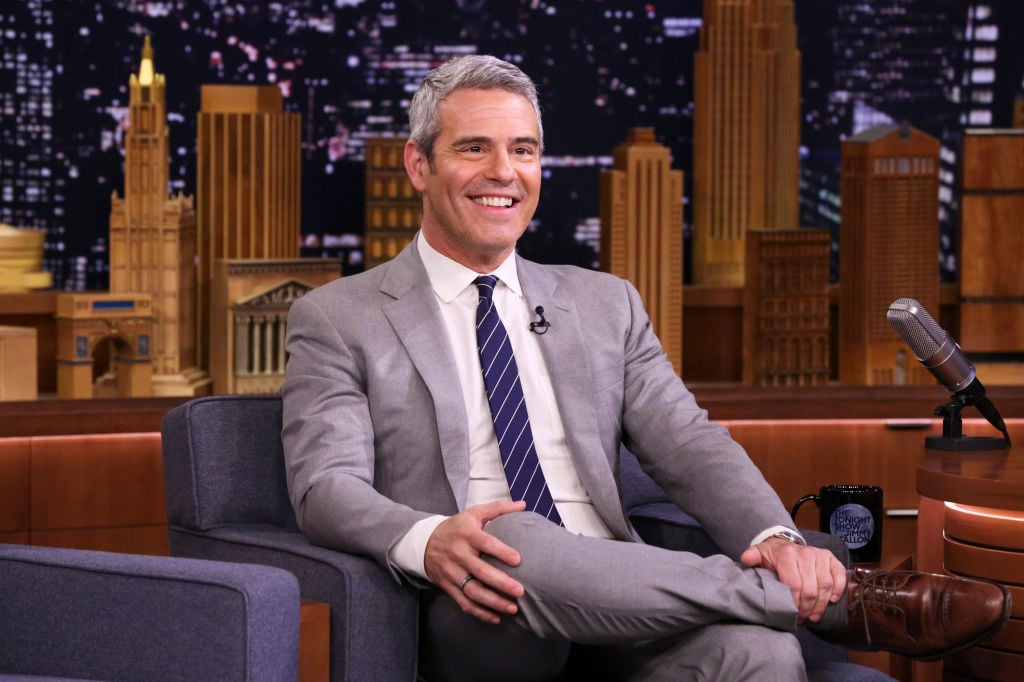 "I got nervous asking Shaq how big his d**k was," Cohen shared with Kennedy. 
O'Neal participated in one of WWHL's signature games, "Plead the Fifth," where Cohen posed three questions — usually personal or potentially controversial in nature — and the guest can pass or plead the fifth on only one.  
Saving the best — or most awkward — for last, Cohen asked O'Neal the size of his penis saying, "Your shoe size is 23. How big is your d**k?" O'Neal's response? "Let me show you," he said with a smile before holding up his shoe while the audience cheered and clapped. 
"I was scared. It was on my mind all day," Cohen told People in 2018 recalling when he asked O'Neal how his nether region. At first, the talk show host refused to ask O'Neal the question but later gave in. "And then I came to work and I said, 'I can't ask him this. And they were like, 'Oh, you're asking!'"
Prior to the famous question about O'Neal's penis, Cohen had asked him to "say three nice things about Kobe Bryant" which he did. O'Neal described the former NBA player, who died in a helicopter crash on Jan. 26, 2020, along with his daughter, Gianna Bryant, and seven others, as "smart," "enigmatic," and "legendary." 
Being a good sport, O'Neal said he'd answer every question. "I'm not pleading the fifth so you're going to have to get tougher with your questions," he told Cohen.   
The talk show host then upped the ante saying, "Who is the most overrated player in the NBA right now?" O'Neal's response? Dirk Nowitzki.
Cohen felt 'nervous asking Oprah if she'd been with a woman'
Cohen also got butterflies in his stomach before asking Oprah a personal question. "I got nervous asking Oprah if she'd been with a woman," he told Kennedy.
How did Oprah respond? "No I have not," she said before adding, "No. No."
"It was a very big deal and I was really nervous," Cohen told Vulture in June 2019 of interviewing Oprah on WWHL. To this day he doesn't regret what he asked her. "I wanted to give her a different interview then she had done. That was my challenge, and I remain really proud of that episode."