Andy Cohen Says Kandi Burruss Is the Most Business-Savvy Housewife on Bravo
If you ask Andy Cohen which Bravo-lebrity has the most business savvy, he'll tell you it's RHOA star, Kandi Burruss. In addition to her music profile, Burruss is quite the entrepreneur. She has a variety of successful businesses in food and beverage, fashion, cosmetics, film and television, and even adult toys. Cohen praised Burruss' work ethic during a recent appearance on his night-time talk show.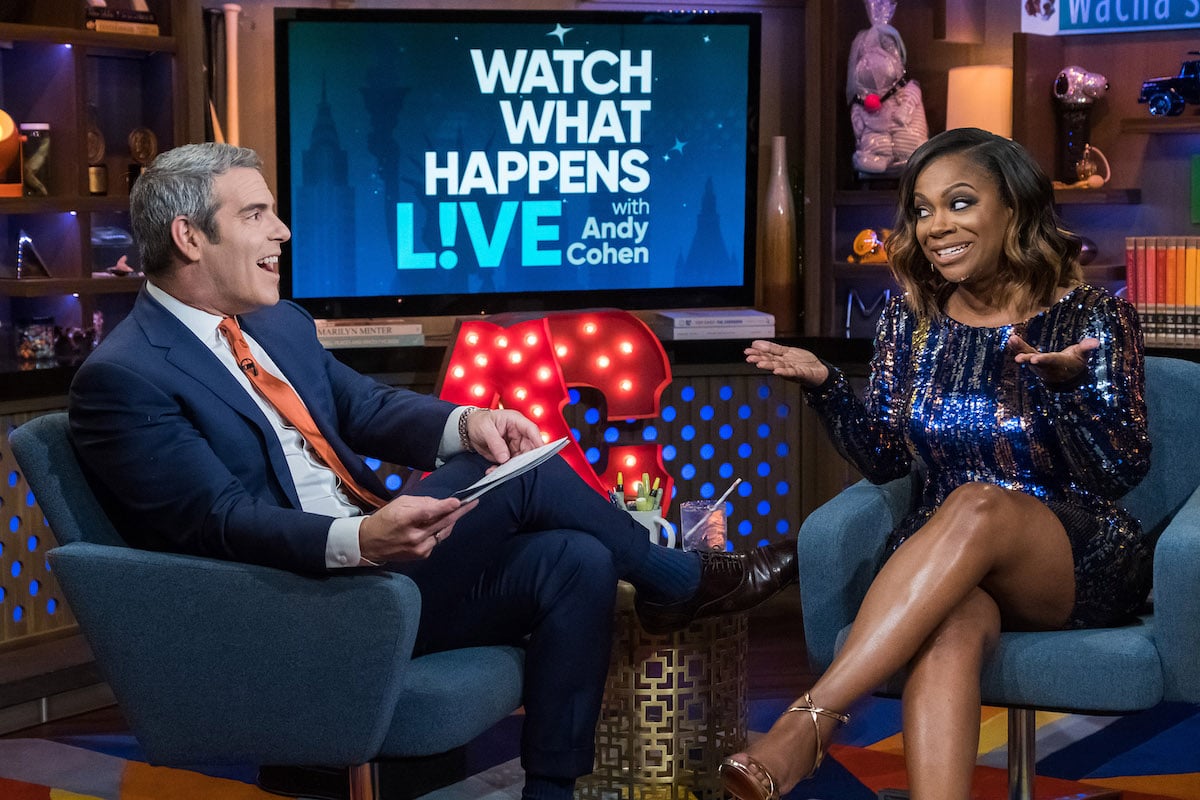 Inside Kandi Burruss' entrepreneurial profile
Burruss' career began when she was just a teenager as a member of the R&B quartet Xscape. The group put out three platinum-selling albums before disbanding in the late 1990s. Despite the group's breakup, Burruss was not discouraged.
She penned several hit singles for other artists, including Mariah Carey, Whitney Houston, Destiny's Child, and TLC. Burruss also released her own solo music from time to time.
Since appearing on RHOA, Burruss has launched several successful businesses. Viewers watched in season 3 as she launched her line of adult toys with Bedroom Kandi.
Related: 'RHOA': Kandi Burruss Fires Back at Nene Leakes After Suggesting She Blocked Her Spin-Offs
Prior to joining the show, Burruss opened her own clothing boutique in Atlanta, a popular storefront called Tags. Along with her fashion brand, Burruss launched a cosmetics line, Kandi Koated Cosmetics, which sells a variety of lipsticks and more.
Her popular Atlanta recording studio and production company, The Kandi Factory, has been home to several great artists who she's done sessions alongside. She also created her own sold-out stage play a few years ago.
In addition to clothing and music, Burruss is also now in the restaurant business, with her soul food restaurant Old Lady Gang – and an Atlanta steakhouse she calls Blaze. 
Buruss is now expanding her resume with acting. She has a recurring role on the Showtime drama series, The Chi.
Andy Cohen praises Kandi Burruss' business acumen
It's no secret that Burruss is one of the most beloved housewives on RHOA. her story resonates so much with viewers that she's had the most spinoff specials than any of her co-stars.
To date, Burruss has had a wedding special dedicated to her 2014 nuptials, a talent singing competition with Kandi Factory, a four-part family special with Kandi's Ski Trip, and a docuseries chronicling her and her Xscape group members' comeback. Her newest spinoff, Old Lady Gang, will focus on her thriving restaurant business and is currently in production.
Related: 'RHOA:' Kandi Burruss's Success Is Being Studied in Colleges
While castmates like Nene Leakes has thrown shade at Burruss for getting such opportunities with Bravo, Burruss earned her stripes. She revealed in a YouTube video that she pitched all of her spinoff series.
Cohen agrees, calling Burruss the "most entrepreneurial" talent with Bravo for her success on the network and beyond. Cohen shared his reasoning during a recent episode of Watch What Happens Live.
"Kandi is the most entrepreneurial person that I deal with I think on all of the Bravo shows," Cohen said. "She never stops thinking of new ideas…one other thing that's my impression of you is that you also don't seem to ever stop writing…like you started as a songwriter and that seems like something that you'll always be."
RHOA airs every Sunday on Bravo at 8 pm EST.