Andy Cohen Shades 'Chicago' Production, Broadway Musical 'RHOBH' Star Erika Jayne Leads
Andy Cohen went on a long rant about Chicago, the Broadway musical that Erika Jayne from The Real Housewives of Beverly Hills is currently headlining. The Bravo personality had good things to say about the reality show star but had less than stellar reviews for the production. Cohen was upset he wasn't fully compensated for his tickets and dissed the cast for being too old.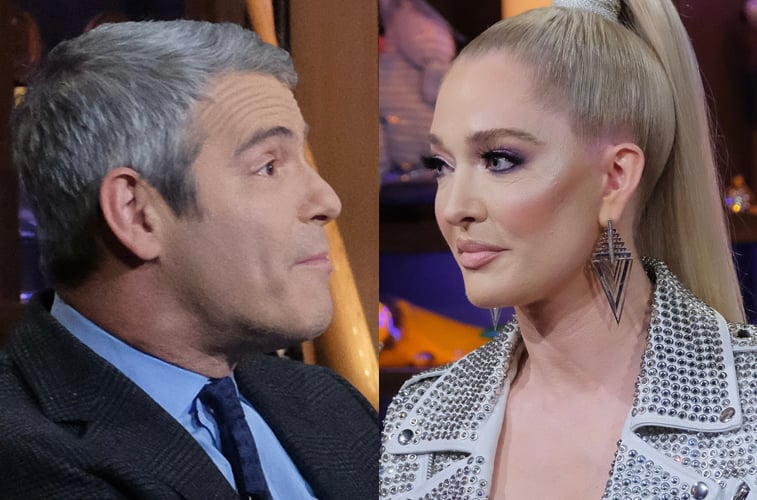 What did Andy Cohen say?
On Monday's (February 24) episode of Andy Cohen Live, the show's host talked about his outing to see Jayne in the Broadway musical. The Watch What Happens Live host had rave reviews for Jayne.
"We went to go see Erika Jayne in Chicago," Cohen said on his SiriusXM show. "That show has been open for 20-plus years, she's packing them in dude. The place was full and they were there for her. I was so proud of her. And she's playing Roxie which is one of the two leads."
However, all the good things he said about the RHOBH star came crashing down when he shaded the production.
"The producers of Chicago are so cheap. It was four of us, they gave us two free tickets and then they made us pay for two. Do you know how much we're promoting Chicago in the new season of Beverly Hills Housewives? Memo to those cheap producers: You need to comp. All the PR this ratter-tatter production of Chicago…," Cohen added.
In between his digs to the producers of Chicago, he continued to emphasize that Jayne "was great" and "her dancing was great" as well. He also said that he was "happy to pay, but it's the principle" of asking him to pay that upset him.
Cohen didn't finish there, he then started going off on the cast and how much older they were for his taste.
"Chicago has seen better days and no one is running to the Ambassador Theatre to see it, but people are going to see [Jayne]. The cast… is old, man. It's been going for a while and they haven't replaced people because I guess, maybe you can't. Roxie's love interest… he's well in his 50s. It's interesting," Cohen continued.
The SiriusXM host also took a dig at the actress that plays Velma Kelly in the musical, Amra-Faye Wright.
"She hits every move, she's great… she's serving AARP realness," he commented. "She's serving Activia realness but she's good… she's good."
On other Andy Cohen news…
Cohen also made news this week after it was announced that LeeAnne Locken was stepping down from The Real Housewives of Dallas. Following a season where she got married on TV and faced accusations of racism, Locken left the show.
The last time Cohen talked to Locken was during the season 4 reunion of RHOD. Their conversation was all about her racial slurs and that's not how Cohen wants to remember her like. During his satellite radio show, he said he would like to converse with some time in the future.
"On a personal note to her, I wish that our last go-around on the air hadn't been so contentious," Cohen said. "I'm hoping that once the breeze has blown through she will come back and join me for a kiki at some point on Watch What Happens Live."
Andy Cohen Live airs weekdays on SiriusXM's Radio Andy channel.