Andy Cohen's Assistant Said the 'Housewives' Used to Be Her Least Favorite Bravo Show
Bravo producer Andy Cohen's assistant Daryn Carp recently revealed that she told Cohen the entire Housewives series was her least favorite Bravo show during her initial interview for the job. Cohen is the executive producer of the franchise.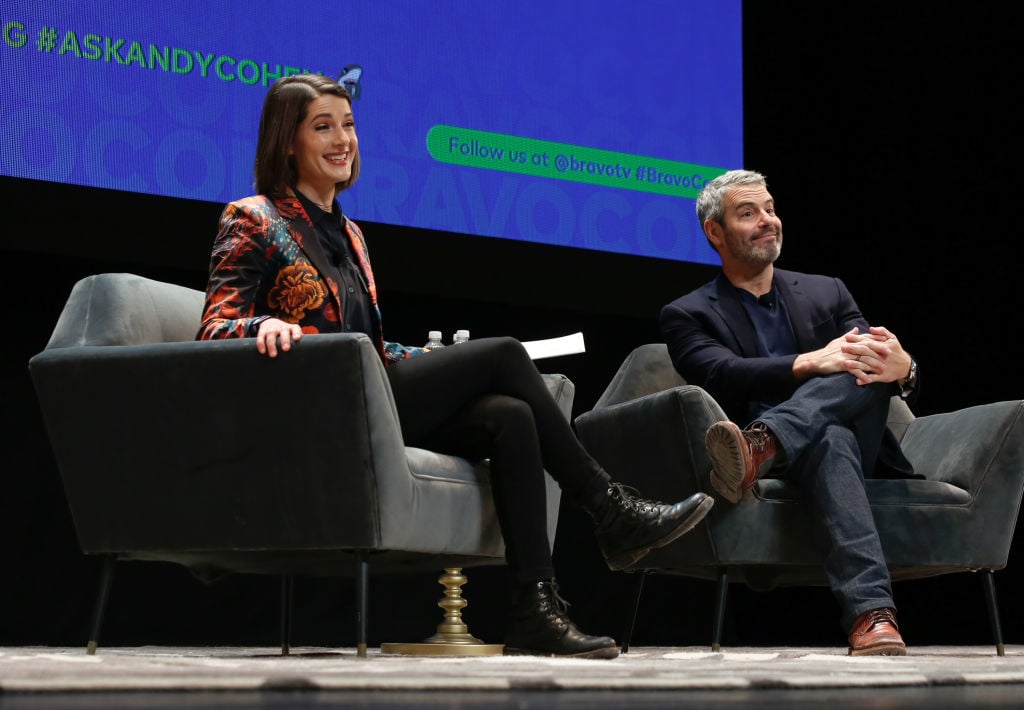 She recalled to Bustle that Cohen asked her during the interview process to name her most and least favorite Bravo shows and why. "I said my favorite was Inside the Actors Studio and my second favorite was Millionaire Matchmaker because it teaches me what to do on dates with women," Carp said.
But when it came to her least favorite, she didn't want to lie to her prospective future boss. "He goes, 'What's your least favorite Bravo show?' I said, 'All the Housewives.' To which his jaw dropped. I said, 'I don't get it. All these women make so much money, and I don't understand why they're complaining,'" she recalled.
Cohen was stunned by her comment
Needless to say, Cohen was in shock Carp had the guts to admit she didn't watch or appreciate a single Housewives series. "He couldn't believe the chutzpah," she said. "Mouth agape, eyes bugging out. I had literally insulted the man's bread and butter. But I didn't kiss up to him. He knew I wasn't going to bullsh*t him. For the record, I love all the Housewives now."
Even though she was in the process of interviewing to be Cohen's assistant, Carp wasn't interested in being an assistant when she interviewed for the job in 2011. She was actually hoping to be a game show host and didn't know much about Cohen at the time.
She recalls the interview being rapid and direct. "He gets right to the point. Very quick, very fast-paced. He can juggle 50 things in his head, and I could see that, even in a three-minute interview," she said.
Her position as Cohen's assistant became a springboard for a number of projects
Carp still works with Cohen, but she also hosts her own shows. She hosts two podcasts on Oxygen, plus she is the host of Reality Check on PeopleTV. And while Carp has her hands full, she's still Cohen's assistant.
"He doesn't do well with change, and it would be very difficult to bring in someone new," she said. "I had to get him Passover ingredients for his Seder plate, and he was like, 'I know this is really an assistant thing to do.' But I'm family to him. I know his parents really well. I mean, I'm not going to be with him forever. I don't know when that will be, but if the last nine years have been any indicator, we'll communicate effectively, and I know he'll support my decision."
What advice has Cohen given her along the way? "Be yourself, and listen to what your guest is saying. And not everyone's going to like you. That's OK. When someone's not feeling Andy — Debra Winger, Tituss Burgess — you feel it from the start."
She also took great pride in her work on BravoCon last fall too. "At BravoCon this past fall, Bravo entrusted me to be their correspondent," she recalled. "They put me on air for 19 spots. On the last night, Luann [de Lesseps] was running a little late, and the audience was getting impatient. The president, the head of marketing, and the head of PR asked if I would go up and riff for 20 minutes. And I was like, 'Guys, I'm not a standup.' But I went up and said, 'Ask me whatever you want about Andy Cohen.' For the company to trust me to problem-solve in front of fans, it meant a lot."