Andy Cohen's Valentine Is Tyler Cameron From 'The Bachelorette'
A viral photo of Bravo producer Andy Cohen and Tyler Cameron from The Bachelorette prompted Cohen to jokingly announce they were "Instagram official" on his story.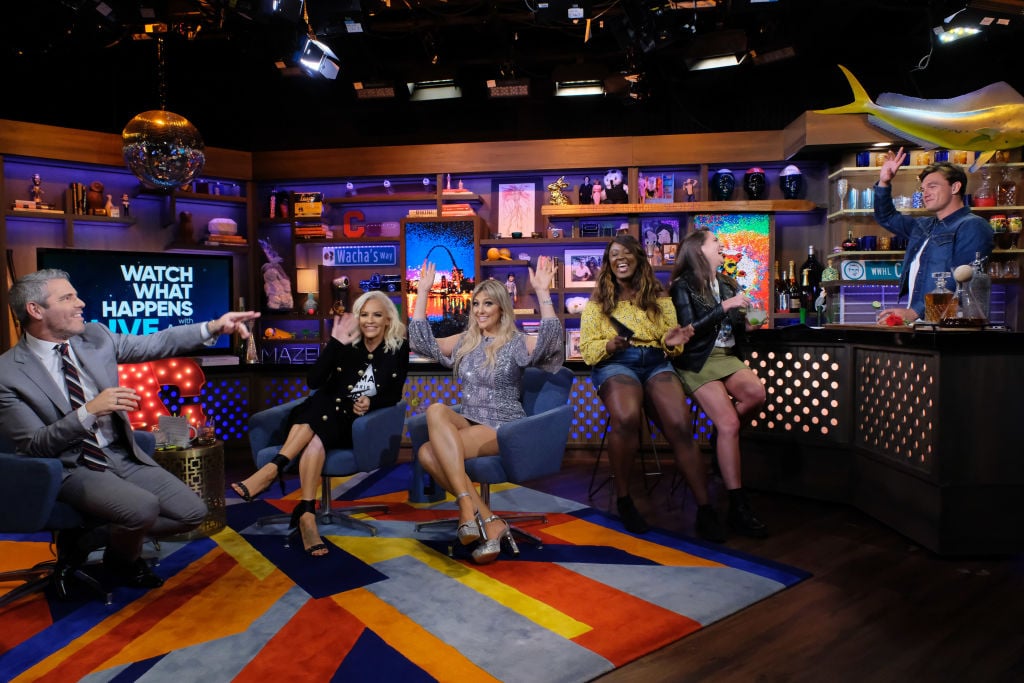 Cohen shared the photo that broke the Internet on his story and wrote, "@tylercameron3 and I are Insta official" along with a heart emoji. He shared the slide along with several videos and photos of his journey to Albany, New York where he lobbied government officials to remove the surrogacy ban in the state. Cohen's son Benjamin was born via a surrogate in California since surrogacy is illegal in the state of New York.
The photo, shot during New York City's Fashion Week featured Cohen wearing a red turtleneck sweater and Cameron in a striped suit over a grey hoodie. Cameron also shared the photo on his Instagram and he asked Cohen to be his Valentine.
'My man! I'm yours'
Cameron shared in the photo that the two were "going steady" and that Cohen made him smile. "Update: Things are going steady with @bravoandy and I. No one makes me smile as big as Andy does. Be my valentine?❤️"
Cohen responded, "MY MAN! I'm yours. ❤" Of course Cameron's post blew up with several people commenting, some confused. "Is this a real relationship or a joke? I'm so confused," one person remarked. Another person joked, "I thought I was your only gay best friend but wow k sorry I'll wear turtlenecks more."
But others are loving the friendship. "This is quickly becoming my favorite celeb friendship, neck & neck with Eminem and Elton John ♥️🙌🏼," one person shared. Another wrote, "I'm so into this! And quite jealous! 😂🥰."
Cameron manned the bar in the 'WWHL' Clubhouse
In early October, Cameron showed off his bartending skills and rock-hard abs when he took over the bartending job in the Watch What Happens Live Clubhouse. Cameron had a great time playing around on set and even modeled a few new hairstyle ideas. "So @bravoandy, what do you think of doing the real husbands of the LES? But also swipe to see the newest hair trend for fall 2019," he shared along with a few photos.
Cohen asked Cameron to flash his abs as he stood behind the bar and of course, he obliged. At the time, Cameron had recently split from model Gigi Hadid. He told WWHL guest Jenny McCarthy that, "I may be single," People reports. He added, "I love all girls." 
McCarthy hilariously returned with, "He's no Donny Wahlberg, that's all I have to say."
Always room for more Valentines
One person remarked on Cameron's post that Cohen's close friend John Mayer is going to be jealous. "ummmm @johnmayer are you seeing this? 🤷🏼‍♀️."
However, Mayer doesn't have to worry about his BFF status being taken over. Cohen recently hit the town in Beverly Hills, California with Mayer. He shared a photo with him and wrote, "I had the best date in town last night 😇." Mayer and Cohen have been close friends for years.
Mayer has made several visits to the WWHL Clubhouse, plus Mayer was by Cohen's side when Benjamin was born. Mayer is responsible for taking the touching black and white photo of Cohen holding his infant son only hours after he had been born.