Angelina Jolie Chose Her Lockdown Home Because It Was Minutes From Brad Pitt
For over a decade, Angelina Jolie and Brad Pitt's relationship was iconic. Whether they were shocking people when they fell in love or charming them with their growing and international family, the couple seemed to have something special. Then a shocking divorce seemed to unravel all that. But today it seems that although their marriage is over, the two have found their way back into a special partnership — at least as parents. 
The passionate love story of Angelina Jolie and Brad Pitt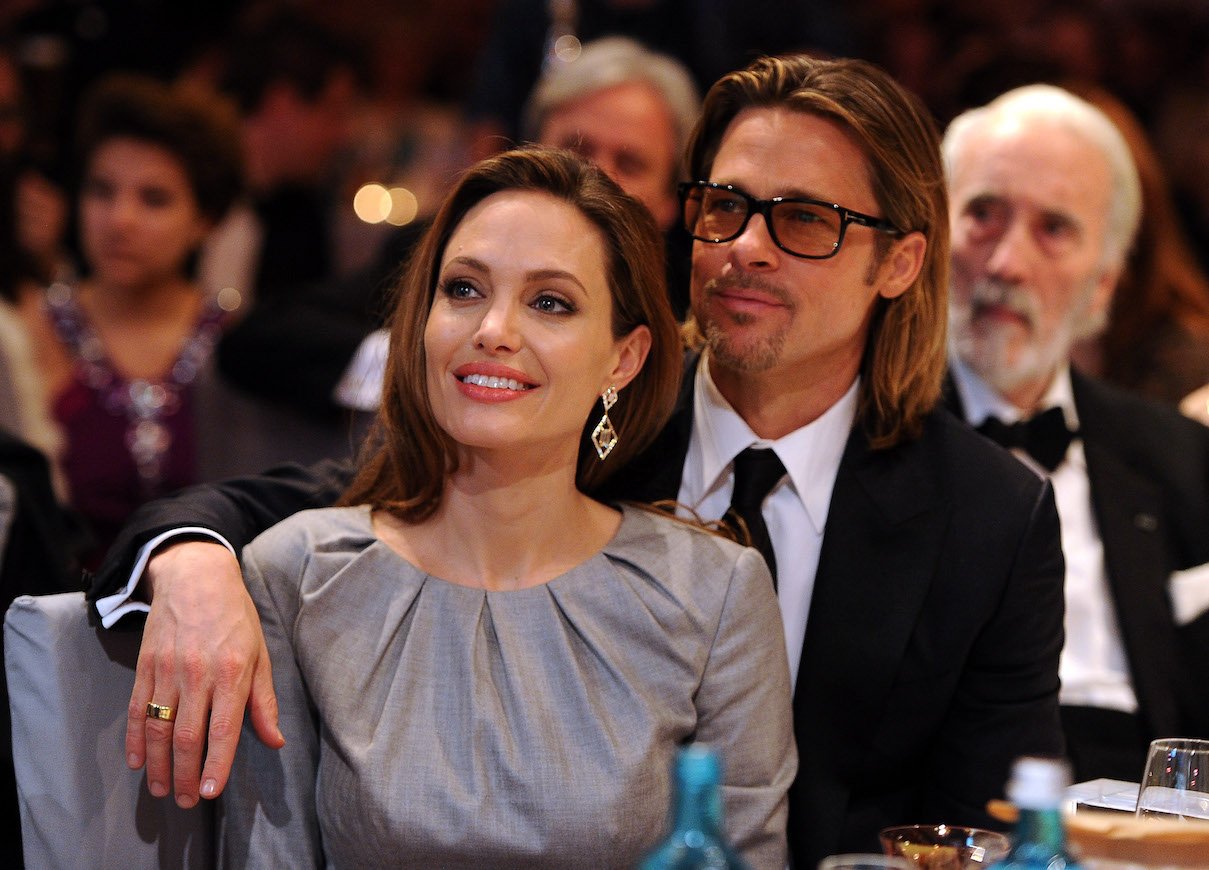 From the beginning, Jolie and Pitt have been the center of a lot of attention. According to Glamour, the couple met on the set of their movie Mr. and Mrs. Smith. Pitt was married to Jennifer Aniston at the time, but rumors of an affair between him and his co-star quickly started to circulate.
Both parties denied it, but six months later Pitt and Aniston separated. Just a few months later, he was seen vacationing with Jolie.
Three months after Pitt's divorce was final, he and Jolie announced that they were expecting a baby. Before Shiloh Jolie-Pitt was born, Pitt legally adopted Jolie's children, Maddox and Zahara.
The next year, they traveled to Vietnam to adopt three-year-old Pax. The following year, they announced that another baby was on the way. It turned out that Jolie was pregnant with twins: Knox and Vivienne. 
The family of eight was well known for traveling the world together, and from all appearances, they seemed very happy.
A shocking divorce
In 2014, the couple decided the time was right for them to get married, and they tied the knot in France, with their children by their sides. But according to Pop Sugar, just two years later, the marriage ended, and Jolie filed for divorce.
The proceedings quickly turned nasty, with accusations that Pitt was abusing drugs and alcohol, and even investigations into a report that he had been violent toward Maddox. The custody battle was fierce, with Jolie gaining sole custody because of the abuse allegations.
Over the years since, the couple has slowly worked their way toward a more equitable custody arrangement. All investigations into Pitt's alleged abuse were closed, with no charges filed against him. Both parents agreed that it was in the children's best interest to have a relationship with their father.
Their commitment to co-parenting seems solid. And a choice Jolie made recently illustrates how much she values Pitt's presence in their kids' lives.
A pandemic parenting choice
In a recent interview with British Vogue, Jolie shared what her life has been like during the Covid-19 pandemic. Much of what she's dealing with is familiar to many moms during this era, such as feeling inadequate to the challenges of suddenly being a stay-at-home mom, or navigating special events during the quarantine. 
Jolie told Vogue: I think that like most families, we have had this bigger thing happening with the pandemic. But of course you also have these life markers. We went into it having just gotten out of the hospital with Zahara [who underwent surgery early last year], and we were so happy she was OK that we entered lockdown in a different state of mind. But, you know, there are also these other markers of life: Pax going into his senior year, but not being able to enjoy all that it is to be a senior; Zahara finally getting her driving licence, but she's taking the test with the driver wrapped in the full outfit with the masks. It's not how you imagine these moments. But birthdays go on, and I think that for many people, it's made us all feel very human together. There's something beautiful about that.
Jolie and her family are residing in the former estate of Cecil B DeMille. "I felt a little pressure moving in. Like I had snuck into where DeMille and Chaplin would hang out," Jolie said. "I love most that there is no entertainment room, but lots of pathways and places to walk and think. I feel very fortunate we have that at this time."
One of the choices she made for her kids during this time was to move into a house that she chose because of its location. "I wanted it to be close to their dad, who is only five minutes away," she explained.
Today, the kids range in age from 19 to 12. As they move into adulthood, the fact that their parents seem to have found a way to work together peacefully can only benefit them.
Although Jolie and Pitt's marriage didn't last, it seems that they still have an unusually strong partnership — at least as parents.