Angelina Jolie's Dating History Involves More Than One Attached Man, Regardless of What She Says
Fans might have been quick to notice that Brad Pitt's recent acceptance speech didn't include a mention of his children. He shares all of them with his ex-wife, Angelina Jolie, but Jolie's latest claims are garnering even more attention. In a recent Marie Claire interview, Jolie insisted that she was never involved with a married …
Fans might have been quick to notice that Brad Pitt's recent acceptance speech didn't include a mention of his children. He shares all of them with his ex-wife, Angelina Jolie, but Jolie's latest claims are garnering even more attention. In a recent Marie Claire interview, Jolie insisted that she was never involved with a married man and would never get involved with one. Team Jen fans were outraged. It's all but confirmed that Jolie's relationship with Pitt began when he was still married to America's sweetheart, Jennifer Aniston. While Pitt and Jolie's relationship is probably her best-known tryst, Pitt isn't the first involved man she's been linked to.
Angelina Jolie and Billy Bob Thorton's relationship timeline is questionable
Jolie and Billy Bob Thorton met on the set of Pushing Tin in 1999. In the flick, Jolie played Mary Bell, while Thorton took on the role of Russell Bell. The film, that also featured Cate Blanchett and John Cusack, is mostly forgotten by all but movie aficionados, but it gave rise to Jolie and Thorton's relationship. There was one catch though, Thorton was engaged to Laura Dern. Jolie, who at the time was recently separated from her then-husband, Johnny Lee Miller, was reportedly romantically involved with Timothy Hutton, according to In Style.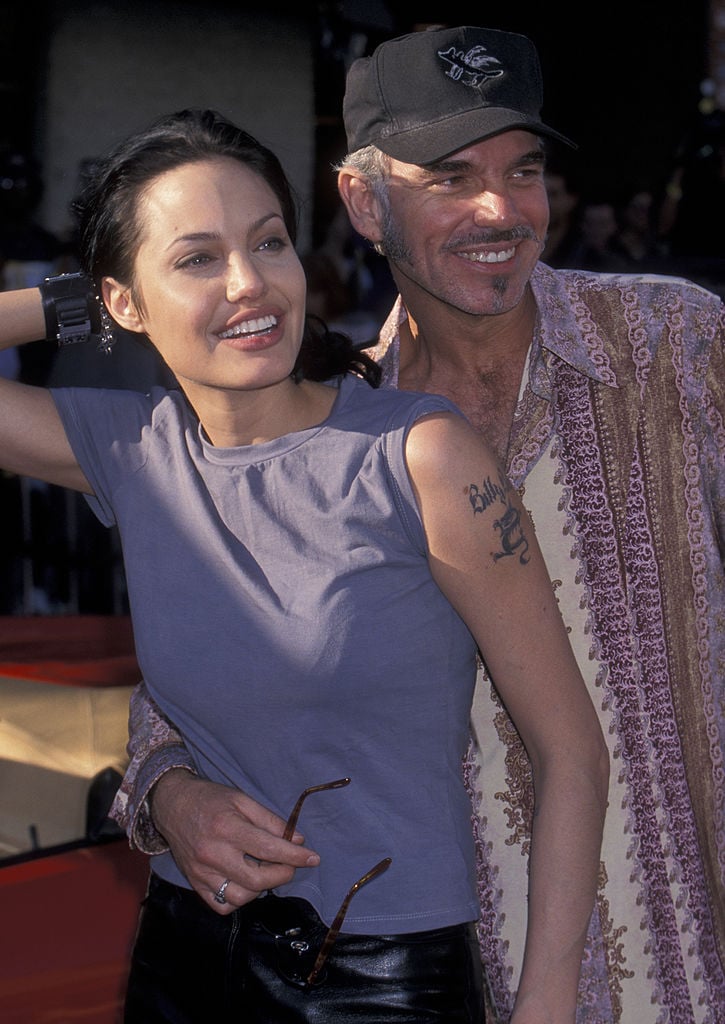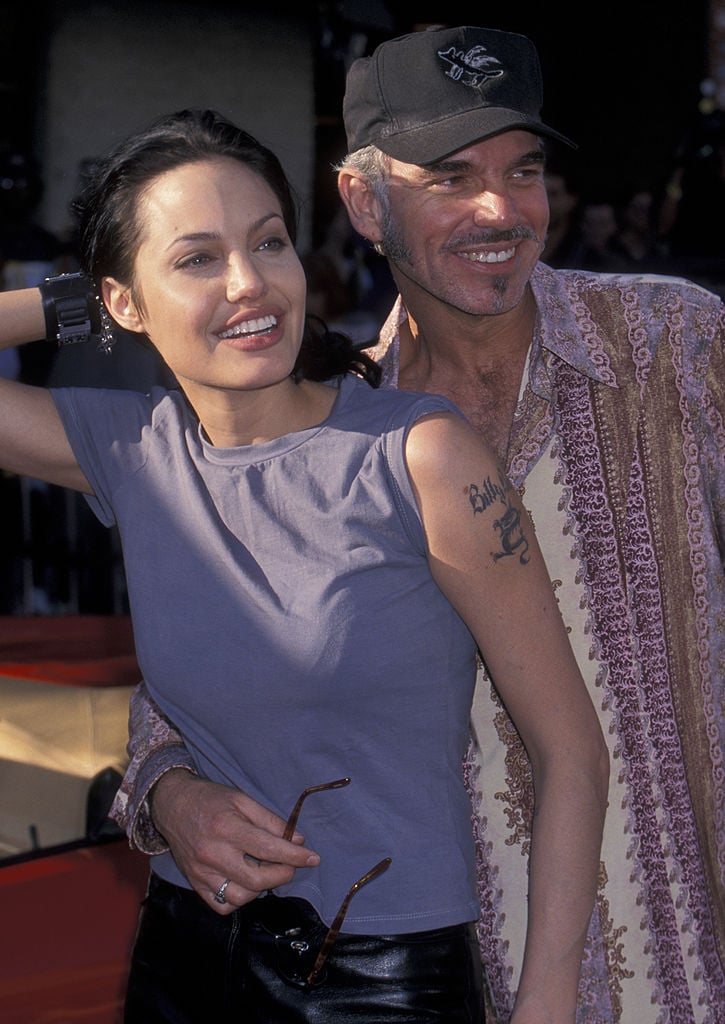 The following year they were married in a Las Vegas ceremony and set out on their life together. The world was shocked by their wedding, but no one was more surprised then Dern. Dern was pretty outspoken about the situation back in 2000, according to ABC News, she said, "I left our home to work on a movie, and while I was away, my boyfriend got married, and I've never heard from him again."
In all fairness, Thorton wasn't married when he hooked up with Jolie, but he was sharing a home with someone, and the pair were allegedly headed towards marriage. Sure, she may not have slept with a married man in this situation, but it sounds like she was as close as she could possibly get to that scenario.
Angelina and Brad Pitt went public shortly after his divorce
Whether or not Jolie and Pitt consummated their relationship before he left Aniston is still up for debate. The pair, however, did meet on the set of Mr. and Mrs. Smith. Pitt was, in every way possible, still very much involved with Aniston at the time. Pitt and Aniston married in July 2000 in a star-studded ceremony. Their life together seemed pretty lowkey, but they were regularly photographed together during the five years their marriage lasted. The pair announced their separation in January 2005. Aniston officially filed for divorce in March of the same year.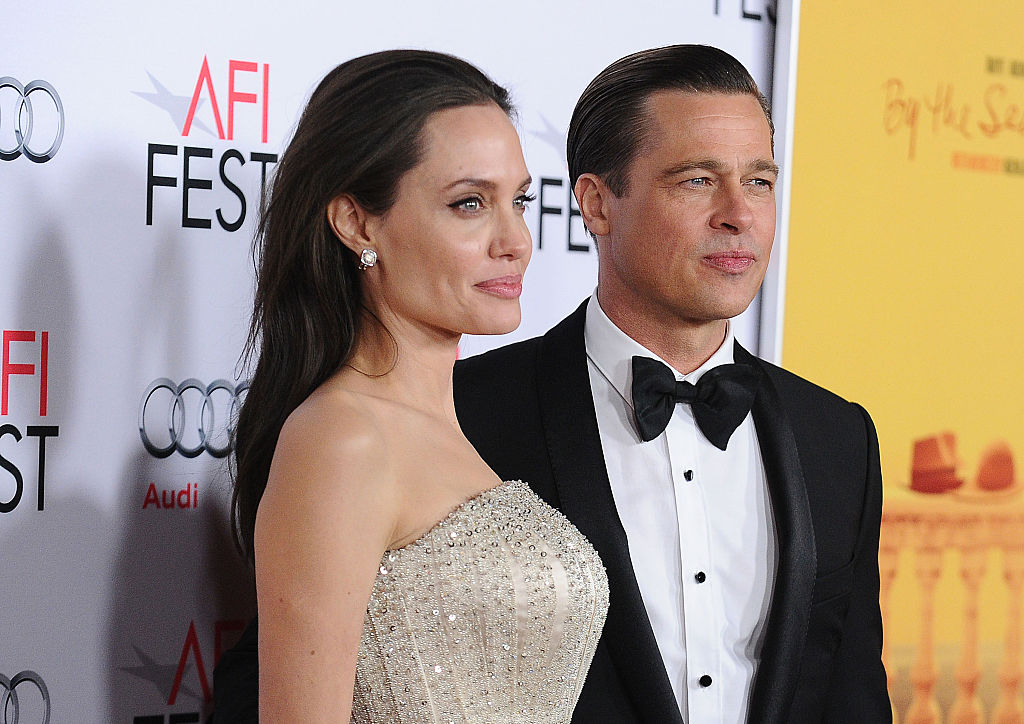 Shortly after announcing their split, Pitt was spotted on a beach with Jolie. He also appeared in a W Magazine spread with her and accompanied her on a trip to adopt a child in April 2005. By 2006 Jolie was pregnant. They married in August 2012, but Jolie filed for divorce in August 2016.
While Aniston moved on with a string of relationships and even remarried, fans remained furious for her. She's seemingly over it, but fans won't be forgetting the fact that Jolie split up Aniston and Pitt. In fact, followers are so immersed in the narrative that many believe that Pitt and Aniston will rekindle their relationship now that Jolie is out of the picture.
Is Angelina Jolie dating anyone now?
Jolie and Pitt's divorce was a struggle. The pair spent a lot of time and money hashing out custody agreements, and an insider has claimed that Jolie resented Pitt for pressuring her into getting married in the first place. According to the insider, Jolie never intended to marry Pitt, as she had married twice before and battled complicated divorces in the past. Now that she's gone through a divorce that included a custody battle, she's not keen on jumping into romance again.
While Jolie is reportedly dating around, she hasn't been directly tied to any one individual. It looks like the Maleficent star is looking to keep things quiet and peaceful for now. She's a bit busy with work, anyway. Jolie is currently filming The Eternals, the Marvel studio offering starring Jolie, Salma Hayek, and Kumail Nanjiani.  Who knows, though, she may find her next love interest on a movie set. It wouldn't be the first time she's ended up with a co-star.