Angelina Jolie's Kids Won't Let Her Do This 1 Fun Activity at Home
Many people are fascinated by Angelina Jolie's family. She is a prominent actor and human rights activist who has kids from different parts of the world.
In a new interview, Jolie gives fans glimpses into her family life, and she even reveals that her kids don't let her do this one leisure activity at home.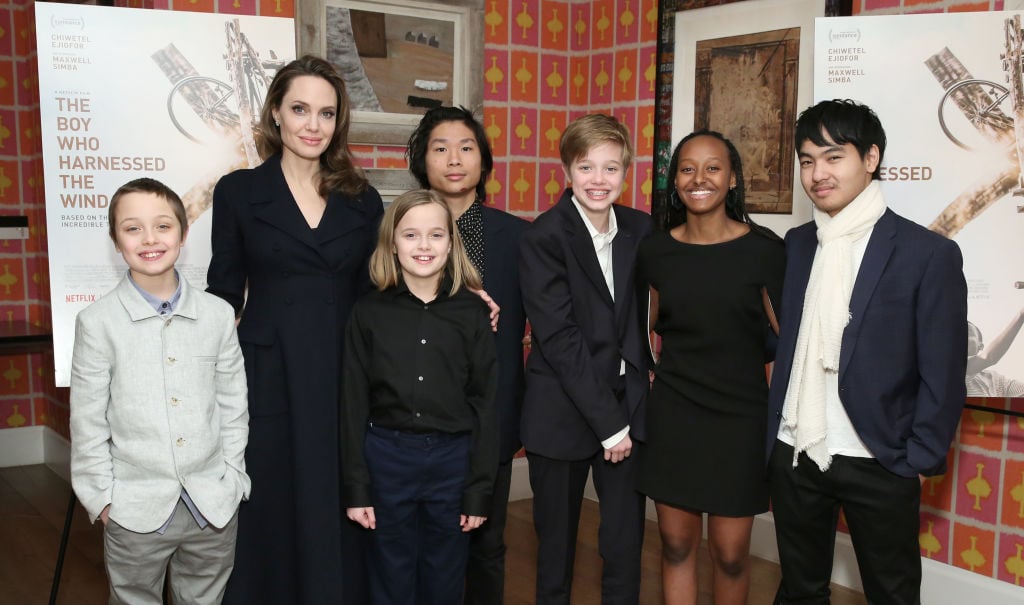 How many kids does Angelina Jolie have?
Jolie has six children with ex-husband Brad Pitt. Jolie and Pitt began dating sometime in the mid-2000s. They got married in 2014, though they filed for divorce about two years later.
Jolie and Pitt's oldest child is Maddox, who was born in 2001 in Cambodia. He was adopted in 2002 from an orphanage in his home country. At the time, Jolie was his sole parent, but when she started dating Pitt, he became Maddox's legal parent as well.
In the next few years, Jolie and Pitt adopted two more children: Pax (b. 2003) from Vietnam and Zahara (b. 2005) from Ethiopia.
Afterwards, the couple welcomed three biological kids: Shiloh (b. 2006) and twins Knox and Vivienne (b. 2008).
Angelina Jolie's kids won't let her jump on the trampoline at home
Jolie's kids are all tweens and teens now, and they are beginning to look after her as much as she looks after them. In a new interview with Vogue, she shared that her children won't let her jump on the trampoline at home because they're afraid of her getting injured.
"I'm looking forward to my fifties – I feel that I'm gonna hit my stride in my fifties," Jolie said. "Though we were on the trampoline the other day, and the children said, 'No, Mom, don't do that. You'll hurt yourself.'"
Jolie added, "I thought, 'God, isn't that funny?' There was a day I was an action star, and now the kids are telling me to get off the trampoline because I'll hurt myself."
Angelina Jolie says her kids think her opinions are 'a bit ridiculous' sometimes
It seems Jolie's children are each developing their own identity now, and they sometimes disagree with the things she says as well.
When asked if her kids have ever challenged her opinions, Jolie revealed, "Oh, yeah… They think that I'm a bit ridiculous, as they should."
Jolie also admitted that at some point her children simply don't see her as anyone special, and they know that she is just a person trying her best.
"You know, they've all crossed into that moment when they realise that there's nothing special about me. I'm just older. I don't have all the secrets. I just mean well," she said, noting that she is also just "a mom."
However, Jolie also appreciates having a family of people who are different from each other.
"We've been very blessed to have a family of different cultures and races," she admitted. "We are all learning from each other."