Angelina Pivarnick Breaks Silence About Chris After 'Sexpert' Episode of 'Jersey Shore: Family Vacation'
Angelina Pivarnick speaks out on social media after an emotional episode of 'Jersey Shore: Family Vacation.'
Angelina Pivarnick had a lot to say regarding her relationship with Chris Larangeira while "The Sexpert" episode of Jersey Shore: Family Vacation aired. Find out what the 35-year-old MTV star had to say about the episode, her Jersey Shore castmates, and her divorce from Chris.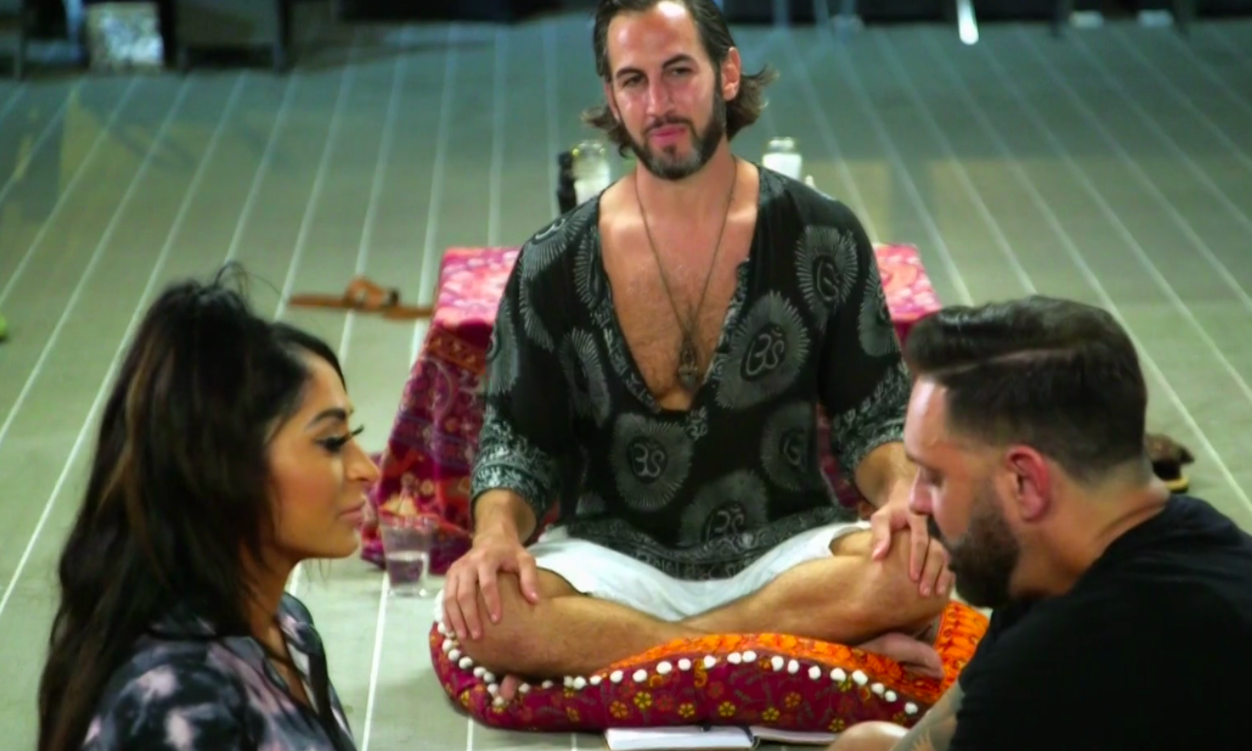 'Jersey Shore' cast gets relationship advice in 'The Sexpert' 
The cast of Jersey Shore: Family Vacation got emotional when a sex therapist dug deeper into Angelina and Chris' relationship. The "sexpert" led the couple through an exercise where they communicated their feelings in a way each of them could feel heard. 
Angelina talked about her childhood abandonment and how it impacts her life today. Chris said he felt secondary to Angelina's friends and family. 
"You know I love you," Chris told Angelina in the episode. "You're funny; you make me laugh all the time."
In what Deena Cortese called a "beautiful" moment, the couple cried together. The episode's other notable highlights include early footage from Nicole "Snooki" Polizzi and Cortese's "Meatball Show" and the JSFV kids' first confessional. 
Angelina Pivarnick admits her divorce from Chris Larangeria has 'been hard' 
As "The Sexpert" episode of Jersey Shore: Family Vacation aired, Angelina addressed what has become her very public divorce. "Its been hard," she tweeted. "All of it. Chris has been going to the media and my roomies. I don't know why, but I've been silent." 
Several fans tweeted in support of the reality star. One even called the episode "brutal" to watch. Angelina agreed, tweeting: "Especially knowing we aren't together anymore." 
When another fan tweeted about Chris loving Angelina, she replied: "Sorry we couldn't make it work. I think he needs to find himself also. The fact he called my friends and told them lies to ruin s*** broke me to the core."
Another Twitter user suggested the couple could have made things work, to which Angelina replied: "Too many [people] got involved and a lot of lies going around so. It's all sad."
As the episode aired, Angelina also said she was going back to therapy. "I have a lot to work on," she admitted. 
'Jersey Shore' fans 'feel bad' for Angelina Pivarnick 
Jersey Shore fans on Reddit discussed her tweets and emotional connection to what the reality star is going through. "I feel bad for her that she is going through her divorce and it's public," said on Redditor, adding: 
"[It's] hard enough to go through it when you're a no one, but to have everyone in your business probably makes it a ton worse. I don't think anyone deserves to be kicked when they're down like she has been."
"Chris' behavior post-breakup gives me a bad feeling," said another Reddit user. "I believe her here, 100%." 
Chris Larangeira filed for divorce from 'Jersey Shore' star Angelina Pivarnick in January 2022
Chris and Angelina were married in November 2019. Jersey Shore: Family Vacation Season 3 documented their ceremony.
Previously, Angelina filed for divorce in January 2021. However, she never served Chris the papers. According to The Sun, Chris filed for divorce in New Jersey on Jan. 22, 2022. 
Watch the Jersey Shore: Family Vacation Season 5A finale Mar. 24 at 8 p.m. ET on MTV.