Angelina Pivarnick Is Reportedly Not Speaking to the Rest of the 'Jersey Shore' Cast for This Reason
The cast of Jersey Shore has been split in the past with most members being against Angelina Pivarnick. They have managed to make up, but it sounds like the cast is split again.
Nicole Polizzi claimed Pivarnick isn't speaking to the rest of the cast members. Find out the reason why and what it means for their future.
'Jersey Shore' cast members got in trouble for a speech at Angelina Pivarnick's wedding
Deena Cortese, Jenni Farley and Polizzi were bridesmaids for Pivarnick. But they reportedly didn't hold back when it came to their speech at her wedding. Wedding guests reportedly booed them for their comments about the bride.
"Two weeks married @chris_e_piss_e my love .. We def need a total redo of this day for many reasons," Pivarnick wrote in an Instagram post, according to E! News. 
Cortese defended their speech on Instagram. "Listen I understand your all upset about our speech but we also included nice things in it as well," she wrote. "We thought since Angelina always says 'I never take myself seriously' she would truly laugh at the stuff we said .. clearly we were wrong .. we're friggen human .. people make mistakes. [sic]"
Pivarnick revealed she doesn't plan on quitting the show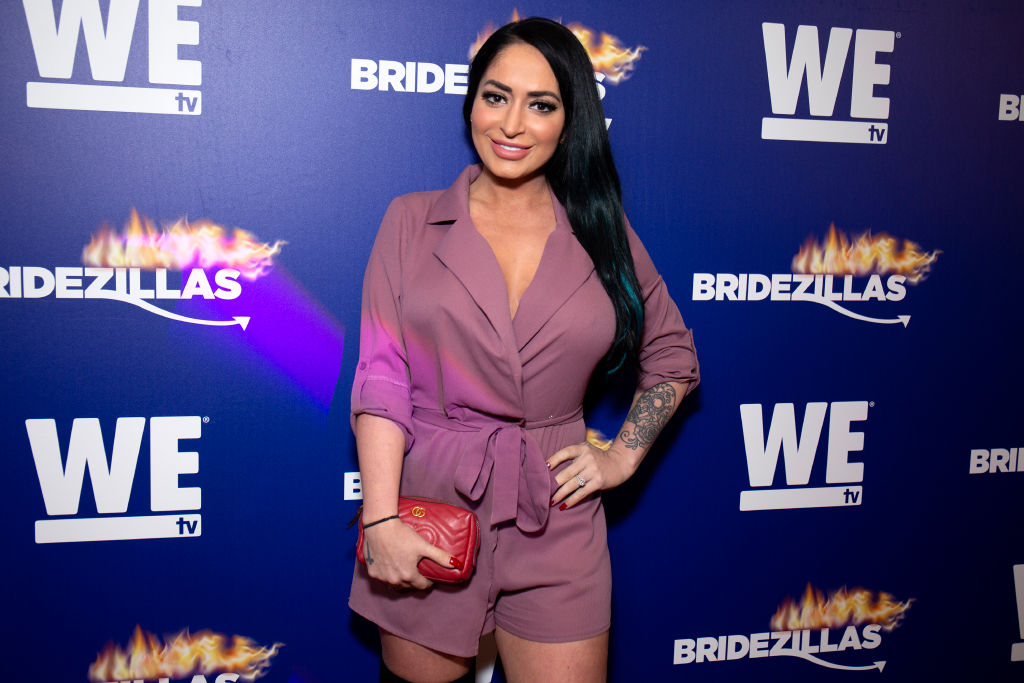 There is going to be a big cast change in the future. But one person who doesn't plan on quitting is Pivarnick.
"I'm not quitting the show," she told Page Six. However, she didn't know what to say about upcoming episodes.
"I don't know what the future holds for me with everything, but I like the way things are coming out — it's just that one thing," the reality star said possibly in reference to her drama with the fellow cast members after the wedding.
One person who is quitting is Polizzi. She announced that she is retiring from the show for several reasons.
"I love you so much and don't hate me for my decision, but I have to do what's best for me at the moment. And I am retiring from Jersey Shore. I am not coming back to Jersey Shore for season four if there is one," she announced on her podcast, It's Happening with Snooki & Joey according to Entertainment Tonight. "I just can't do it anymore. Like, literally, leaving my kids to film it is really, really hard on me… I try and quit every single day."
Nicole Polizzi said Pivarnick hasn't spoken to the rest of the cast
Polizzi gave an update on her falling out with Pivarnick after her wedding. She talked about it during a recording of her podcast, It's Happening with Snooki & Joey. The reality star claimed Pivarnick isn't on speaking terms with the rest of the cast since her wedding.
"You'll see on the show, you know, with the wedding and everything. We apologized," she said according to Us Weekly. "Obviously we weren't being malicious about it. It was just, you know, we were trying to be funny for the show and, like, in general."
The episode of Pivarnick's wedding has yet to air. Jersey Shore: Family Vacation will return on Feb. 27 at 8 EST on MTV.