Angelina Pivarnick's Instagram Stories Hint at Her Current Relationship With Chris Larangeira
Angelina Pivarnick married Chris Larangeira in November 2019. Their marriage was a big part of Jersey Shore: Family Vacation Season 3. Now, their marriage struggles are becoming part of the narrative for Jersey Shore: Family Vacation Season 4.
Regardless of what's happening in new episodes of Jersey Shore: Family Vacation, fans are paying close attention to Pivarnick's Instagram. In a recent video, she asked fans to stop sending her unsolicited nude photos. What's more, Pivarnick's post featured Larangeira. "[I] show Chris anyway," Pivarnick admitted. Here's what her Instagram Stories post could mean for their relationship.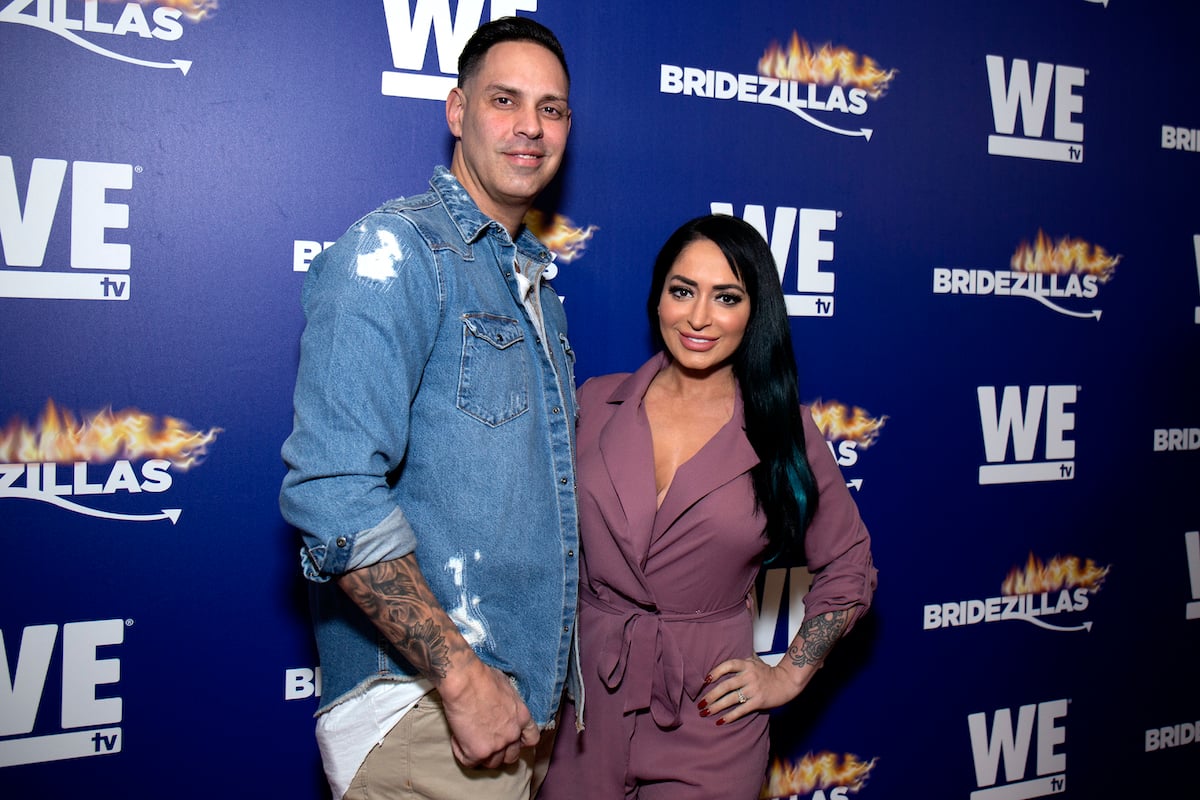 Chris Larangeira and Angelina Pivarnick's marriage is in jeopardy on 'Jersey Shore: Family Vacation' season 4
During "The Party's Back" episode of season 4, the roommates rallied around Pivarnick in support after Larangeira moved in with his mother. After the two got into a fight, Larangeira left with his clothes, but not before ripping up the Christmas card he got for Pivarnick.
RELATED: Nicole 'Snooki' Polizzi Says Chrissy Teigen Once 'Ran the Other Way' When She Tried to Interact With Her
"For him to do that to me over a fight is not fair," Pivarnick told Mike "The Situation" Sorrentino, who visited her. The episode showed Larangeira and Pivarnick at a low in their marriage, but it seems like the two managed to work things out.
Angelina Pivarnick's Instagram plea for people to stop sending inappropriate messages features her husband
According to Pivarnick's Instagram Stories, she has been getting a lot of nude photos in her direct messages (DMs). "Some of these DMs I'm getting on a daily basis are corny as f—," Pivarnick shared on June 16.
Sometimes I read these DMs and I'm like, 'Did that person really read that with a clear conscience and hit the send button?' Like what goes on in your f—— mind?
Pivarnick didn't cite specifics, but she did ask another thing of her followers: "Don't send me your d—pics, because they're all gross. I don't give a s— about that… they're all gross."
Then, Pivarnick turned her cell phone toward her husband "I kind of just show Chris anyway and he laughs," she said. For posterity, Pivarnick added text to her video that read: "I will never answer when you send those; they are gross."
Angelina Pivarnick's husband is still in the picture
After Ronnie Ortiz-Magro's Instagram post regarding Pivarnick's alleged divorce, some Jersey Shore: Family Vacation fans had questions. But, thanks to her recent Instagram Stories post, many fans think Larangeira and Pivarnick are still living together.
"Right now, we're just living life," Pivarnick explained to In Touch Weekly. "That's all I can say right now. One thing I've learned since being married is communication is a big thing in a relationship. If you don't have that, sometimes s— hits the fan."
'Jersey Shore: Family Vacation' cast receives evidence of Angelina Pivarnick cheating on Chris Larangeira
In an exclusive clip from the June 17 episode of Jersey Shore: Family Vacation, Mike "The Situation" and Lauren Sorrentino get a text regarding Pivarnick's alleged behavior (via E! News).
"Angelina has been going to her neighbor's house," Lauren says in the clip, reading the text. "[She] keeps parking in the spot in front of her house and she is allegedly cheating on her husband with this girl's neighbor. Angelina is 'throwing her garbage and chicken nuggets [at] everyone outside.'"
RELATED: 'Double Shot at Love' Fans Only Care About 1 Relationship in Season 3
According to Lauren, there's video footage of Pivarnick doing these things from a security doorbell. "She's trying to sell these videos to the tabloids and she said Angelina was at her complex this morning when she left for work," Lauren adds.
At this time, it's unclear who this text is from. But as Mike points out: "We don't even know the validity of this girl, but this could be damaging. If this person is going to TMZ, this could ruin her life."
Fans will have to tune in to the episode June 17 at 8 p.m. ET on MTV to see how this plays out.