'Animal Crossing: New Horizons': Every Event Coming in February 2022
'Animal Crossing: New Horizons' players can nab several limited-time items in February, plus celebrate Festivale with Pavé. Here's the full February event guide.
After a quiet January, Animal Crossing: New Horizons has a new lineup of events, limited-time items, and even some seasonal changes in February. Players can party it up with Pavé the peacock during the Festivale celebration, decorate their islands for holidays like Valentine's Day, and more. Here's what to expect from the Nintendo game this month.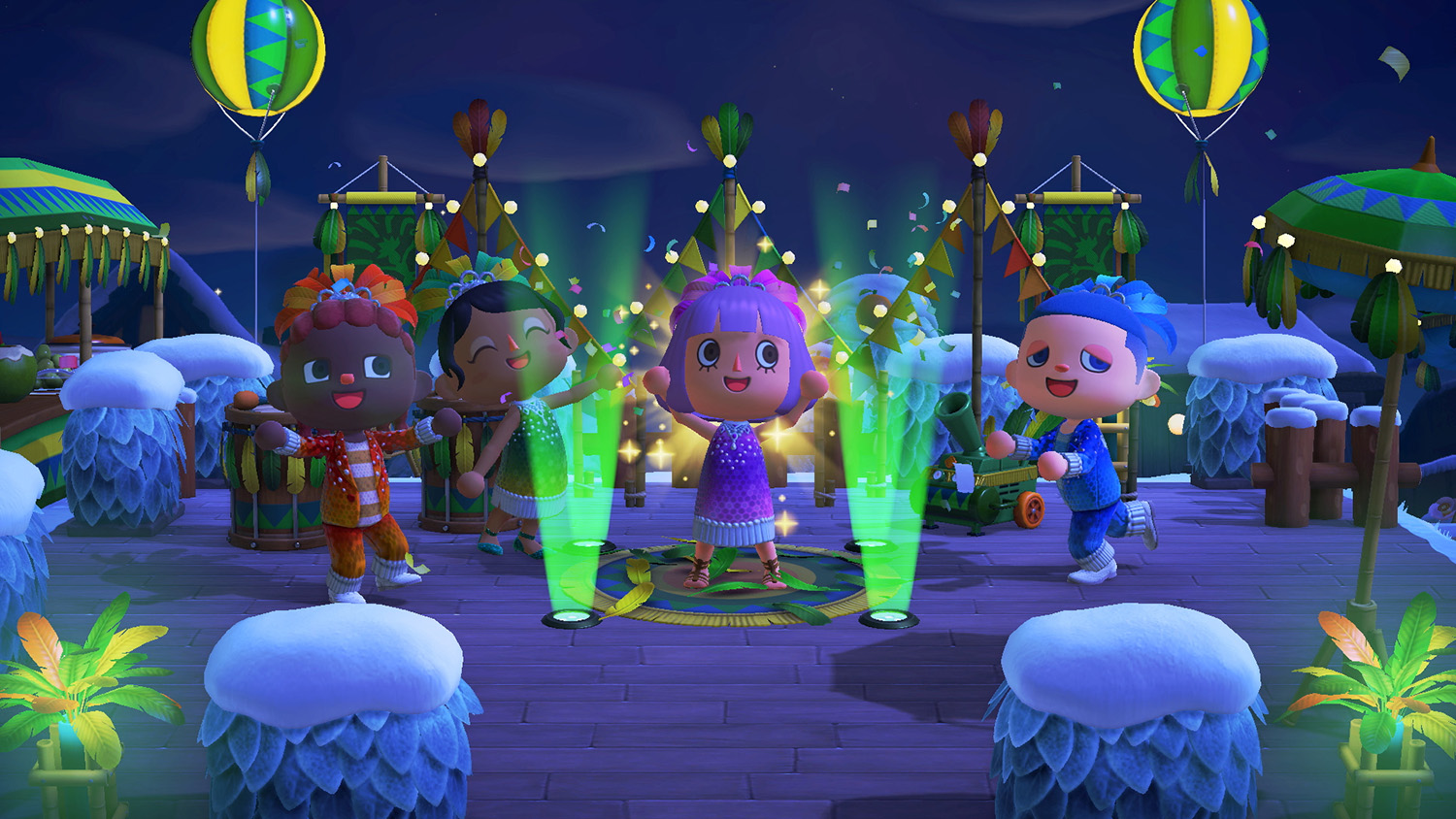 Celebrate seasonal events all month long with Nook Shopping and Able Sisters items
Throughout the entire month, Nook Shopping and Able Sisters will rotate limited-time items to celebrate various real-life holidays and events. For starters, Animal Crossing players have until Feb. 2 to grab the Resetti Model in honor of Groundhog Day, and until Feb. 3 to purchase the Setsubun Bean-Tossing Kit. There are also Setsubun Ogre costumes available in Able Sisters from Feb. 1 to Feb. 3.
Feb. 1 also marks the first day to purchase Valentine's Day items from Nook Shopping, which include a Chocolate Heart and a Heart-Shaped Bouquet. And yes, the Chocolate Heart is an edible dish! These items will disappear from Nook Shopping on Feb. 14, so players should grab them before Valentine's Day.
There's still time to buy Big Game Celebration items in honor of the Super Bowl. The Football Cheer Megaphone and the Football Rug will leave Nook Shopping on Feb. 15. Animal Crossing: New Horizons Update 2.0 also introduced a new celebration: the Carnival of Venice. Until Feb. 16, players can find a Venetian Carnival Mask in various colors at Able Sisters.
Finally, one more seasonal celebration arrives at the end of the month: the Hinamatsuri Festival. On Feb. 25, the Hhinaningyo and the Blossom Lantern will become available in Nook Shopping.
February marks the return of the Festivale event in 'Animal Crossing: New Horizons'
Break out those dance moves, because it's almost time for the second annual Festivale event. On Feb. 28, Pavé will set up his dancing stage outside Resident Services. Players will want to dress up in their best Festivale attire, which can be purchased from Able Sisters until the day of the event.
Pavé tasks players with catching colorful feathers; these can then be traded in for various Festivale items. He'll ask for three of the same color or one Rainbow Feather, which players can craft using one feather of each color. In the days leading up to Festivale, all the items will also be available for purchase in the limited-time section of Nook's Cranny.
Here's the full list of Festivale items, per Animal Crossing World:
Rainbow Feather
Festivale Balloon Lamp
Confetti Machine
Drum
Flag
Garland
Lamp
Parasol
Stage
Stall
Float
Costume (Able Sisters)
Tank Dress (Able Sisters)
Accessory (Able Sisters)
The spring season arrives in late February for Northern Hemisphere 'Animal Crossing' players
February marks the final month of the winter season in the Northern Hemisphere, which means no more snow. On Feb. 25, the season will change to spring. Players can look forward to the return of Young Spring Bamboo and its accompanying seasonal recipes, which Isabelle will discuss with her morning announcements on Feb. 25. Until then, it might be a good idea to keep making perfect Snowboys to collect any leftover frozen recipes.
Animal Crossing: New Horizons is available now on Nintendo Switch.