'Animal Crossing: New Horizons': A Complete Guide to the 2021 Turkey Day Event
Animal Crossing: New Horizons players should prepare for a virtual feast because the second annual Turkey Day has arrived. The Nintendo game's celebration falls on the same day as American Thanksgiving — that's Nov. 25 in 2021 — and finishes off Animal Crossing's November event schedule. Players meet a special turkey NPC named Franklin, whom Tom Nook invited to cook food for the island. Franklin has quite the menu planned, but he needs players' help to put it all together. Here's everything to know about Turkey Day, including recipes, rewards, and more.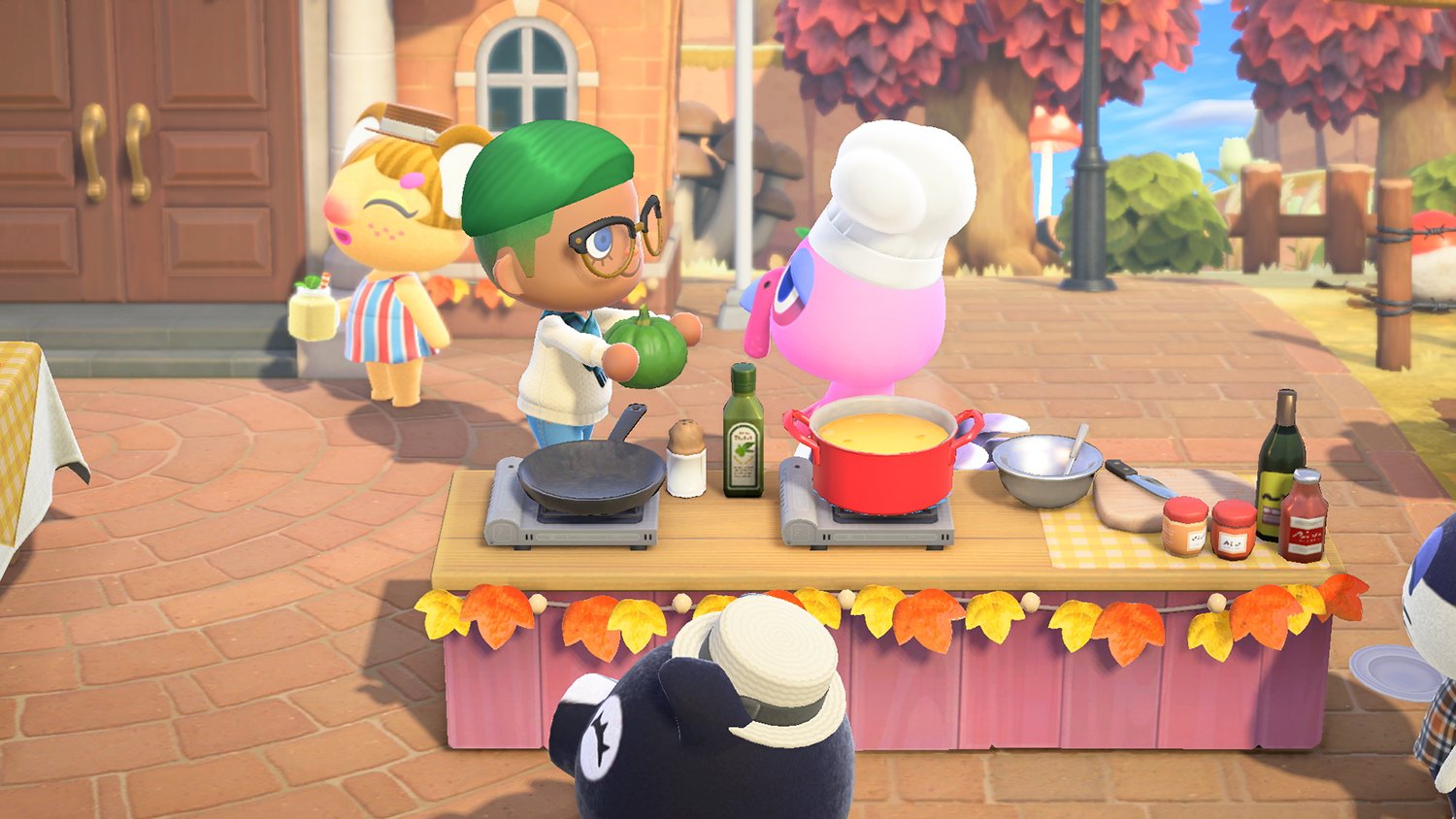 What happens on Turkey Day in 'Animal Crossing: New Horizons'?
As Animal Crossing World notes, the main activity on Turkey Day involves a scavenger hunt. You must talk to Franklin to get started. He'll read off recipes for various dishes and send you to find the ingredients, which include items like pumpkins, clams, and fish. His recipes for 2021 will likely be similar to last year's. However, Animal Crossing: New Horizons Update 2.0 added a cooking feature for players and the ability to grow tomatoes, wheat, and more, so those ingredients may be included as well.
In addition to Franklin's ingredient list, you can bring one secret ingredient to complete the recipe. However, he doesn't tell you the ingredient, so you must figure it out (or find them below). Once you've collected all the components, bring them back to Franklin, and he'll whip up the dishes.
Franklin won't be the only one cooking on Turkey Day. Villagers in their homes will also set up cooking stations where you can trade ingredients. This is an option to keep in mind if you don't have enough vegetables growing on your island. Villagers will also drop hints about Franklin's secret ingredients, so pay attention to the dialogue.
Where to find Franklin and what time the event begins
Franklin will set up his cooking station outside the Resident Services building at 9 a.m. local time on Nov. 25. If you're playing Animal Crossing before that time, the screen should reload, and Resident Services should announce that the Turkey Day event has begun. You'll hear special music playing on the island for the duration of the event. Additionally, animal villagers will walk around wearing hats and carrying plates or drinks.
Thankfully, there's plenty of time to gather ingredients and complete Franklin's requests. The festivities will run until midnight.
'Animal Crossing: New Horizons' Turkey Day recipes and secret ingredients
If the 2021 event follows last year's pattern, Franklin will ask for help with four recipes. However, some ingredients depend on which hemisphere you're in, as only certain fish will be in season. Here are the recipes and their components, including the secrets:
Pumpkin Pie
1 orange pumpkin
1 white, yellow, or green pumpkin
Secret: 1 pumpkin in a color you did not provide already
Clam Chowder
3 manilla clams
Secret: 1 scallop
Gratin (Northern Hemisphere)
1 mussel
A flat, round, or skinny mushroom
1 oyster
Secret: 1 Dungeness crab
Gratin (Southern Hemisphere)
1 squid
1 sea urchin
Secret: 1 Dungeness crab
Fish Meuniere (Northern Hemisphere)
1 sea bass
1 olive flounder, dab, or red snapper
Secret: 1 Barred knifejaw
Fish Meuniere (Southern Hemisphere)
1 sea bass
1 olive flounder or red snapper
Secret: 1 Barred knifejaw
Additional ingredients you might need: 1 Flour, 1 Carrot, 1 Potato
Every Turkey Day reward for helping Franklin
Finally, those who participate in the Animal Crossing: New Horizons Turkey Day event will receive exclusive rewards. Franklin will provide a Turkey Day item for every completed, plus exclusive DIYs for secret ingredients. The final four DIYs will be provided if you get all the secret ingredients right. However, Franklin won't hand them to you. The recipes will automatically appear on your NookPhone. Here's the full rewards list:
Items
Turkey Day Wall
Cornucopia
Turkey Day Rug
Turkey Day Flooring
DIYs
Turkey Day Chair
Table
Decorations
Casserole
Garden Stand
Table Setting
Hearth
Wheat Decor
If you miss the Turkey Day event, don't worry; you can time travel back to it. Alternatively, you can grab the items and DIY collection from Nook's Cranny for a few days after the event.
Animal Crossing: New Horizons is available now on Nintendo Switch, as well as the Happy Home Paradise DLC.