'Animal Crossing: New Horizons': 5 Ways to Celebrate Valentine's Day in the Game
'Animal Crossing: New Horizons' doesn't have a Valentine's Day event, but there are plenty of ways for players to celebrate the holiday.
Animal Crossing: New Horizons has special events for many winter holidays, including Thanksgiving and Christmas, but Valentine's Day doesn't receive much attention. Thankfully, players can enjoy the holiday in their own creative ways. Here are some things you can do in Animal Crossing to celebrate the season of love.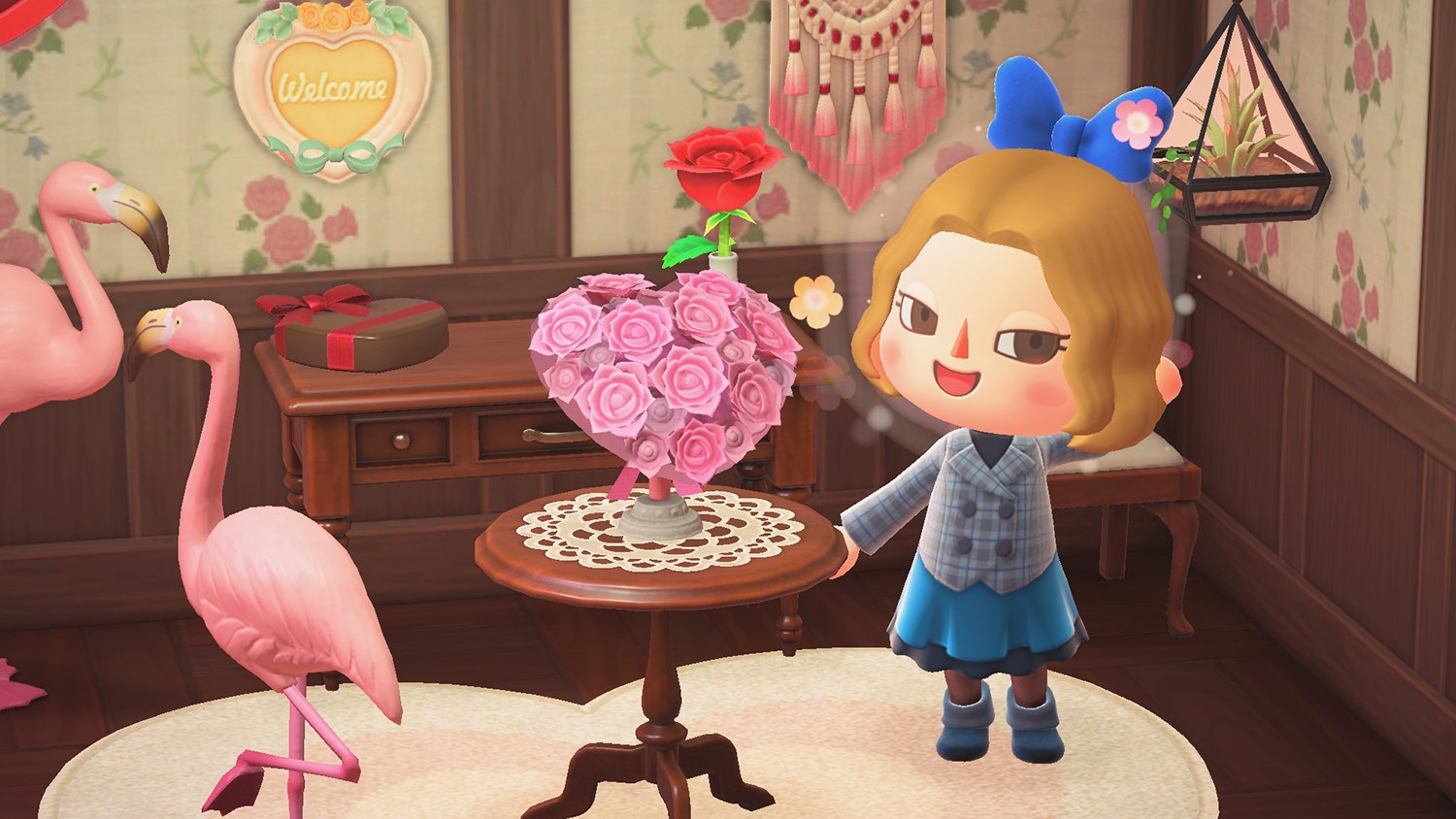 Decorate your island for a Valentine's Day theme
Animal Crossing: New Horizons offers two different Valentine's Day items in Nook Shopping — a Chocolate Heart and a Heart-Shaped Bouquet. There are four variations of the chocolate and six of the bouquet, so fans should keep checking the seasonal tab of Nook Shopping to collect them all. The Valentine's Day products will leave the online shop on Feb. 14.
Aside from making great gifts, the chocolates and bouquets are perfect for decorating your island. You can place them all over town to remind you of the holiday.
Additionally, feel free to get creative with non-Valentine's Day items. The Cute furniture set, for example, includes a heart-shaped rug, which can bring a Valentine's Day flair to your home. You can also use roses or anything pink or red to offer the same vibe. There are plenty of custom design codes for Valentine's Day, too!
Open mail from your villagers
Make sure your mailbox has plenty of room because you're going to receive a lot of mail on Valentine's Day. Every villager whom you have a high friendship level with will send you a letter and a present containing a bouquet or a chocolate box. Plus, you'll even get a gift from Isabelle. They really know how to make someone feel appreciated!
Send Valentine's Day letters to friends
After you've opened your mail, you might consider spreading the love to fellow Animal Crossing: New Horizons players. Head over to the airport and talk to Orville to send letters to friends on Valentine's Day-themed stationery. You can add a gift, write a punny Valentine's Day joke, tell your friends what you love about them, or ask someone to be your Valentine.
Visit Brewster for a special treat
Thanks to Animal Crossing: New Horizons Update 2.0, Valentine's Day 2022 has an added treat for players. Head over to The Roost café, located inside the museum, and talk to Brewster for a limited-time item. Instead of the usual coffee, he'll give you a cup of delicious hot chocolate and wish you a happy Valentine's Day. You can only receive the drink once on Valentine's Day, so savor the moment!
Give presents to your villagers
Finally, you can return the Valentine's Day love to your villagers by giving them some thoughtful gifts. You can use online tools like Nook Plaza to find lists of the best presents for each animal, although they'll typically appreciate anything. Wrap the presents in red wrapping paper to make it feel more Valentine's Day-friendly!
Animal Crossing: New Horizons is available now on Nintendo Switch.