'Animaniacs': The Unexpected Inspiration for Dot's Very Long Name
In 1993, a new cartoon that was destined to become a cultural touchpoint of the decade hit the airwaves. With a frantic kind of energy, surprisingly sophisticated references, and a tone that was almost too adult for its audience, Animaniacs was a huge hit. Hulu recently brought back a remake of the beloved show, creating a whole new generation of fans.
Longtime fans of the show may know that one of the characters, Dot Warner, has an unusually long name. What is her full name, and what was the inspiration for it?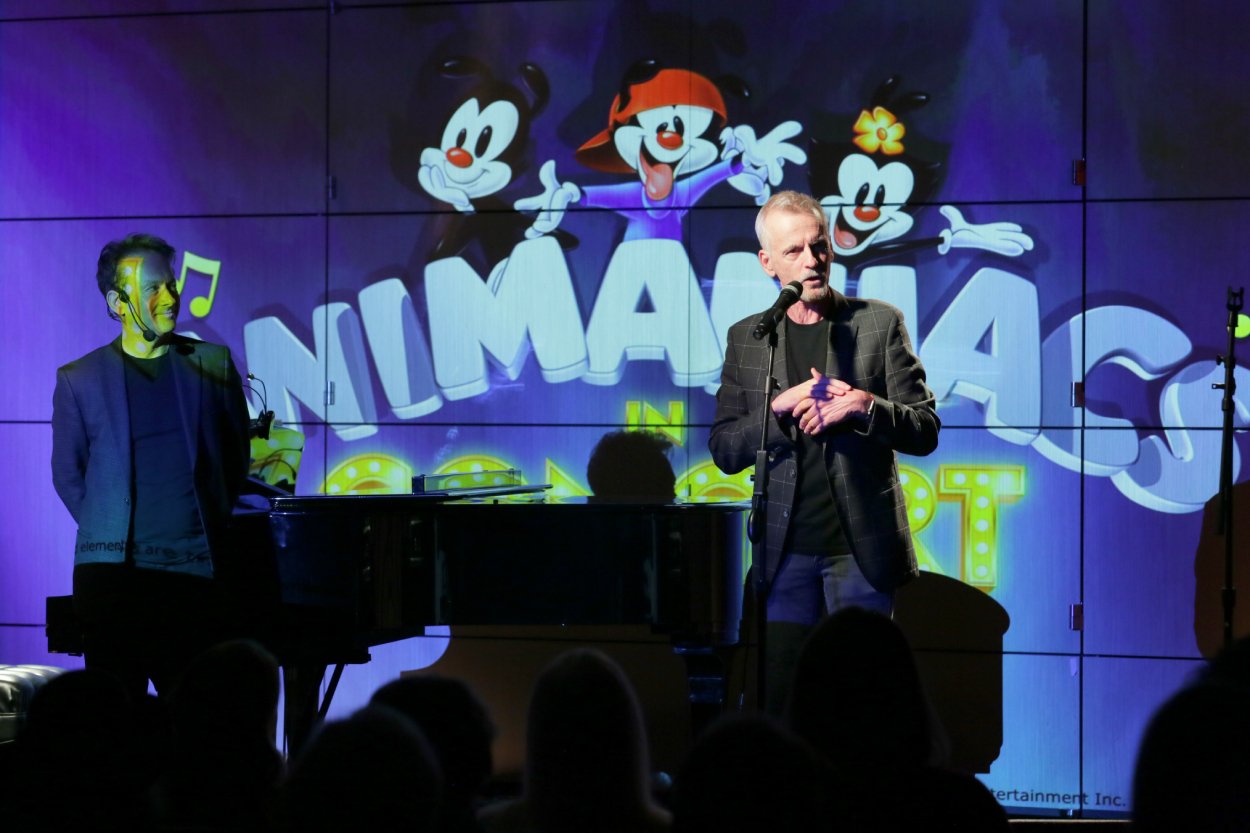 'Animaniacs' was a different kind of cartoon
For the kids of the '90s, Animaniacs was an important part of their childhoods. The chaotic, clever cartoon was full of references drawn from history to pop-culture. According to Mental Floss, it was produced by Warner Bros. Animation and Steven Spielberg's Amblin Entertainment, and it was a spinoff of another cartoon they had produced, Tiny Toon Adventures.
The original vision for Animaniacs was to take Plucky Duck, a character from Tiny Toon Adventures, and give him his own show. But one of the show's producers, Tom Ruegger, wanted to base the characters after his three sons instead. The ideas merged, creating three siblings, Yakko, Wakko, and Dot Warner, who are some indistinct variety of animal.
Yakko was voiced by Rob Paulsen, who had done the voice of Raphael on another popular cartoon, Teenage Mutant Ninja Turtles. Voice actor Jess Harnell played Wakko, with the inspiration for his voice coming from an unusual source. Tress MacNeille, who had voiced Babs Bunny on Tiny Toon Adventures, played little sister Dot.
Dot is one of a kind
RELATED: 6 of the Craziest Animated TV Shows Not Meant for Kids
Dot is the youngest of the Warner siblings and the only girl. Although she wears a pink skirt and refers to herself as the cutest one on the show, Dot is no lightweight.
She is portrayed as headstrong, intelligent, pushy, compassionate, conceited, aggressive, and sentimental. If that seems like a lot to wrap your head around, wait until you hear her full name. Buzz Feed reports that Dot's full name is"Princess Angelina Contessa Louisa Francesca Banana Banna Bo Besca the Third."
Where did tiny Dot get such a big name? According to the show's writer Sherri Stoner, the name was a reference to another character. And this one is surprisingly wholesome and heartwarming.
A literary inspiration for Dot's name
RELATED: Favorite '90s TV Shows That Are Making a Comeback Soon
In 1945, Swedish author Astrid Lindgren published a book called Pippi Longstocking. According to Buzz Net, she had invented the character of Pippi in bedtime stories for her daughter, and the freckled girl with bright red pigtails quickly became a worldwide favorite.
Two more books followed, as well as TV series, movies, and even a ballet. The books have been translated into more than 70 different languages, and they are read all over the world.
Pippi is a head-strong, independent 9-year-old girl who lives alone in her own house. She's depicted as being super strong (she can lift a horse over her head), and she's not one to back down from a fight.
Dot's writer, Stoner, must have found Pippi's plucky, indomitable spirit to be a source of inspiration when creating Dot. The youngest Warner sibling's unwieldy full name is patterned after Pippi's: Pippilotta Delicatessa Windowshade Mackrelmint Ephraim's Daughter Longstocking.
The Animaniacs writers are known for putting more thought into a kid's cartoon than you might expect. Dot's long full name isn't a joke, but a nod to a literary character that was an inspiration for creating Dot. That's just the sort of clever reference that fans of the cartoon have come to expect.