Anna Wintour Revealed What She and Queen Elizabeth II Were Smiling About at Fashion Week
Anna Wintour, the longtime editor-in-chief of Vogue magazine, sat front row at designer Richard Quinn's London fashion show in 2018 when a surprise guest sat next to her, Queen Elizabeth II. During the fashion show, the women were photographed laughing and smiling. Now, thanks to Wintour, we know what made the women laugh.

Anna Wintour revealed what she and Queen Elizabeth II were laughing about at fashion show

Normally, a photo of women smiling wouldn't be anything of note except in the case of Queen Elizabeth II and Wintour, who aren't often photographed with smiles on their faces.

During an interview with Tina Brown at the Women in the World conference earlier this year, Wintour revealed what she and Queen Elizabeth II were smiling about at Quinn's fashion show.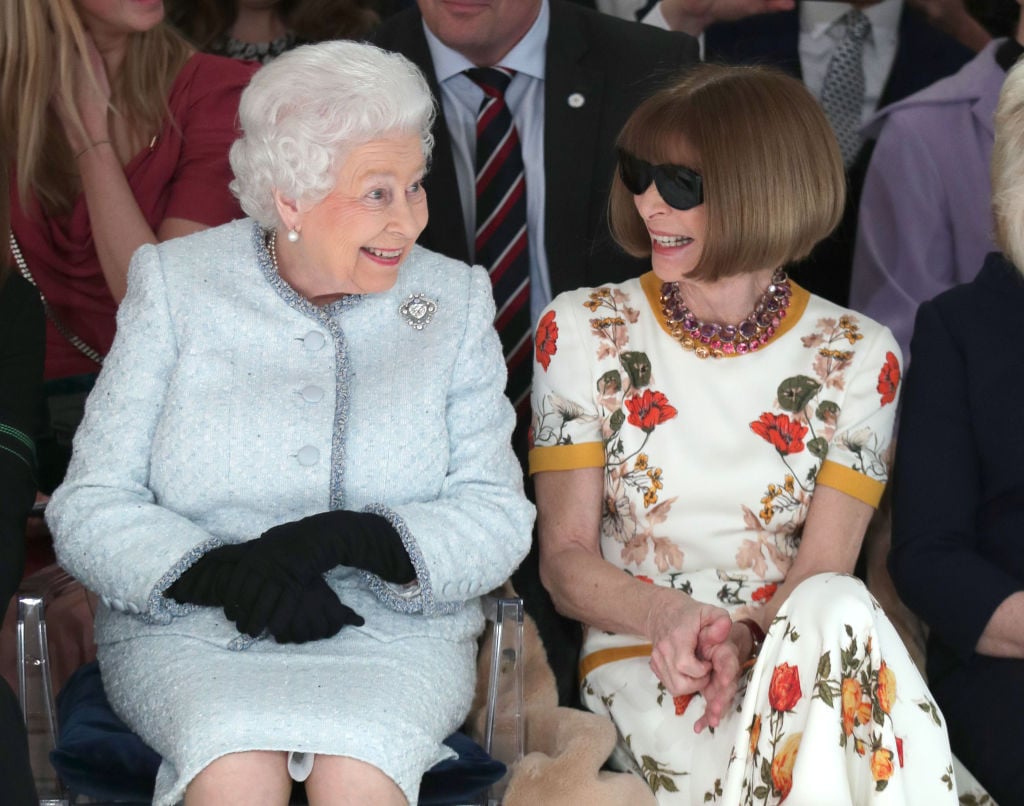 "She and I discussed how long we've both been in our jobs," Wintour told Brown, according to WWD.

Wintour's been the editor-in-chief of American Vogue since 1988 but has been working in the fashion and publishing industries practically her entire adult life.

As for Queen Elizabeth II, she's the longest reigning leader of the British monarch, becoming queen in 1952 after the death of her father, King George VI.

Why did Queen Elizabeth II attend the fashion show?

The purpose of Queen Elizabeth II's attendance at the fashion show was to present Quinn with an award, the Queen Elizabeth II Award for British Design, according to Vogue.

"The Queen showed a real interest and commented that she enjoyed the show and that the award is a great new landmark for British fashion, not only for me but for all designers coming up," Quinn later remarked about the experience.

Did Wintour disrespect Queen Elizabeth II by wearing sunglasses?

Wintour received criticism for keeping her signature dark sunglasses on while in the presence of Queen Elizabeth II.

Opinions on Wintour's sunglasses were mixed on social media.

One person tweeted, "Why does Anna Wintour feel she has to wear her shades in the front row of a fashion show and sat next to the Queen?" while another said, "It was not disrespectful for Anna Wintour to wear sunglasses with the Queen. I have eyes that are very sensitive to light myself and sometimes it is necessary for me to wear sunglasses indoors if the lighting is too bright. Would you rather that she was squinting?"

Did Anna Wintour break royal protocol?

Grant Harrold, an etiquette expert, who at one time worked in the home of Prince Charles, reportedly said Wintour did indeed break royal protocol.

"Ms. Wintour should know that to wear sunglasses when talking to another person, with no medical reason, is unacceptable," he said according to  "She should have removed them before being in the presence of the Queen, let alone in discussion."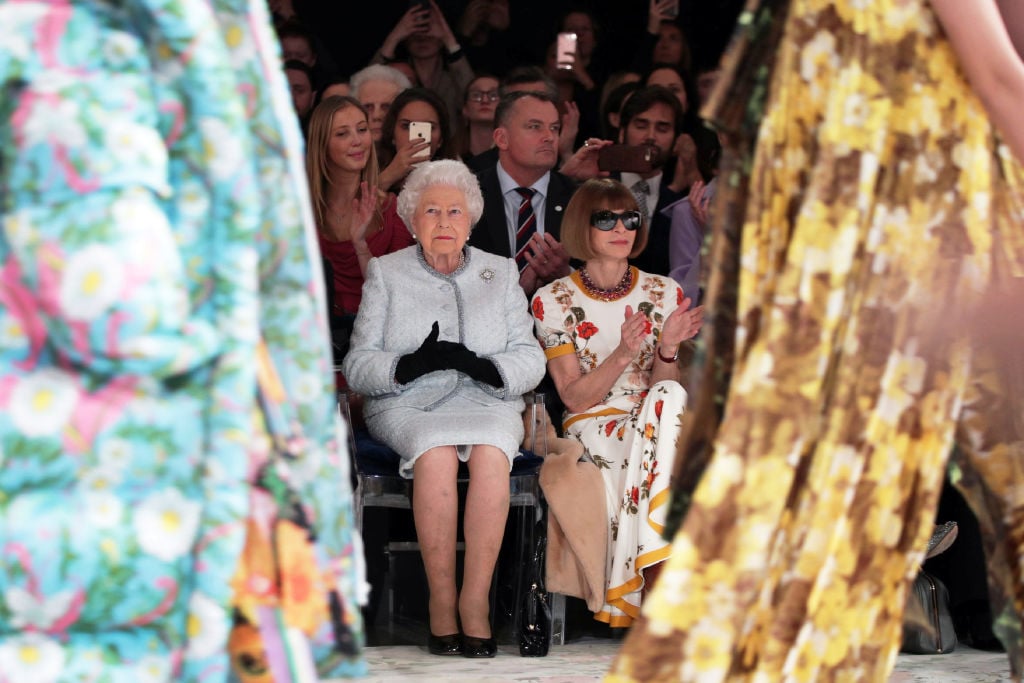 He went on to explain the importance of eye contact in discussions, which sunglasses prohibit.

"Eye contact is important while holding a discussion, and not removing sunglasses is the height of bad manners and a serious breach of royal protocol. If the Queen gave her permission to keep them on then that would be acceptable, however, this would be unlikely."

We'll have to wait until Queen Elizabeth II sees Wintour again to find out if the fashion editor will be with or without her signature sunglasses.