Anne Burrell Almost Gave Up Her Dream of Becoming a Chef
Anne Burrell is known as a fiery Food Network chef with a bold style. Her signature blonde hair has hosted an array of unique styles,
The world of chefs, especially among television stars, is dominated by males. There is one female chef who has shone like the star she is, however, and made herself a household name.
Anne Burrell is known as a fiery Food Network chef with a bold style. Her signature blonde hair has hosted an array of unique styles, each as showstopping as the next.
Still, there is no doubt that Burrell's skills in the kitchen shine even brighter than her style. With multiple successful shows on The Food Network, it might come as a shock to fans that at one time, Burrell almost gave up her dream of becoming a chef. 
Anne Burrell's early years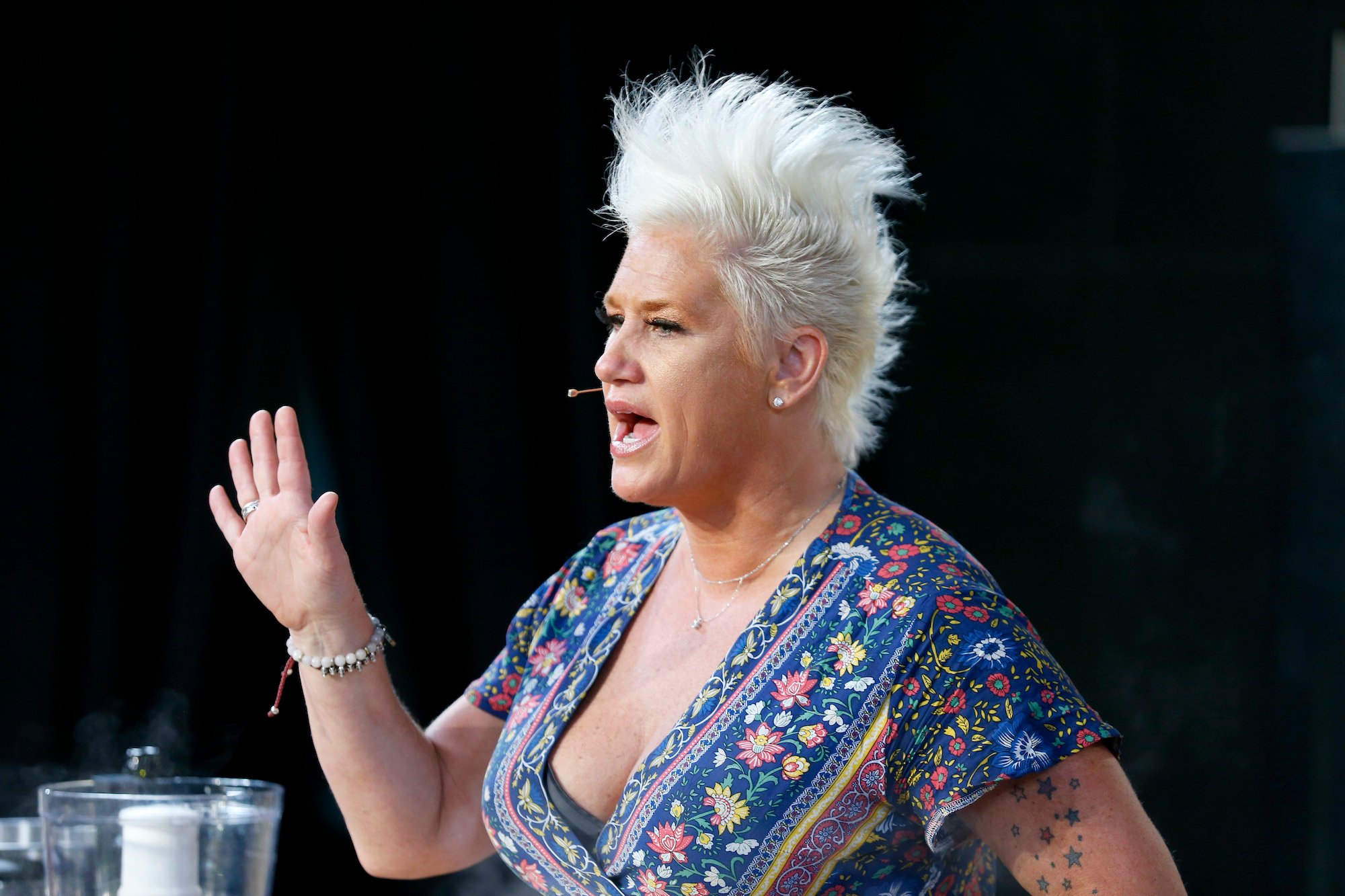 For as long as she can remember, Burrell has loved to cook. According to AOL, she grew up cooking with her mom in New York.
She remembers fondly picking vegetables in their home garden and helping her mother in any way possible, and growing up, cooking led her to dream of becoming a chef.
She was an active member of 4H, per Total Food, and loved learning all there was to know about cooking. Burrell nostalgically recalls telling her mother at the age of three, "…I have a friend named Julia,' and she said, 'You do? Who?' I said, 'Julia Child; I watch her every day on TV.' Julia Child and my mom got me started on that path."
Unfortunately, like many of us, that dream was put on hold as Burrell aged. She attended Canisius College in Buffalo, where she earned a degree in both English and communications. 
After graduating from college, Burrell's mother urged her to pursue careers that used her degree. Burrell obliged by finding a job as a physician headhunter but hated her job.
At the age of 23, the young New Yorker knew she needed to make a significant change and pursue her love of cooking. She quit her job and humbly found a job at the bottom of the restaurant business as a prep cook.
For a year, the aspiring chef cleaned shrimp, cut vegetables, and washed lettuce. 
Anne Burrell's culinary career
After a year of working as a prep cook, Burrell enrolled in the Culinary Institute of America. There she built the foundation that would support her burgeoning career. Following her love of Italian cuisine, Burrell went to Italy to study at the Italian Culinary Institute for Foreigners.
There she learned how much she had to learn about what Italian food really was. With this knowledge under her belt, the young chef returned to New York.
Burrell took several jobs at various restaurants in New York as she built her culinary reputation. After working as the chef at Savoy, serving Mediterranean cuisine, Burrell found herself burned out. Despite her success, the work and lifestyle had taken a toll on the young New Yorker.
She decided to step back from restaurants and take a job as a teacher at the Institute of Culinary Education. Her time as a teacher helped develop her skills and reassess why she cooked.
Anne Burrell's Food Network stardom
Luckily for Burrell's fans, she returned to cooking after a few short years of teaching. By complete chance, the chef answered an ad in the newspaper for Mario Batali's wine store, Italian Wine Merchants. Burrell didn't personally meet Batali for a month, but when she did, there is no doubt she made an impression.
While working for Batali, Burrell was asked to work with him on Iron Chef. Since her debut on that show, Burrell has gone on to host Secrets of a Restaurant Chef, Worst Cooks in America, and Chef Wanted. 
Fans adore Burrell for being genuine yet challenging. These qualities stem from her past. The road was not always easy for the Food Network star, but she persevered. Through dedication, hard work, and a deep love of cooking, Burrell has become a household name.