Anne Hathaway and Eva Mendes Both Wanted to Be Nuns Before Breaking out in Hollywood
Both Eva Mendes and Anne Hathaway wanted to be nuns when they were younger. Learn more about them and other celebrities who wanted to devote their lives to religion.
As children, most people had big dreams and aspirations about what they wanted to be when they grew up. Celebrities are no different. Some celebs may grow up longing for the spotlight while others dream of a much more normal way of life. Then you have the stars like Anne Hathaway and Eva Mendes who both wanted to be nuns before breaking out in Hollywood.
Anne Hathaway grew up as a Roman Catholic
Before we knew Hathaway as the delightful, albeit awkward, Mia Thermopolis in The Princess Diaries, she was a girl who at one time considered becoming a nun.
This is due in part to having grown up as a Roman Catholic. However, thanks to her mother, Kate McCauley, she also developed a love of acting while touring with her during the musical Les Misérables.
According to Vogue, Hathaway wanted to be both an actress and a nun when she was younger, though acting was her primary ambition and being a nun was "more of a sidebar thing."
It all changed though when Hathaway's oldest brother came out as gay, which spurred the family of Roman Catholics to convert to Episcopalianism. Regarding this conversion to a new faith, Hathaway has reportedly said, "Why should I support an organization that has a limited view of my beloved brother?"
It was a switch that really didn't sit well with Hathaway, and today she identifies as "nothing," stating, "I'm a work in progress."
Eva Mendes also left the call of the convent behind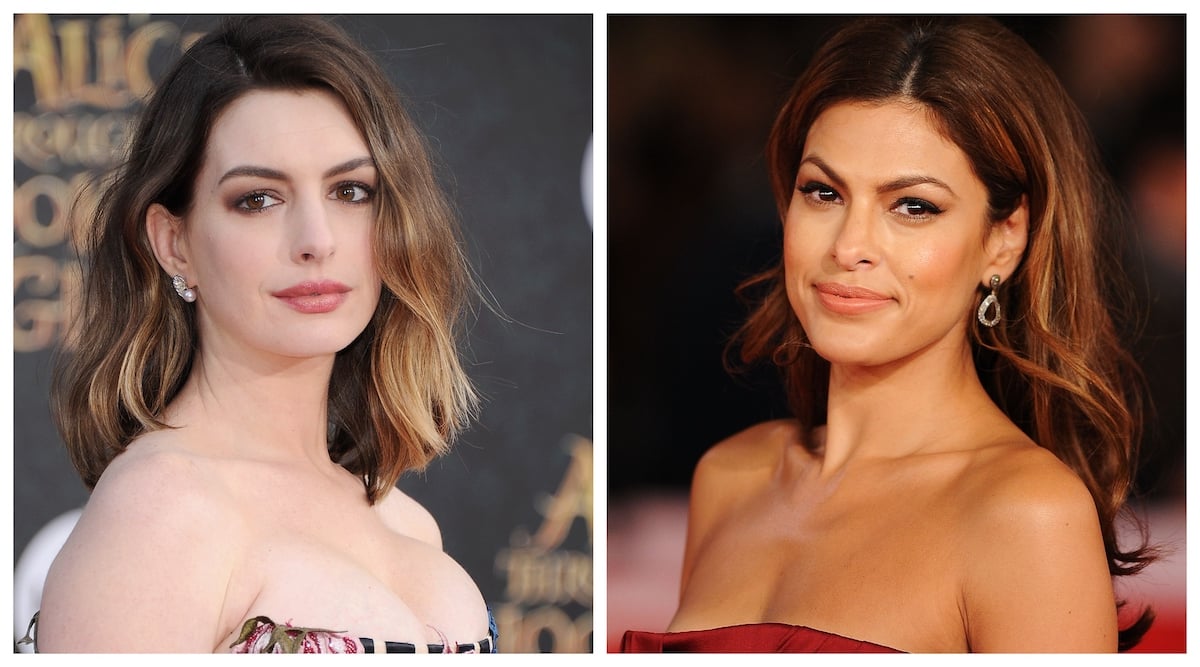 Mendes first hit the screen in 1998 with a direct-to-home video movie, Children of the Corn V: Fields of Terror. But it wasn't until 2001 and her appearance in Training Day that the world noticed her. Since then, she has gone on to appear in many movies including 2 Fast 2 Furious (2003), Ghost Rider (2007), and Hitch (2005).
Like Anne Hathaway, Eva Mendes was also raised as a Roman Catholic — and one of her first ambitions was to become a nun. However, according to Daily Mail, this took a turn when her older sister, Janet Mendes, informed her that "nuns don't get paid."
After this revelation, Mendes considered being everything from an opera singer to an astronaut, before finally "drifting" into acting.
Other than Anne Hathaway and Eva Mendes, here are other celebrities who have considered becoming a nun/dedicating their lives to religion
Anne Hathaway and Eva Mendes are not the only celebs that first considered becoming nuns/joining the church on a professional level. For instance, Denzel Washington battled with a decision about whether he wanted to be like his father, a Pentecostal preacher. What turned him away from the idea was a mischievous nature when growing up and feeling as though the church was a job.  
According to More, Angelica Houston considered being a nun despite the fact her father was an atheist. She even went so far as to pretend that she was at her First Communion to entertain herself. She also told her father at just 6 about her dreams.
Tom Hanks was born into a family that was very focused on faith. Some members of his family identify as Catholic, Mormon, and Nazarene. What most people do not realize is that Hanks is an ordained minister and has been since 2015 when officiated Allison Williams' wedding to Ricky Van Veen.
Jack White felt the call of the church when he was 14. He was even accepted into the seminary. Ultimately, music won his devotion since he had just received a new amplifier and didn't think he could take it with him.
Perhaps one of the most surprising men who wanted to join the priesthood is Tom Cruise, whose religion of choice today is tied to the Church of Scientology. He didn't always believe in Scientology though. When he was a teenager, he studied at a Franciscan seminary in Cincinnati and embraced it.
What changed his path? Cruise and his close friend, Shane Dempler, were caught stealing alcohol. Afterward, the young boys were encouraged to not return to the seminary.