Anne Hathaway Revealed She Likes to Prank People in This Absurdly Hilarious Way
Anne Hathaway is known primarily for her acting roles. She became a household name with The Princess Diaries and proceeded to gain critical and audience acclaim with her roles in The Devil Wears Prada, Brokeback Mountain, and Les Misérables.
While her talent as an actress is an undeniable and well-known fact, most fans are less aware of Hathaway's affinity for pranks. Recently, whilst discussing her second pregnancy, the actress dished on how she hilarious pranks people who ask questions about her unborn child.
How Anne Hathaway met her husband
Anne Hathaway met the love of her life, Adam Shulman, at a film festival in 2008. Shulman had been a fan of Hathaway for a long while before ever meeting her.
Hathaway stated that her relationship with Shulman was love at first sight. When they first met, they each thought that the other person was in a relationship. When Hathaway discovered that Shulman was indeed single, she quickly reached out to him. The love-struck couple married in 2012.
Anne Hathaway's parenting inspiration and style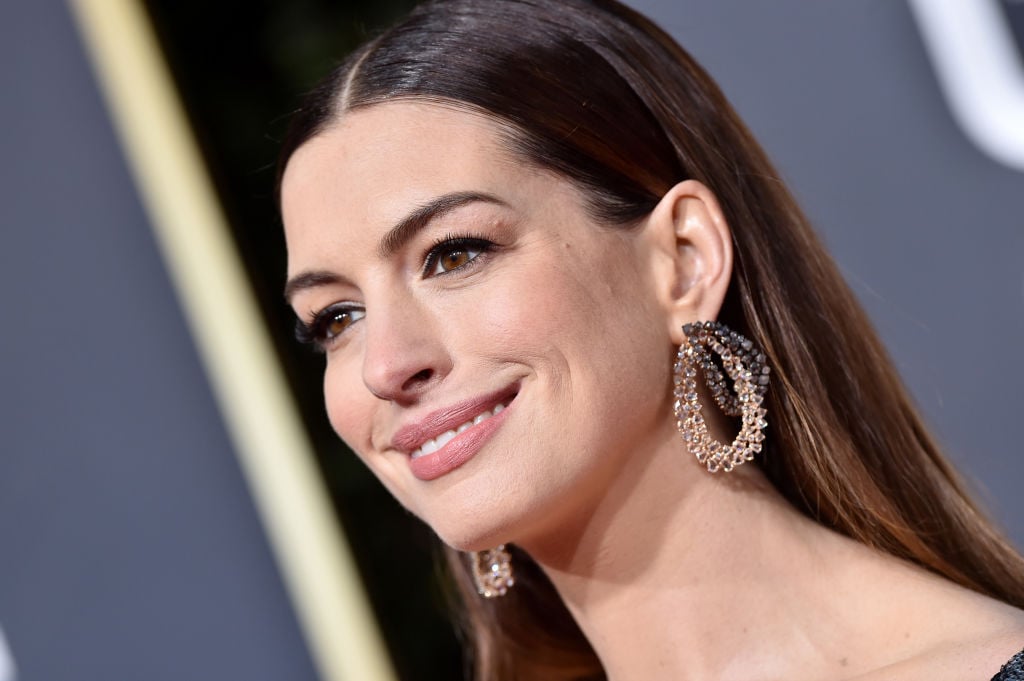 Hathaway gave birth to their first child in 2016. The famous couple's firstborn son, Jonathan Rosebanks Shulman, is currently 3 years old. Hathaway is very private about her family life and intends to keep it that way. She has only posted one photo of her precious son on Instagram. Her son was nearly 1 year old in the Instagram photo. The picture captured an adorable moment of baby Shulman watching a video clip of his mom.
Hathaway admitted that Kate Middleton's parenting technique inspired her to speak to her child at eye-level. Hathaway wants to encourage her child and instill self-confidence in him, so talking to him at his eye-level can help him to feel understood, appreciated, and self-confident.
A lot can change when a child is born. After a night out drinking, Hathaway had a hangover that caused her to shift her perspective on parenting and alcohol. She realized that drinking made the mornings more difficult. Hathaway committed herself to give up alcohol until her son grows up.
Anne Hathaway is expecting her second child
Though Hathaway has struggled with infertility, she is happily pregnant with her second child. In her Instagram post, Hathaway acknowledged that pregnancy announcements are tough for people who are struggling with infertility issues. She stated that her pregnancy did not happen easily and encouraged other women who struggle with infertility not to give up hope.
Anne Hathaway's hilarious baby name prank
During her recent segment on Live With Kelly And Ryan, Hathaway revealed that she likes to prank people by giving fake names to her unborn child. Whenever someone asks what the new baby's name will be, she jokingly responds with a "beautiful sounding" made up name.
Hathaway stated that the most recent name she likes to prank people with is "Africa Bronx Shulman." She enjoys providing some outlandish name, keeping a serious expression on her face, and just watching the other person's reaction.
Though some people may think she is serious about the hilarious baby names, her family knows she is joking. During her first pregnancy, she often joked that her child would have an unexpected name.
While on Live with Kelly and Ryan, Hathaway divulged: "With Jonathan, we came up with the name 'Quandre.'" The Princess Diaries star wants to keep her family life private and likely won't reveal her second baby's name until after the birth.
The gender of Hathaway's unborn baby is also under-wraps.  The name pranks are a hilarious way to keep her family life private while also keeping her fans interested and entertained.
According to People, she has also been known to mix-up the due dates on purpose. On Live with Kelly and Ryan, Hathaway addressed a question about the gender and due date: "I will say that we're not all the way cooked, but clearly we're pretty close. I'm at that part where I'm starting to look at nursing tops."
As the unknown due date gets closer each day, anticipation and excitement surround the name of the new baby.  Hathaway has found a great way to pass the time and keep the laughs rolling with her baby name prank.