Anne Hathaway Stole This Parenting Tip from Kate Middleton
Anne Hathaway stole a parenting tip from Kate Middleton that's so simple, every parent can do it.
Actress, Anne Hathaway, 36 years old, began her film career at the ripe old age of 18 with The Princess Diaries (learn what she has to say about the possibility of a third installment of the movie here). Now, Hathaway is a mom, wife, and one of the highest paid actresses in the world, according to The Sunday Times.

Like many other people, Hathaway gets tips from the British royal family. While some may look to the royal family for style or health tips, Hathaway looks for parenting tips. Ahead, see what parenting tip Hathaway stole from Kate Middleton. Plus, why she gave up drinking for her son.

About Hathaway's family
Hathaway married actor/jewelry designer Adam Shulman in September 2012, according to People. The two welcomed their son, Jackson Rosebanks Shulman, on March 24, 2016, according to Just Jared. The couple has kept their son out of the public eye only sharing a picture of him on Hathaway's Instagram a year after his birth(see above).
Anne Hathaway stole this parenting tip from Kate Middleton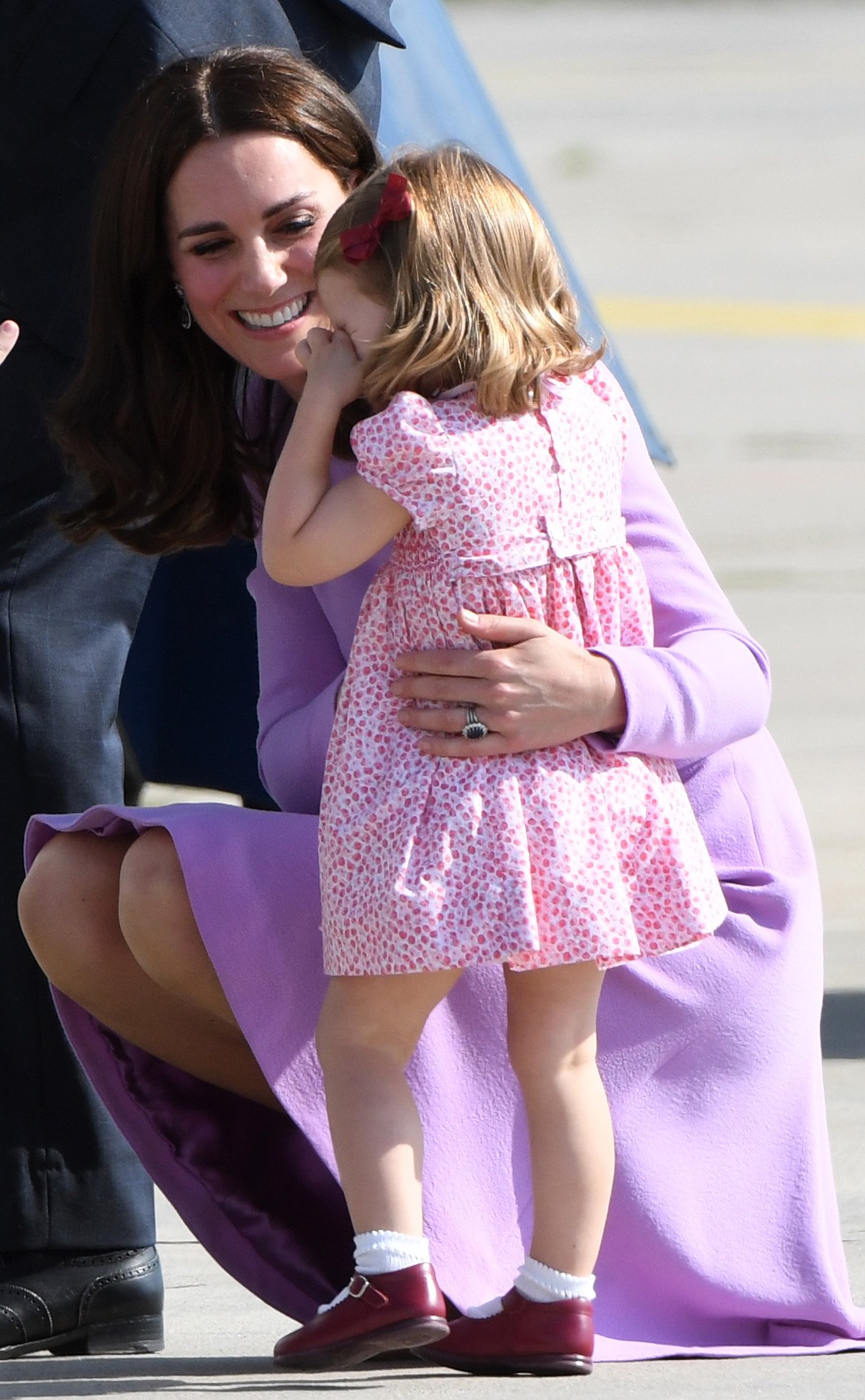 During an interview with the British publication, The Sunday Times, Hathaway divulged the parenting tip she stole from Kate Middleton.

"They get down on the child's level and speak to them eye-to-eye to make the child feel empowered," Hathaway told The Sunday Times. "I thought that was really cool. I started doing that with Jonathan."

And sure enough, Middleton and her husband, Prince William, have been photographed crouching down to be at eye level with their children.

One such instance happened when Princess Charlotte sat down on a tarmac while holding hands with her mom, apparently refusing to board the plane, according to The Daily Mail.

Instead of tugging on Charlotte's hand or telling her to stand up, Middleton crouched down (in heels and a dress might we add) to speak to her at eye level.
Why Hathaway gave up alcohol
During an appearance on an episode of The Ellen DeGeneres Show, in January 2019, Hathaway told Ellen DeGeneres why she gave up alcohol and doesn't plan on drinking for the next 18 years.

Hathaway quit drinking in October 2018 after she went on a tour of "the best rums" on the island of Mauritius, where she was filming the movie, Serenity, with Matthew McConaughey, according to Insider.

When DeGeneres asks Hathaway, "How was that?" smiling and laughing, she responds "I don't remember. I have no idea." The next day she had a meeting with the film's director, Steven Knight, during which she was hungover.

"I was just kind of like stumbling and one eye open," Hathaway said. After going to the meeting hungover, Hathaway decided to give up drinking for almost two decades.

"I'm going to stop drinking while my son is living in my house just because I don't totally love the way I do it and he's getting to an age where he really does need me all the time in the morning," Hathaway told DeGeneres.