Is Another Co-Star Feud Brewing on the 'Sex and the City' Reboot?
On-screen Sex and the City's Carrie Bradshaw (Sarah Jessica Parker) had a great friendship with Samantha Jones (Kim Cattrall), Charlotte York (Kristin Davis), and Miranda Hobbes (Cynthia Nixon). Although the pals had their spats, they were always there for each other when trouble arose. Behind the scenes of the series, a feud was brewing between co-stars Cattrall and Parker. Their rivalry was so intense that Cattrall turned down the opportunity to reprise her role in the Sex and the City reboot. But it appears another co-star feud may be brewing on the set of And Just Like That…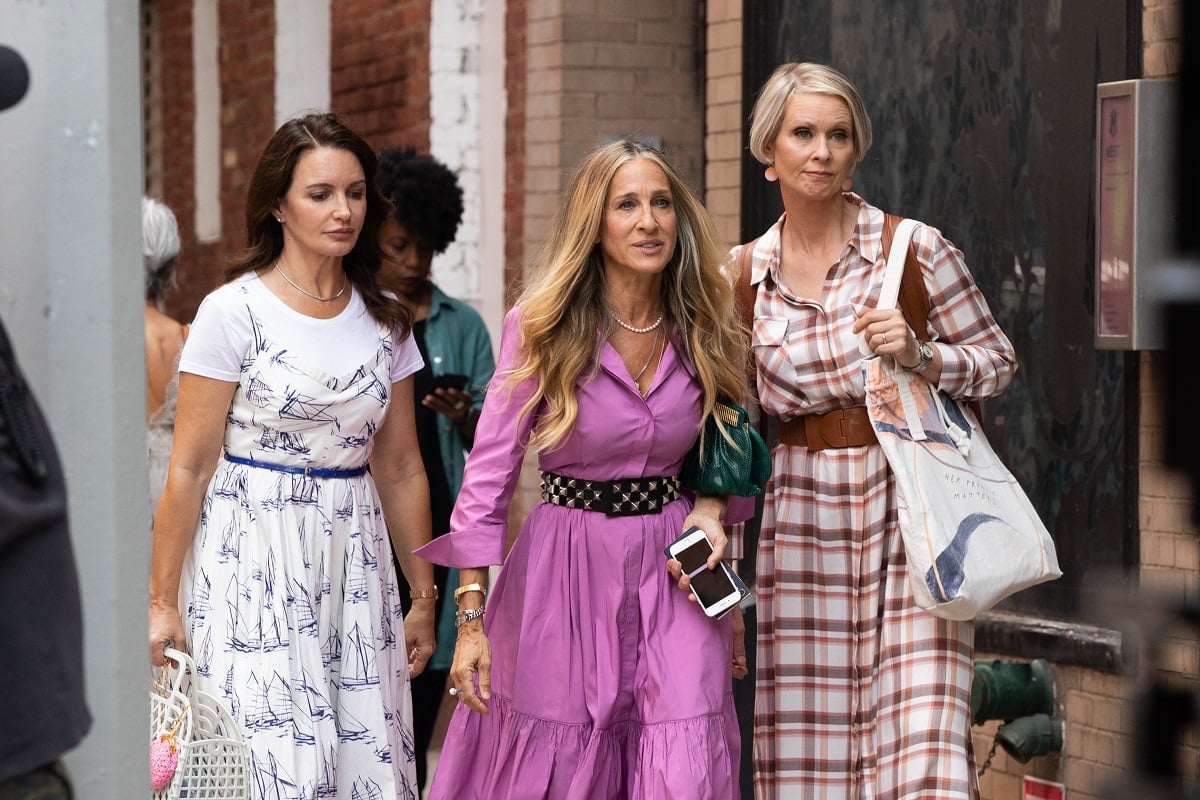 Another co-star feud brewing on 'Sex and the City' reboot?
With Cattrall expressing no desire to reprise her role as Samantha, producers decided to continue with the Sex and the City reboot plans. Parker, Davis, and Nixon were happy to step back into the heels of their characters for And Just Like That… Photos have emerged of the trio filming in the streets of New York City. Although the ladies appear happy to be working together again, things are a bit frosty behind the scenes.
RELATED: 'Sex and the City': Kristin Davis Convinced Producers She's a Charlotte Not a Carrie
According to OK Magazine, co-stars Davis and Nixon aren't as close as they once were. "They both bolt for their trailers as soon as the cameras stop rolling. The truth is, they haven't hung out in a while and occasionally clashed while filming the original. No one wants a repeat of one of their fights," a source told the magazine.
Cast and crew worried 'And Just Like That…" will be a flop
Aside from Davis and Nixon's feud, there's a lot of pressure from the cast and crew to make And Just Like That… a success. "They've waited so long to do this, and nerves are at an all-time high. Everyone wants to make sure this isn't a flop." The absence of Cattrall's character Samantha has fans worried the reboot wouldn't live up to the hype.
With Samantha being a central part of what made Sex and the City exciting, fans believe there will be no interest in seeing the other characters. In a Reddit thread, fans discussed their thoughts on the show and its reboot. "It was fun at the time, but they should just let it die," one user wrote. Meanwhile, another commenter chimed in with, "Kim Cattrall was right for turning this project down. It's going to be terrible."
Kim Cattrall's feud with 'Sex and the City' co-stars
Cattrall's feud with Parker and the rest of her Sex and the City co-stars began during the show's original run. The feud reportedly began when Cattrall requested a pay raise to match that of Parker's. Cattrall's negotiating of more money didn't go over well with her other co-stars and was why the series ended in 2004.
Cattrall reprised her role as Samantha for the two Sex and the City films; however, reports about tension between the co-stars continued. In 2017, news broke that plans for a third movie were shelved due to Cattrall wanting no part of it. According to The Cut, Cattrall's decision to turn down the film wasn't about money. "This is about a clear decision, an empowered decision in my life to end one chapter and start another," the actor explained.
Parker denied any drama with her co-star, Cattrall continued to stir the pot. Cattrall claimed Parker isn't the nice person she pretends to be and caused the rest of the show's cast to shun her. Although Cattrall isn't involved in And Just Like That, her absence creates further drama both on and off-screen.