Anthony Mackie Thinks Sebastian Stan Is Super Boring
On The Falcon and the Winter Soldier, Anthony Mackie stars as Sam Wilson/Falcon, and Sebastian Stan plays Bucky Barnes/Winter Soldier. The two actors have worked together on Captain America: The Winter Soldier, Captain America: Civil War, Avengers: Infinity War, and Avengers: Endgame.
In addition to starring in Marvel projects together, Stan and Mackie are known for their close friendship and frequently tease each other. While appearing on Good Morning America, Mackie shared that he finds Stan to be a boring person.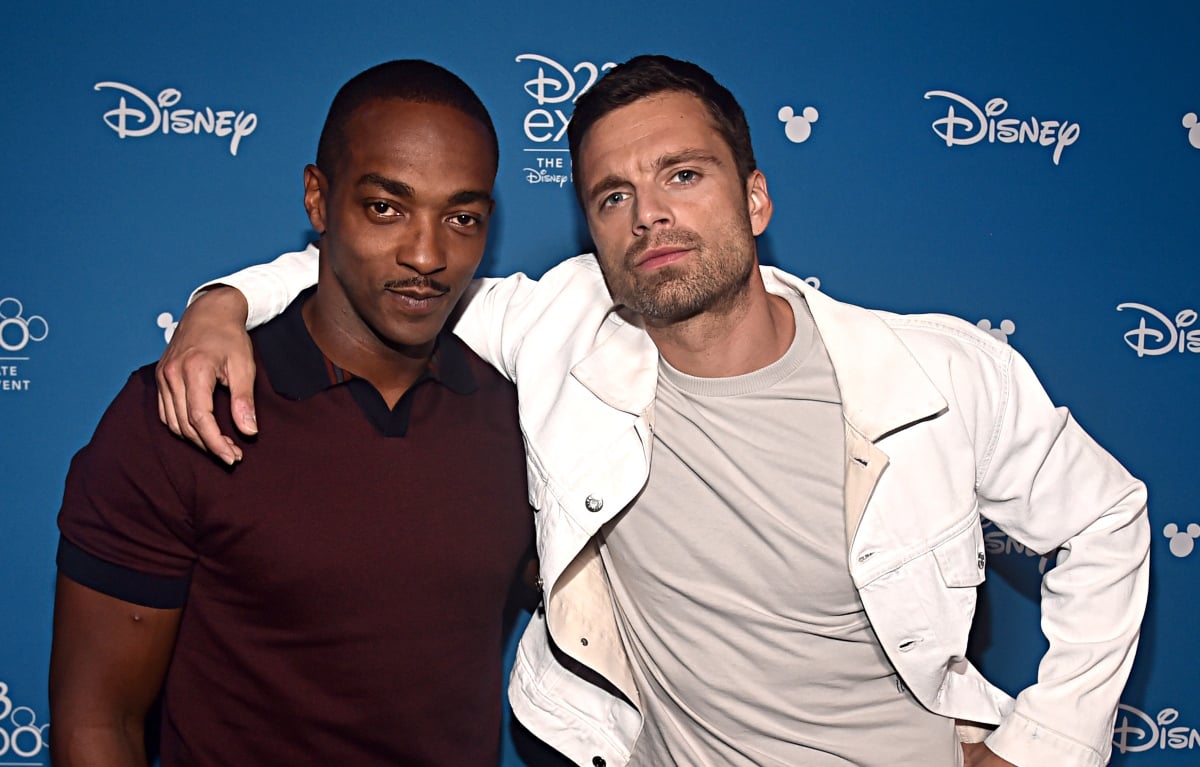 Anthony Mackie thinks Sebastian Stan is 'boring'
On March 17, Mackie appeared on Good Morning America to promote The Falcon and the Winter Soldier. While on the morning talk show, Mackie gave insight into his friendship with Stan.
Co-host Michael Strahan asked Mackie if the two Marvel actors are competitive with one another like their characters, and Mackie said the two are not.
"We're not. Sebastian is such a relaxed guy, he's such a mild-mannered guy," said Mackie. "I try to be competitive with him. He doesn't watch sports, he does nothing. We have nothing… Everything I do, he does the complete opposite."
Strahan then asked what the co-hosts should ask Stan during his appearance on Good Morning America.
"I would, you know what, I would ask him…," Mackie trailed off. "That's hard, man. He's such a boring person."
He added, "He really does absolutely nothing. Ask him why is he so boring. Ask him what his hobbies are, how about that?"
Sebastian Stan responded to Anthony Mackie's claims
On March 25, Stan appeared on Good Morning America. During the interview, Stan was shown the clip of Mackie calling him boring.
"The reason I'm so 'boring' is because half the time I have to listen to him talk. He just talks so much that I never get a word in, so he never knows anything about me," Stan said in response.
Based on Stan's response, one can see why the two actors have such great chemistry on The Falcon and the Winter Soldier.
The 'boring' conversation between the Marvel actors escalated
Despite Stan's insistence that he is not actually boring, Mackie has continued with the running joke. On March 26, the actor appeared in a BBC Radio interview and was asked to describe Stan in three words.
"Boring, introverted… I feel like shy is the same thing so I won't say shy," Mackie said. "I'll say boring, introverted, and a great sense of humor… But he's literally the most boring person I've ever met in my life."
Later in the interview, Mackie once again brought up that he finds Stan to be boring.
"Look, Sebastian Stan is the most boring person on earth," he said. "I literally think he sits in his living room and talks to his plant… I've sat outside of his room or in the lobby or outside the hotel waiting for him to come out so I can follow him and stalk him and see where he goes."