Anthony Mackie's Son Might Have Been More Excited About the 'New' Captain America Than He Was
At one point in the video, Mackie discusses the joy he felt when his son first found out his dad was going to be the new Captain America.
One subject not talked about enough is how kids perceive their parents who might be actors playing superheroes. Getting into the heads of those kids would be one interesting psychological study, not including how they deal with reaction from their friends at school.
An interesting example of this is Anthony Mackie's son, a story that's had a little bit of coverage. Most of that comes from Mackie himself in a recent Vanity Fair video piece where he analyzes his film career history.
At one point in the video, Mackie discusses the joy he felt when his son first found out his dad was going to be the new Captain America. Now it's worth exploring if his son will also understand the more complex issues Falcon and the Winter Soldier appear to be deep-diving into.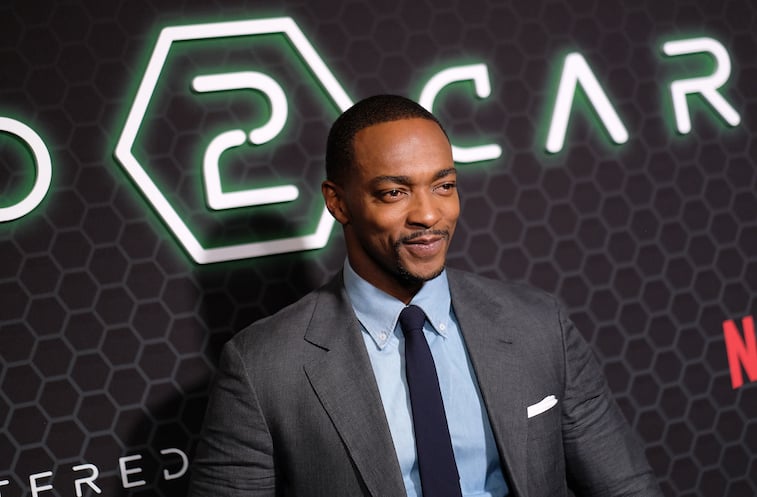 How did Anthony Mackie's son react to the news?
According to Mackie, his son's first comment about Sam Wilson becoming Captain America occurred while they were watching Endgame in a movie theater. Mackie's son turned to his dad and asked him if he was going to become the new Cap.
When Mackie said "I think so", his son just thought a minute and then said "cool." This kind of took Mackie aback since he thought his son would say more about what a BFD it was.
Apparently his son was in a state of shock about it, if maybe just needing to mull over how deep it was. Not until a week later did Mackie receive a call from his son who finally had the emotions hit him.
At this point, Mackie says his son was bawling on the phone that his dad was going to be the new Captain America. This story should warm any hearts, but also a reiteration from Mackie the reason he wanted to work for Marvel was to be with his kids when watching the movie premieres together.
What about the possible race issues explored in 'Falcon and the Winter Soldier?'
Placing one's self in the shoes of Mackie's son gives a good feeling knowing what it's like for a kid of color to have his dad become the first black Captain America in history.
Regardless, it's worth pondering whether he'll be aware of the possible race issues Falcon and the Winter Soldier is predicted to explore.
Even though Steve Rogers passed on his shield to Sam, the Disney+ show is going to explore why Sam ultimately gets usurped by a different Captain America. Is it because the U.S. Government doesn't want a black Cap, hence bringing in white John Walker in his place?
Knowing this plot might take precedence could also be a little bit disturbing to Mackie's kids, knowing it mimics too much of real life. Then again, the feeling of knowing Steve wanted Sam to really be Captain America is likely enough. Everyone will know that's legitimate, no matter what the public or the government wants in the post-Endgame timeline.
It's still a big deal that a superhero show might take on complex racial issues as just starters.
Hopefully everyone will know what Mackie's son thinks of the show's themes
Nothing can beat the story of Mackie's son reacting in that movie theater, then emotionally calling his dad a week later. However, let's hope Mackie updates everyone on what his son thinks of the issues on the Disney+ show next fall.
There could be some very deep things explored about race nobody's seen in any type of fiction, let alone a superhero drama. Knowing Sam Wilson will have to overcome further barriers to earning his Captain America title might make Mackie's son even more in awe of his dad.
Sending a strong social message (along with winning a prized superhero designation) could make for some terrific father-son talks that should be shared with the world.