'ANTM' Winner Dani Evans Speaks Out After Old Clip Resurfaces of Tyra Banks Criticizing Her Looks; Says She Was Set Up
Tyra Banks has come under scrutiny after old clips resurfaced from judging panels on her popular reality competition series America's Next Top Model (ANTM). The supermodel turned television and beauty mogul has been accused of pushing standardized versions of beauty to aspiring models throughout the show. Though many alums of ANTM have gone on to have successful careers in modeling, reality television, and even daytime soap operas, many admit that the model boot camp was difficult to endure.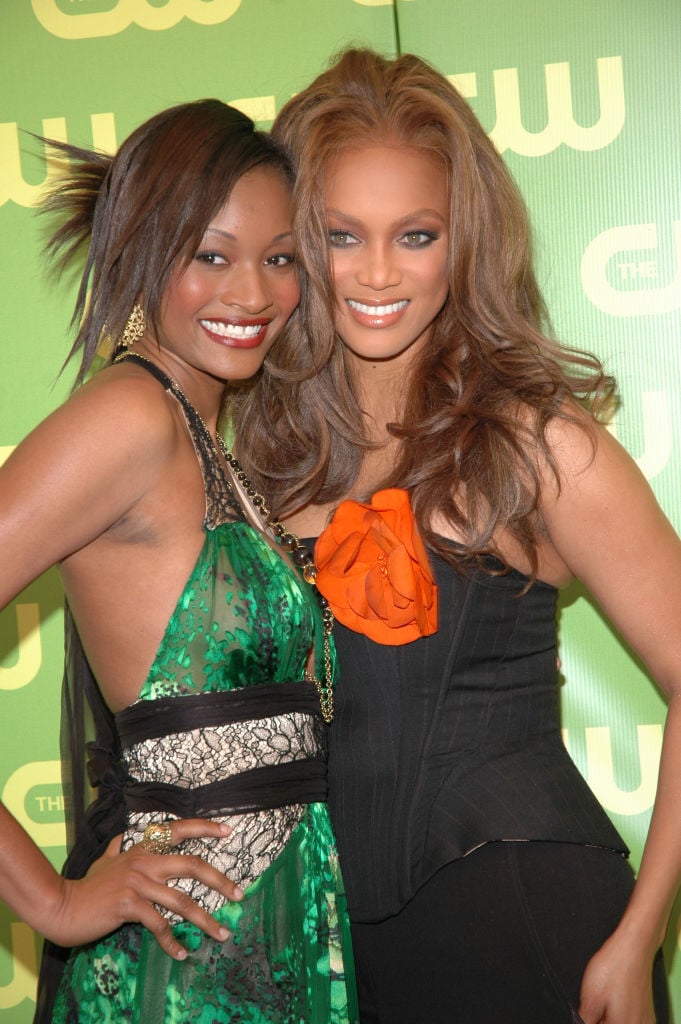 After Banks received harsh backlash from fans for telling cycle 6 winner Dani Evans to close her gapped teeth, Evans is now giving her side of the story and says that she was set up by producers. 
Old clip of Tyra Banks encouraging Dani Evans to close her gap resurfaces
During cycle 6 of the series, Evans was asked to consider closing her gap during makeover rounds. The model hopeful refused the option and was questioned why she made the decision. 
"Do you really think you can have a CoverGirl contract with a gap in your mouth," Banks asked Evans. When Evans replied yes, Banks disagreed.
"This is all people see," Banks said pointing to her teeth. "It's not marketable."
Judge and runway teacher, Miss J Alexander, told Evans that not getting the gap closed left room for another model to take her spot.
Social media users were pissed about the ordeal. Model Slick Woods even came to Evans's defense by reposting the clip. "No one should ever talk to you like that," Woods captioned the video.
Dani Evans responds to Tyra Banks backlash over clip and says she was set up by production
Evans took to Instagram to give a detailed account of what she says took place behind the scenes regarding the gap ordeal. While at the dentist, she was asked by the doctor if she wanted to have her gap closed, to which she replied no. instead, she opted for a cleaning and whitening service. It wasn't until she got to the elimination round and learned that it was of the request of Banks that she close her gap.
When Danielle told Banks that she hadn't been told getting her gap closed was non-negotiable, it soon became clear that it was a setup.
"Tyra looks off-camera right to production, which none of you guys ever see. I look off-camera right to production, and [producer] Ken Mock gives me one of these [shrugs]," she said. "In that moment, I knew what was happening. I knew that I was basically set up and not being told that Tyra wants me to get my gap closed so that it's good for TV."
After a back and forth with Banks, which Evans says was edited out of the episode, she came to a compromise that she would have her gap semi-closed to avoid being eliminated. What bothered her most was not that she was encouraged to have the gap closed for her career, as Evans says she'd faced criticism about her appearance before from others. Instead, it was that she was "being played" for good television.
Evans further explained that she never had an issue with her gap and grew to love it as she aged, even before the show. It's something she says makes her unique. 
Dani Evans talks overall experience on 'ANTM' and gives a message to young girls 
Evans always dreamed of modeling but was never interested in participating on the show. In fact, she did not consider competing until her brother suggested she do so. He encouraged her to try out for the series as an easy way to escape her hometown. With that in mind, she auditioned and had one goal in mind: to leave and create a better life for herself.
"I wasn't concerned about challenges or the things that would be set up in place to deter me and knock me off my game. I was so focused, I wasn't even hungry, I was starved to get out," she said in the video. "So any and everything, the opposition that came my way, I was so deaf to it because I had a goal."
Overall, the show worked out well for her in spite of the hiccup regarding the makeover incident. She won the series and went on to have a successful life and career.
After ANTM, Evans appeared in magazine spreads for Elle and Essence Magazine – as well as modeled in campaigns for Sephora and CoverGirl. Her runway work includes walking in fashion shows for brands like Baby Phat. She is currently represented by Elite Models and is the designer and founder of Monrow NYC, a couture hat line. 
Since reviewing the comments in support of her, she understands why many are offended and is pushing a message of self-worth and self-love.
"You're beautiful and I'm not talking about a physical feature. It doesn't matter if you have a gap, stacked teeth, straight teeth. It matters not," she told her followers. "It doesn't matter if you're Black, brown, white, indifferent, other. It doesn't matter. What makes you beautiful is in here. It's a matter of your self-worth. High self-worth or low self-worth. No one can establish that except you."
Banks has not responded to the backlash or Evans's response.