'Apex Legends' Hints at Rampart Town Takeover and 'Rampart Special'
Apex Legends is always changing, and Season 10 is no exception. The popular battle royale game recently saw the arrival of Seer for Season 10, as well as some ominous changes to the World's End map. Now, Respawn Entertainment is dropping hints at an upcoming Rampart town takeover, including what could be a new hop-up or attachment called the Rampart Special. Plus, the legend is expected to see some buffs soon.
Rampart spotted defacing Hammond signage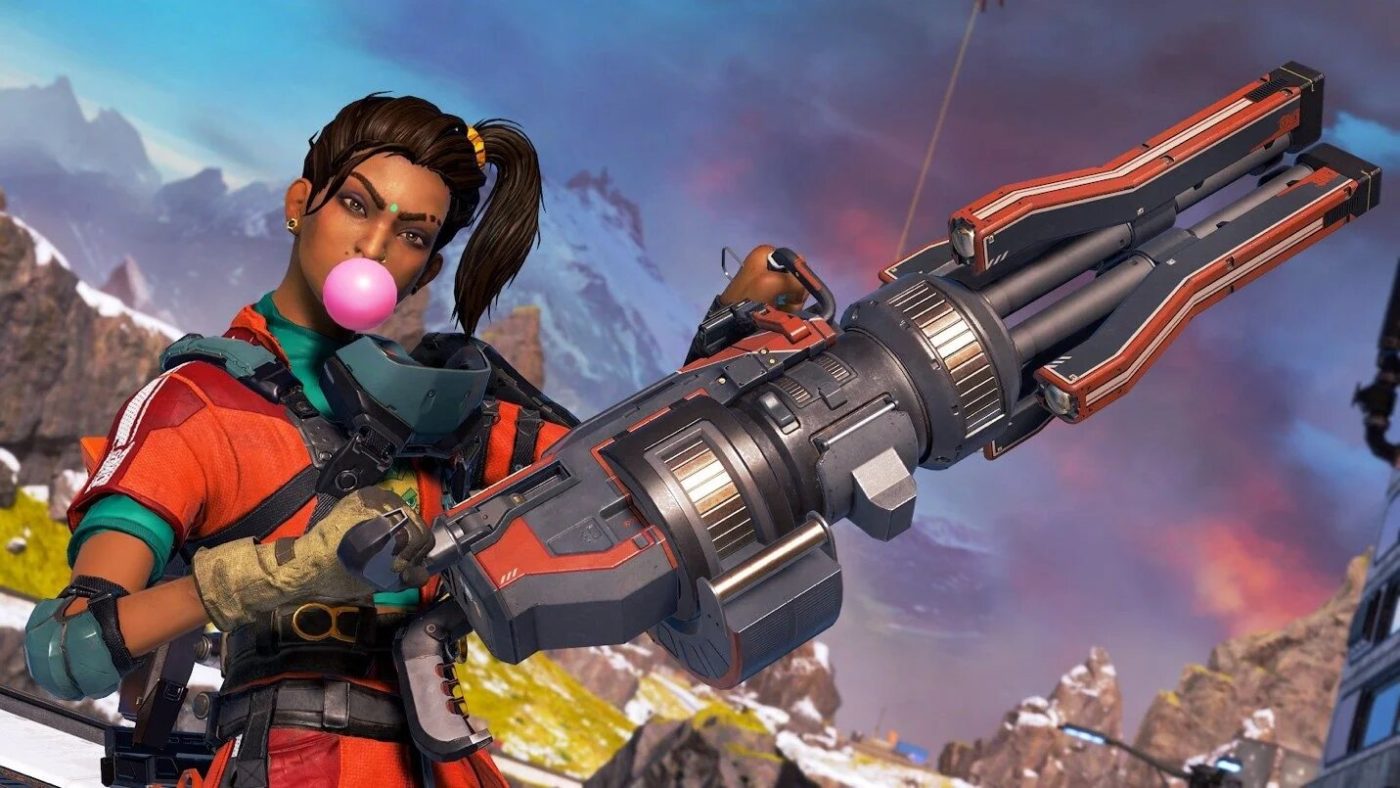 Apex Legends fans have reason to expect an upcoming town takeover from Rampart. By now, many players have noticed Ramya Parekh during battle royale loading screens.
The renowned engineer and combatant is seen looking at a sign put up by Hammond Robotics, advertising the upcoming "Renewal Plaza." The sign adds that it will be the exclusive home to Parekh Modifications.
The sign also teases Rampart's shop, which appears to be a massive land crawler outfitted with treads and cranes. In the loading screen, Rampart looks at the rather mundane sign and blows a raspberry before saying "nah," clearly unimpressed.
GarrettLeaks, or garrett on YouTube, posted a video revealing future teasers for the town takeover, one of which includes Ramprt looking at a now-defaced Hammond sign after sprucing it up. Rampart has labeled the ship "big Maude" with an arrow pointing to it under the word "mine." She's also crossed out the Hammond version of her shop's logo and replaced it with her trademark R.
She's also painted over "Parekh Modifications" on the sign so that it now reads: Exclusive home to the best bloody mods!
'Rampart Special' found in 'Apex Legends' game code
While it's not yet entirely clear what the Apex Legends town takeover will involve, the signage and the land crawler suggest that Rampart will be offering up upgraded weaponry, possibly in the form of something called the "Rampart Special."
Right now it's not clear from leaks what the special is exactly, but Garrett notes that it is able to pinged by every character and falls under the ping type typically reserved for attachments and hop-ups. Given Ramprt's lore and engineering prowess in Apex Legends, this does seem likely.
That being said, we're not sure what the rest of the town takeover will look like. Whether it's a collection event, or perhaps some sort of gauntlet hearkening back to Rampart's time running the eponymous challenge, remains to be seen.
It's worth noting that the location of the town takeover currently appears to be Lava City, where two of the teaser signs are visible on the map.
The 'base of fire' could be getting buffs soon
Former Apex Legends employee Daniel Z. Klein previously teased upcoming Rampart buffs. While Respawn Entertainment hasn't officially announced a potential release date for Rampart changes, it would make sense for them to occur before her town takeover.
"It's a bit too early to talk about her spicy buff because we don't yet know if it'll work and if so when we can ship it. Right now, IF EVERYTHING GOES WELL (which it never does), you can expect it halfway through Season 10. Game dev is hard and takes a long time!" said Klein during an AmA.
RELATED: 'Cyberpunk 2077': CD Projekt Red Lead Quest Designer Asks Players for Understanding