Archie Harrison Mountbatten-Windsor Already Has A Staggering Net Worth
He may only be a few days old, but Meghan Markle and Prince Harry's newborn son, Archie Harrison Mountbatten-Windsor, has one staggering net worth.
Meghan Markle and Prince Harry's first child, Archie Harrison Mountbatten-Windsor, is proving himself a boon for Britain's economy. Archie has only been on Earth for a handful of days and yet he is already making millions of dollars in memorabilia and baby goods. Just how much is Archie worth compared to other members of the royal family?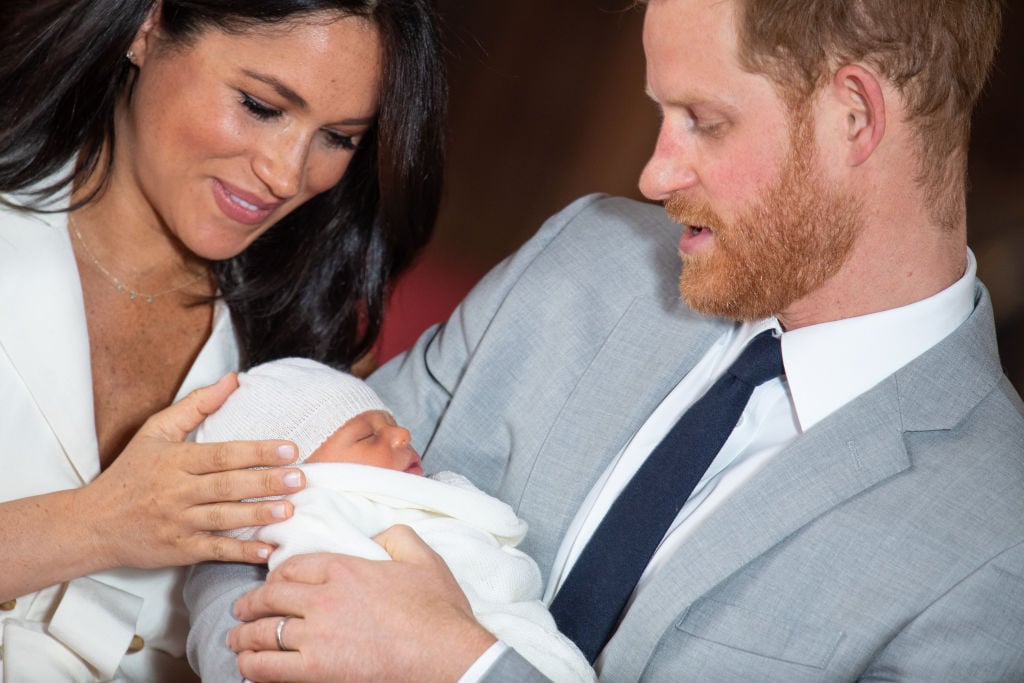 Archie Harrison generates millions for the economy
The fact that Meghan and Harry are well liked around the world has worked to Archie's advantage. Coupled with Markle's keen fashion tastes, experts believe that Archie will bring in over a billion dollars in sales over the next two years, mostly in new baby items and memorabilia related to the royal family.
According to Good House Keeping, the head of the Center for Retail Research, Joshua Bamfield, thinks that Archie's immediate impact on the economy will be anywhere between $65 and $90 million.
"These sales will be made in the U.K. and Europe, but Harry and Meghan are followed in the US, and we expect significant sales there also," Bamfield shared.
It is unclear how the revenue relates to Archie's overall net worth, but it definitely does not count against anything. While adding millions, and potentially billions, to the UK economy is nothing to scoff at, this pales in comparison to Archie's cousins.
How does Archie stack up to his royal counterparts?
Archie Harrison's worth to the economy is close to Prince William and Kate Middleton's third son, Prince Louis, who was born back in April of 2018. Experts believe that Louis brought in around $70 to $125 million in merchandise and baby sales last year.
If the Archie predictions are accurate, he should get close to matching this amount by this time next year, though those numbers could easily increase when you take into consideration sales overseas.
Princess Charlotte, on the other hand, is in a league of her own. Charlotte, the only daughter of William and Middleton, brought in close to $200 million to the British economy. This is largely due to the fact that Charlotte is a girl, and girls tend to increase sales in the fashion industry better than boys.
In the years following her birth, Charlotte is believed to have brought in over $4 billion. As a comparison, Prince George has generated around $3.6 billion, and he is next in line to the throne after his father.
What about the rest of the British royal family?
While the little ones are clearly a boon to the British economy, the rest of the royal family are sitting on vast fortunes themselves. Queen Elizabeth is easily the richest member of the royal family and is estimated to be worth close to $500 million. Prince Charles is a close second and is estimated to be worth around $386 million. Prince Harry and Prince William are both believe to be worth around $40 million each, though William's fortunes will change once his father inherits the throne.
In total, the combined worth of all the members of the royal family is estimated to be around $88 billion. This includes individual wealth as well as properties, investments, and other business ventures. Archie Harrison may only ever see a fraction of the family's fortune, but it is clearly large enough for him to live comfortably for the rest of his life.  
The story behind Archie's name
Markle and Harry welcomed their first child earlier this month. A few days after the birth, the couple announced that they had chosen the name Archie Harrison Mountbatten-Windsor. Archie was named after Archibald Campbell, an ancestor of Harry's mother, Princess Diana.
His second name, meanwhile, simply means the son of Harry and is a callback to his dad. Lastly, Archie's last name is related to all of the direct descendants of Queen Elizabeth and Prince Philip.
Archie Harrison, of course, is not being called a prince because Markle and Harry opted against giving him any official titles. The couple reportedly did that because they wanted Archie to have as normal as a life as possible.
But considering how he was born into the British royal family, Archie's life is going to be anything but normal. At the very least, he will not have to worry about money, which is definitely a bonus.