Archie Harrison Turning 1 Is Not the Only Reason Meghan Markle Has to Celebrate
Meghan Markle and Prince Harry celebrated Archie Harrison turning 1 by releasing a new video, but that is not the only reason the Duke and Duchess of Sussex have to celebrate.
Meghan Markle has a lot to celebrate this week with her son, Archie Harrison, turning one year old. The Duke and Duchess of Sussex marked Archie's birthday by posting a special video on social media, offering royal watchers their first look at him in months. While the couple was very happy about sharing Archie's big day with their fans, his birthday is not the only thing Meghan, Duchess of Sussex, has to celebrate this week.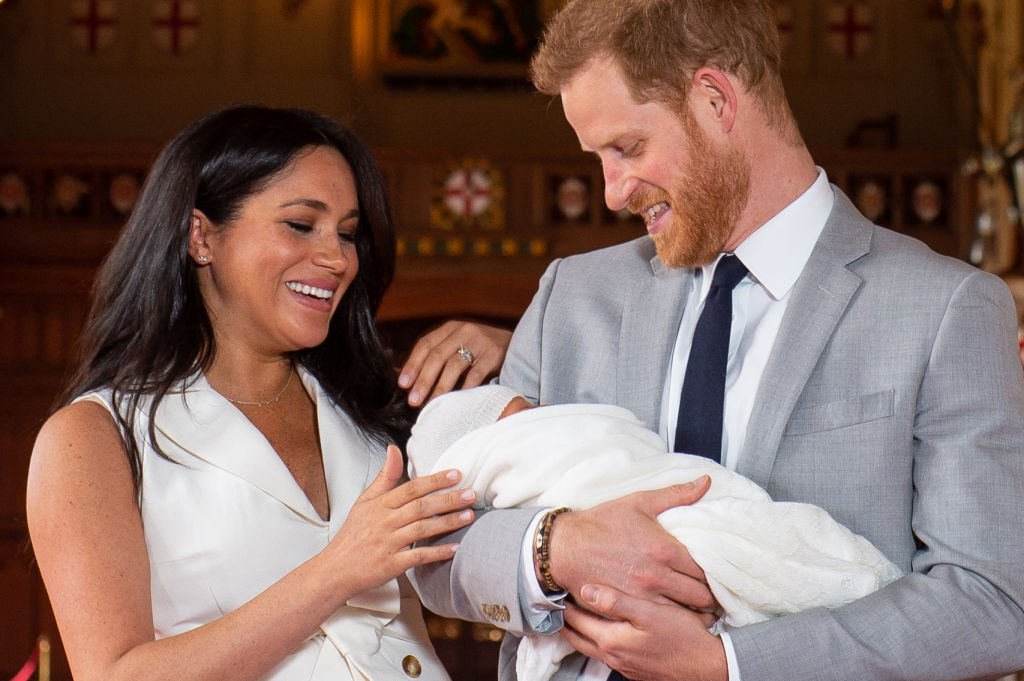 Meghan Markle celebrates Archie Harrison's first birthday
Now that they are no longer active members of the royal family, Prince Harry and Meghan have agreed to stop using their titles. This includes dropping their main account on Instagram, Sussex Royal, which they launched last year.
The decision to stop using Sussex Royal raised questions about were Harry and Meghan were going to post the photo of Archie. The couple ended up using Save the Children's Instagram account to share a new video of Archie, which worked out for all the parties involved.
The clip features Meghan reading Archie's favorite book to him. The caption revealed that Harry filmed the video as part of the company's Save with Stories program, which provides food for people impacted by the coronavirus pandemic.
"Duck! Rabbit!" read by Meghan, The Duchess of Sussex," the caption read.
Harry and Meghan are currently living in Los Angeles and have been staying low-key amid the lockdown. The birthday post was the first time we've seen Archie in action since back in December.
Archie looks just like Prince Harry did as a baby
Following the birthday pic, royal watchers commented about how Archie looks almost identical to Harry when he was around the same age.
Back in 1985, Prince Charles and Princess Diana published a black-and-white photo of Harry during a trip on their yacht, Britannia. Comparing the pics, Archie clearly has Harry's red hair and the same toothy grin.
Last year, Harry was asked about who Archie Harrison favors. According to Hello Magazine, the Duke of Sussex admitted that they still couldn't figure out if Archie took after him or Meghan more.
"We're still trying to figure that out," he shared. "Everyone says that babies change so much over two weeks. We're basically monitoring how the changing process happens over this next month really. But his looks are changing every single day, so who knows."
Fans have only seen Archie on a handful of occasions. This includes Archie's christening last summer and a rare public appearance during the couple's tour of South Africa last fall. We don't know if the couple plans on sharing more photos of Archie now that they are out of the royal family.
Inside Archie Harrison's birth
Meghan and Harry welcomed Archie on May 6, 2019. There was plenty of buzz surrounding Archie's birth, and the Sussexes went to great lengths to keep things tightly under wraps in the weeks leading up to the big day.
This level of secrecy led to many false reports regarding Archie's birth, including the idea that Meghan opted for a home birth. But Archie Harrison's official birth certificate proves that he was born inside The Portland hospital in London.
According to Hello Magazine, this is the same facility that Sarah Ferguson delivered her two daughters, Princess Beatrice and Princess Eugenie. Several celebrities have also used the hospital to give birth, including Jools Oliver and Victoria Beckham.
After giving birth, Harry and Meghan returned to their home, Frogmore Cottage, where the Duke of Sussex confirmed that his new baby was a boy. The pair introduced Archie to the world a few days later inside St. George's Hall.
Meghan Markle looks forward to Mother's Day
While all of the attention has been on Archie Harrison's birthday, Meghan has another reason to celebrate this week. On Sunday, the former Suits star will take part in her first Mother's Day in the United States.
This is the second year Meghan has celebrated the holiday, but this will be her first in the states. Last year, Meghan marked the occasion by sharing a photo of Archie's baby toes at their home.
"Paying tribute to all mothers today – past, present, mothers-to-be, and those lost but forever remembered. We honoUr and celebrate each and every one of you. Today is Mother's Day in the United States, Canada, Australia, New Zealand, South Africa, Kenya, Japan, and several countries across Europe. This is the first Mother's Day for The Duchess of Sussex," Meghan shared.
Prince Harry, Meghan, and Archie Harrison hare currently quarantining in the Los Angeles area.