Archie Harrison Will Be Both a Prince and a Duke Whether Meghan Markle and Prince Harry Want Him To or Not
Meghan Markle and Prince Harry stepped away from the royal spotlight in part to give their son, Archie Harrison, a semi-normal life. The Duke and Duchess of Sussex have tried to keep Archie out of the public eye since day one when they opted against giving him a royal title. Although Archie does not have a His Royal Highness — HRH — title at the moment, he is destined to be a prince and a duke whether the Sussexes like it or not.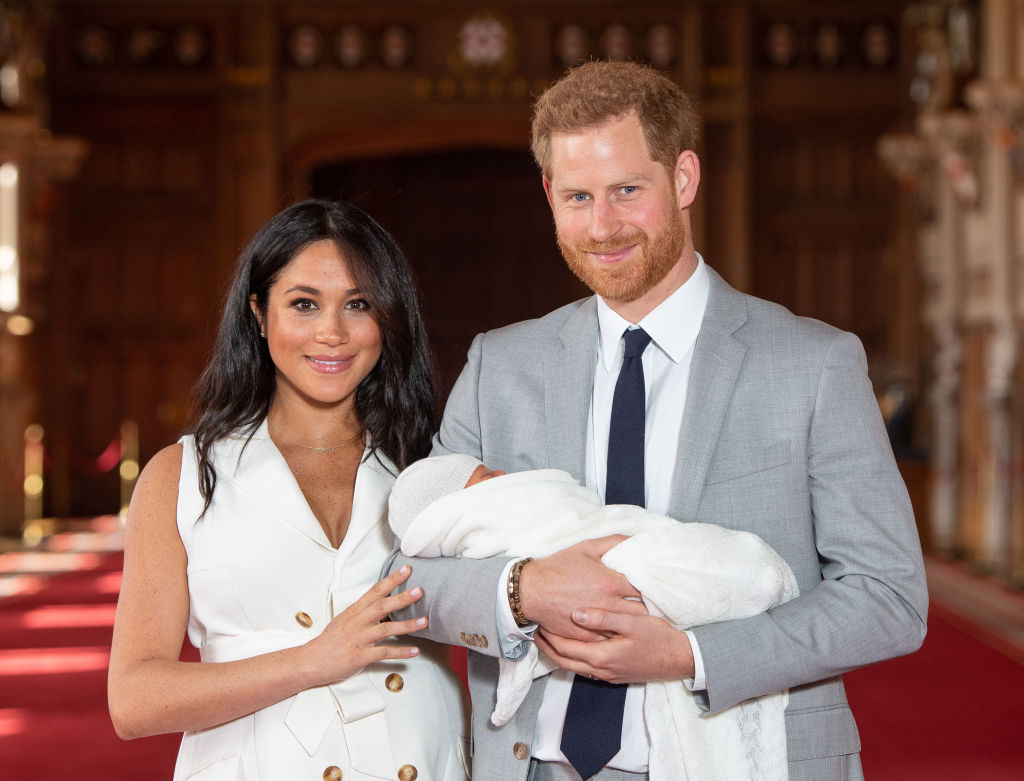 Prince Harry and Meghan Markle avoid giving Archie a royal title
Meghan, Duchess of Sussex, and Harry moved to Los Angeles a few months ago and will reportedly live in the area for at least half the year. As part of their exit plan, the couple wants to split their time between the United Kingdom and the United States, though exactly how that will work out with Archie remains to be seen.
Experts believe that the two will mostly raise Archie in the US, a move that will keep him out of the royal spotlight until he gets older. The family will likely return to the UK for big family events, but Archie will likely remain away from the cameras.
Upon his birth, Archie was eligible to receive the title of Harry's Earl of Dumbarton. But the Sussexes decided against giving him any royal titles and simply named him Archie Harrison Mountbatten-Windsor.
Archie does not currently hold any royal titles, but that will change in the future.
Archie Harrison will get a royal title no matter what
Despite not receiving any royal titles at birth, royal expert Iain MacMarthanne revealed that Archie will be a prince and a duke someday. According to Express, MacMarthanne explained that upon Harry's death Archie will inherit his father's title as the Duke of Sussex.
There is a loophole in the law that will allow Archie to reject the title of duke, but MacMarthanne says that is unlikely to happen.
The expert also pointed out that Archie will be named a prince when Queen Elizabeth passes away, whether his parents like it or not.
"In the case of Archie things however change on the death of the Queen," he shared. "At that moment, by law, Archie will become whether he chooses to be or not HRH Prince Archie of Sussex for life."
Although Archie will have an HRH title someday, he cannot pass it on to his children. He can, however, give his offspring his dukedom, though that will depend on whether or not he chooses to keep it.
What is Archie Harrison's title?
Royal titles can be a bit confusing on the best of days, and they get even trickier when you get outside of the direct line of succession. Most members of the royal family who are in the direct line of succession are given a prince or princess title upon birth.
Prince William and Kate Middleton's children, for example, were all given HRH titles, as were Princess Beatrice and Princess Eugenie, who are Prince Andrew's daughters.
We have already established that Archie does not have an HRH title, but he is called something different than the average Joe.
Upon his birth, Archie was given the title of master instead of prince. This is similar to what Princess Anne did with her children, Zara Tindall and Peter Phillips, both of whom do not have HRH titles. 
Did Prince Harry and Meghan Markle give up their titles?
Harry and Meghan may have ditched the royal family, but they did not give up their HRH titles. Instead, the couple has agreed to stop using their titles, plus anything with the word royal in it.
This includes dropping their main charitable brand, Sussex Royal, which they have replaced with their new foundation, Archewell.
This is why Harry and Meghan are still referred to as the Duke and Duchess of Sussex and will retain their dukedom throughout their lives.
Prince Harry and Meghan have not commented on the reports surrounding Archie Harrison's HRH titles.