Are Aaron Carter and Melanie Martin Back Together?
Fans of Aaron Carter are trying to figure out if he is now back together with Melanie Martin. They had a very messy and public falling out last month, but she's appearing on his Instagram page once again and making us wonder what's really going on.
Aaron Carter and Melanie Martin had a public falling out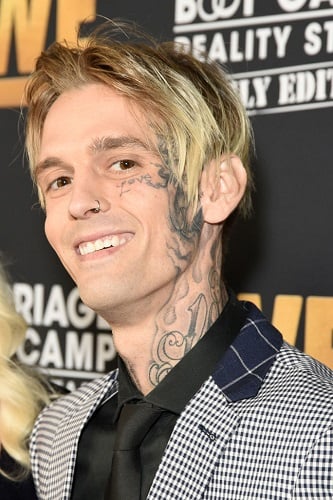 On Sunday, March 29, Melanie Martin was arrested at Carter's home in Los Angeles on a felony domestic violence charge. TMZ reports that the situation occurred at about 11 p.m. The L.A. County Sheriff's Department was called when a verbal altercation allegedly became physical. Carter shared images with TMZ allegedly showing marks where he says Martin scratched him. Martin was being held on a $50,000 bond until she posted bail and was released.
Carter didn't stay silent about the situation for long
Carter stayed a step ahead of it all when he wrote about it on Twitter. He shared the TMZ story about the arrest and he also added a comment: "So sad, ;( I hope she gets the help she needs. No one deserves domestic abuse female OR MALE #DomesticAbuse #Cheater she literally chocked me out…. I'm devastated."
Are Aaron Carter and Melanie Martin back together?
Fans have been speculating about whether or not the two are now back together. Martin has since re-added images of herself and Carter to her Instagram page. They are also both following each other again on social media, whereas they weren't before. In a recent Instagram Live post, you can hear Martin in the background and in another Live post, fans actually saw a glimpse of her.
Carter posted a video recently of some home renovation projects involving his pool. "Home renovations! New pool pumps, hot tubs all new plumbing, landscape, studio and prepping for some big news. So excited for the future and happy to be in the place I am. Xo," Carter captioned the post.
Martin commented on the photo twice with heart emojis, making many fans question what's really going on. What does Carter mean by "some big news?" The facts aren't clear just yet, but it looks like they may be back together if social media can be believed.
Fans react to Melanie Martin's comment on Carter's post
A number of fans commented on the post and some even replied directly to Martin's comment. Some fans think Martin could be pregnant with Carter's child and there's a lot of opinions about it on social media.
People aren't happy with Martin commenting on Carter's post like nothing happened. "When he goes in on you again and degrades you publicly, that humiliation you feel… Just know that you don't deserve it. Hope you get the strength to get out of that situation one day," someone commented.
Fans are confused about what's really going on between the two. "Weren't you just arrested for supposedly beating him up? You both need serious help. For real," another follower wrote.
Fans have a lot of questions about Aaron Carter and whether or not he's back in a relationship with Melanie Martin. Some fans suspect she's pregnant with his child. We will keep you updated on the latest as we hear about it.