Are Any of the BTS Members Related?
The K-Pop idol group has broken out of their home country and is making waves on the music scene. Are any of its members related?
Have you heard of the boy band BTS? The K-Pop idol group has broken out of their home country and is making waves on the music scene all around the world.
Currently, the group is on a world tour that's taking them everywhere from New Jersey to Amsterdam. With their reach extending way beyond South Korea, it's no surprise that they are one of the top Googled boy bands this year!
Now that all eyes are on BTS, the world has some questions about just how close the members of the band are.
Here are the BTS basics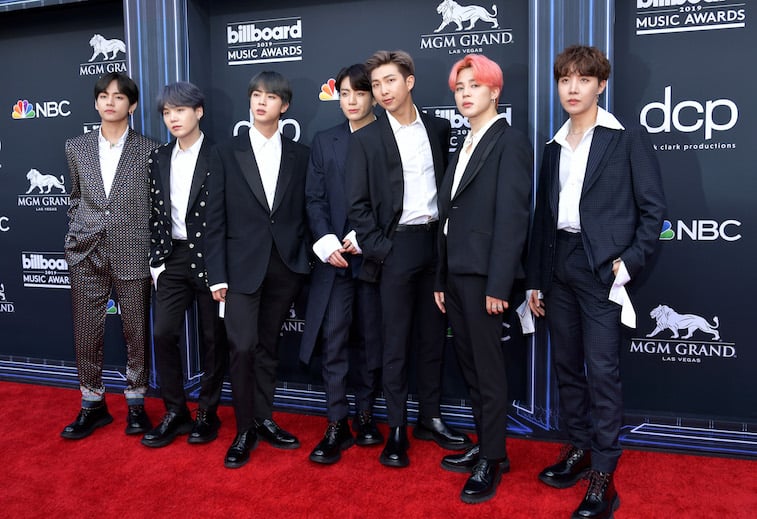 Back in 2010, Big Hit Entertainment launched an audition process to help put together a brand new boy group. After three years of intense training, BTS was born.
When they were first created, their name was an acronym for Bangtan Sonyeodan which basically translated to Bulletproof Boy Scouts. As the group grew, they decided to rebrand their name to mean "Beyond the Scene."
Considering they are now a worldwide phenomenon, its a perfect match!
How is BTS changing the game?
Being the top Googled boy band this year isn't the only thing BTS has going for them! Their extended reach has resulted in them taking the "first" title in a lot of departments. They made SNL history by being the first K-Pop group featured as musical guests on the show.
This triumphant move came just one day after the release of their new EP Map of the Soul: Persona.
In 2017, BTS found itself on six different Billboard charts. They ranked No. 1 on World Albums Artists, No. 2 on World Albums, No. 1 on Social 50 Artists, No. 2 on Top Artists – Duo/Group, No. 32 on Independent Albums, and No. 10 on the Top Artists chart.
In 2018 they made it to No. 8 on Billboard's Top Artist Chart and were No. 2 act of the year for Duo/Groups.
With the group steadily climbing the ranks in Billboard year-end charts, it's no surprise that they are pulling in lots of "firsts." 
Who are the members of BTS?
BTS consists of seven (adorable) members. There's RM, Suga, J-Hope, Jimin, Jin, V, and Jungkook.
RM – Kim Namjoon
24-year-old RM was the very first member scouted by BTW founder Bang Si-hyuk. Before becoming the leader of the popular K-pop group, he was an underground battle rapper. RM is also the only member who is confident in their English speaking abilities.
Amazingly enough, he taught himself what he knows by watching EVERY season of Friends. Talk about impressive.
He's so fluent he was able to give a speech at the U.N. General Assembly last year in support of youth empowerment. 
Suga – Min Yun-Ki
26-year-old Suga is referred to as the grandpa of the group because he always has enlightening words to share! He's often caught talking about mental health, politics, and everything surrounding today's youth.
Just like RM he has his roots in rap but also plays producer! Suga has produced tracks not only for BTS but has assisted on other artists' projects as well.
Oh and in case you were wondering about his name, the moniker was inspired by his time playing basketball. It stands for shooting guard.
J-Hope – Jung Ho-seok
25-year-old J-Hope was initially recognized for his dancing skills. Before going BTS, he was a part of an underground dance crew in Gwangju. Since joining the team, he has worked on expanding his abilities.
Now he doesn't just dance; he raps and writes songs for the group and has even gone as far as putting out his own mixtape, Hope World.
He's optimistic and is all about world peace, perhaps that's why his foray into a solo career managed to break into the Billboard 200. Oh, and he's not the only member to have solo careers either. Both Suga and RM have released their own mixtapes with much success.
Jimin – Park Ji-min
23-year-old Jimin was recruited when he was still in high school! He's known for his dance moves and even studied modern dance when he was younger!
Jimin is full of energy and his friendly attitude really makes him a fan favorite among the ARMY. What's the ARMY? It's the pet name for BTS fans worldwide.
When speaking with Time Jimin said, "When the fans sing along to the songs, that's one of my favorite moments." Isn't he so sweet?
Jin – Kim Seok-jin
26-year-old Jin is known for his singing, but has also been dubbed "Worldwide Handsome." In fact, he's had quite a few "nicknames" in his time thanks to paparazzi snaps going viral.
Since many people didn't know his name but often refer to him because of his dashing good looks…it makes for fun moments that have stuck with him throughout the years!
Jin also has a penchant for food and you can catch him and his bandmates over at his vlog Eat Jin chowing down on some delicious home-cooked meals.  
V – Kim Taehyung
If Jimin is the sweetest member, 23-year-old V is the most mischievous! The young buck has a deep voice and can croon soulful tunes with the best of them.
With a voice that doesn't quite match him with his youthful look, V definitely stands out. He enjoys singing, songwriting, producing, photography and has even done some acting. 
Jungkook – Jeon Jung-kook
21-year-old Jungkook is the baby of the band. Don't let his age fool you. Despite being the baby, the other members regularly commend him for his chops on stage. He's also good at basically everything!
In fact, there were actually several entertainment groups trying to get a hold of him before he signed on with Big Hit Entertainment. Luckily after meeting with RM, he knew BTS was where he wanted to be!
Jung is into photography, sketching, and film-making when he's not performing with his crew.
Are the members of BTS related?
Three members share the same last name, V, Jin, and RM. Despite often referring to each other as brothers, and being so close, the crew actually all hail from different families!
It just so happens that they all have the last name, Kim. Kim is a rather common name in South Korea; it's akin to people sharing the last name Smith or Jones in the U.S.
So while they may not be blood brothers, the crew definitely has a special bond that resonates with fans all over the globe.