Are Beyoncé and Jay-Z Married?
One of the most powerful unions in music (if not THE most powerful) is Beyoncé and Jay-Z. Some almost fear their power and often brings unfounded rumors of them being part of a so-called Illuminati.
While there isn't any evidence of that, Beyoncé and Jay-Z's relationship is one worth analyzing to see how large their influence is. You can start by looking at whether they're really married and how they make their life together work.
Despite some power couples choosing to live in cohabitation, the Carters at least stuck with tradition.
When did Beyoncé and Jay-Z first start dating?
You have to go back 16 years to see when Beyoncé first met Jay-Z. This is back to Bey's Destiny's Child days and when Jay-Z was already an established rap superstar.
If you remember your MTV history, you may recall when they went public with their relationship on an episode of TRL. They were just collaborating at the time, though it was clear something more was going on.
Some people think this is the only relationship Beyoncé ever had or anyone cared about. She had one serious boyfriend named Lyndell Locke for six years prior. They both met in high school and stayed in a relationship until 2000 when he reportedly cheated on her.
Six years of dating before marriage
After Jay-Z bonded with Beyoncé, she wisely didn't rush into marriage. They took things slow and dated six years before they officially tied the knot.
Their marriage in 2008 didn't receive a huge amount of brouhaha, but they did officially sign a marriage certificate. According to People at the time, the couple barely missed a penalty for filing their certificate in New York five days after the ceremony took place.
Considering so many failed marriages in the music industry had occurred by this time, you have to give Bey and Jay-Z credit for having a traditional marriage. Inevitably, though, they'd find rough patches.
Jay-Z's affair after having their first child
The best thing that could have happened to the Carters is having children. When Jay-Z was rumored to have had an affair (and fought with Beyoncé's sister, Solange Knowles, over it in an elevator), many thought the marriage was on the rocks.
They had their first daughter, Blue Ivy, by the time the affair occurred. Pressures of the music industry, though, were possibly to blame. All we ever knew for sure is Jay-Z offhandedly admitted to "Becky with the good hair" in his album 4:44.
To this day, we've never known who that was and what the details were. One thing we did learn is they seemed to work out the infidelity through their music. Beyoncé offered this through her form of primal scream therapy in her album masterpiece Lemonade.
The two did have marriage therapy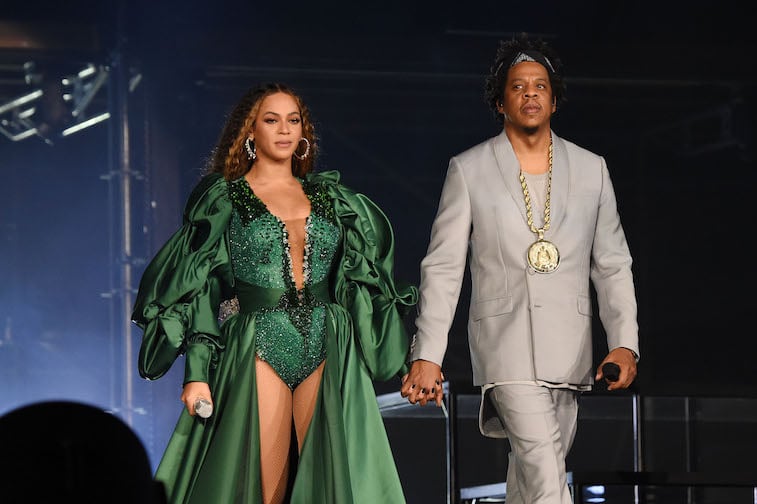 Even if it's exciting to think they worked out their marriage problems on their own by writing personalized songs, Jay-Z did reveal to the media he learned a lot in marriage therapy. One notable thing was scoping out toxic masculinity and how men shouldn't be afraid to open up their emotions.
Having twins after this occurred also made their family bonds stronger. Things have seemed stable ever since, including recurring pictures of the entire family going on tour together.
Spending as much time together as possible seems like the antidote to never drifting apart again. Plus, it helps Beyoncé and Jay-Z enjoy working together and creating a joint tour so they aren't out on the road separately.
They've more or less created a useful template for marriage when at the very top in the entertainment industry. Being equals rather than separate competitors is possibly the real answer to all those delving into showbiz matrimony.