Are Blake Shelton And Gwen Stefani Moving To His Ranch In Oklahoma?
Gwen Stefani and Blake Shelton are not afraid of a little country living. Whenever they are tired of the bright lights of Hollywood, the couple jets off to Shelton's sprawling ranch in Oklahoma and seem to enjoy exploring the land. Although Stefani has spent a lot of time on Shelton's ranch, is the No Doubt frontwoman ready to make a permanent move to Oklahoma?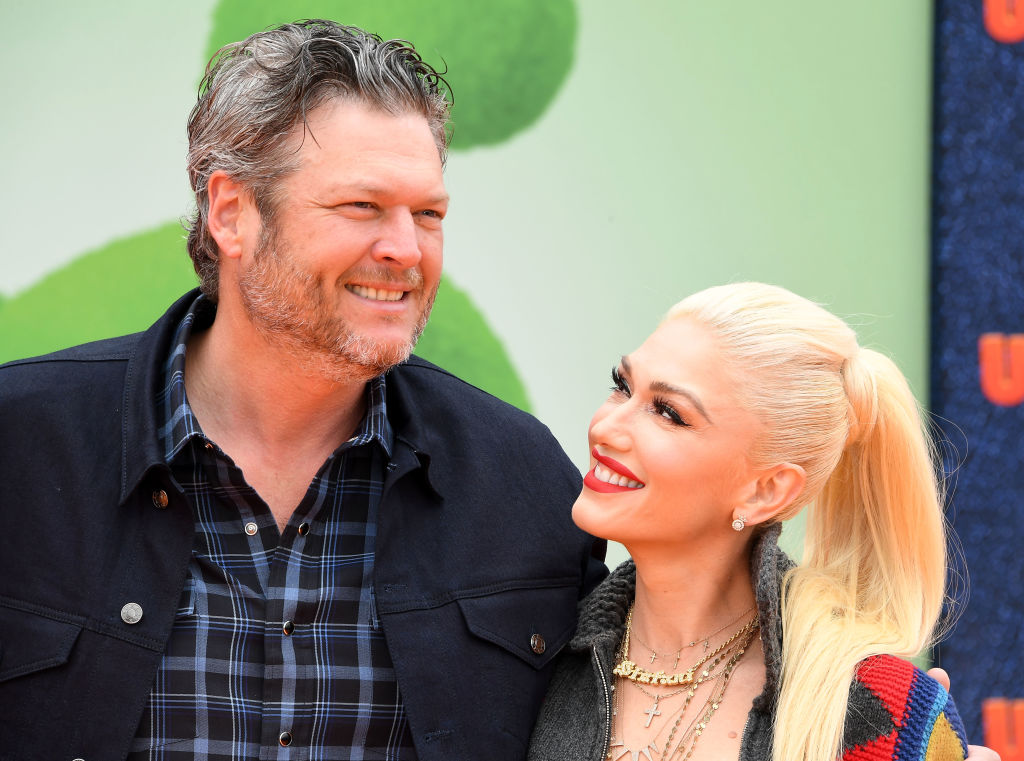 City vs. country life
Between his career in country music to starring on The Voice, Blake Shelton spends a lot of time in Los Angeles every year. When he is in the city, Shelton and Stefani are all about spending time with her three boys: Kingston, Zuma, and Apollo. They are also frequently spotted going to Stefani's church in Los Angeles as well as taking trips to visit her parents. With no children of his own, Shelton does not seem to mind playing the part of step-dad.
When the couple ventures out to the country, their schedule is just as busy. According to Us Magazine, Shelton loves taking the boys to his ranch, where they explore the countryside and get in some hunting and fishing. Stefani also appears to enjoy life in Oklahoma and often updates fans with some pics from her visits to Blake Shelton's ranch.
"Blake loves getting dirty with the boys. They're always playing basketball or running around," a source dished. "They love it there because it's just the five of them out on the land, hunting or hiking."
Blake Shelton was made for the country
Although he spends a lot of time in Los Angeles, Shelton feels most at home in Oklahoma. The "Gods Country" singer recently shared some photos of his latest project on the ranch, which is an adorable flower garden for Stefani.
The country crooner tagged Stefani in the post, and she responded by expressing her thanks for everything he does. The back and forth naturally sparked speculation about a potential move to Oklahoma, something Stefani has yet to address.
"@blakeshelton how am I so blessed ??? #iloveyou #GodsCountry," Stefani wrote.
Shelton loved squaring off a gardening space for Stefani, but the work did not go as smoothly as planned. The Voice star spent some of his time away from the set hunting for mushrooms, but he ended up getting stung by wasps, uncovering a rattlesnake, and fighting heat exhaustion before he came across his first morel.
After the mushroom and gardening ventures, Blake Shelton headed back to Los Angeles to finish filming the latest season of The Voice, so at least his suffering wasn't prolonged.
Gwen Stefani vacations in Oklahoma
Over the course of their three-year relationship, Stefani has made several trips to Shelton's ranch. A few months ago, Stefani vacationed on Oklahoma and took all three of her children with her. Stefani shared multiple photos from the trip on social media, including pics of her hiking, fishing, and donning some amazing camouflage. For his part, Shelton enjoyed some time with Stefani's youngest boy, Apollo, whom he helped reel in a small fish.
With their romance still going strong, many fans are wondering when Stefani and Shelton will finally tie the knot. Inside sources claim that the two are ready to take things to the next level but are waiting for her first marriage to Gavin Rossdale to be annulled.
Stefani is a very religious person and does not want to exchange vows until the Catholic Church gives her permission to proceed. Blake Shelton completely understands where Stefani is coming from and is in no rush to walk down the aisle.
Will Stefani move to Oklahoma?
The biggest question of course, is whether or not Stefani is willing to make the move to Oklahoma. Unfortunately, the pop star has not said anything about making the move, so it is difficult to tell what they will do once they get hitched.
Given how Stefani is rooted in Los Angeles, it is difficult to see her relocating the boys to an entirely differently state. Shelton has a similar problem as long as he is a part of The Voice. That said, Stefani and the kids clearly love spending time in Oklahoma, so it is not completely out of the question.
Until they reveal something official, Blake Shelton and Gwen Stefani will continue to split their time between Oklahoma and Los Angeles, which seems to be working out just fine.