Are Cardi B and Offset Still Married?
Few people know how to make a headline like Cardi B. From teaming up with politicians to getting into fights with other artists, Cardi B has been all over the place lately in one form or another.
But one thing people are never quite sure about is her relationship status. She's been in an on-again-off-again relationship for years with Migos rapper Offset. The two got married in 2017, but are they still married today?
Cardi B and Offset had a secret wedding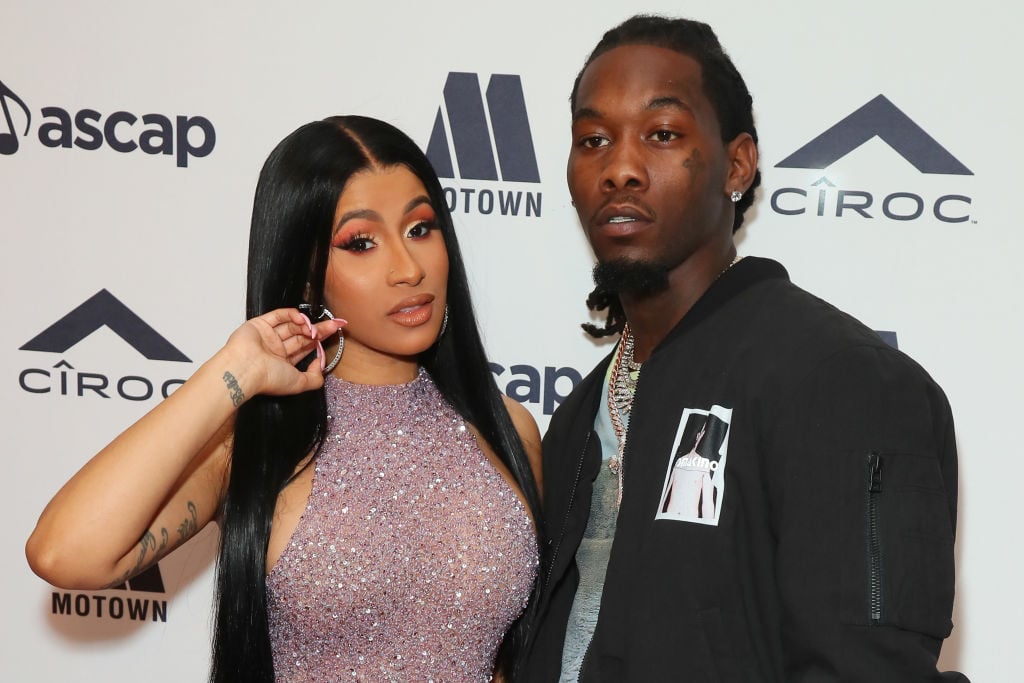 The 2017 calendar year was Cardi B's breakout year. It was when her hit song "Bodak Yellow" was all over the radio. The song received two Grammy nominations and won Single of the Year at the 2017 BET Hip Hop Awards.
But 2017 wasn't only a big year for her career-wise. She began dating Offset at the beginning of 2017 and the pair got engaged that fall.
In 2018, Cardi B announced on Saturday Night Live that she was pregnant and expecting Offset's child. Shortly after dropping that news, it was uncovered that the couple had actually gotten married in September of 2017 in a secret wedding in their bedroom.
After seeing headlines and hearing people talking about the news, Cardi B confirmed the news in a post on Instagram. She admitted that they had been married for almost a year, but had kept it a secret from the public. She stated that "there are moments that I want to keep to myself" and that getting married was "one of those moments."
What's happened between Cardi B and Offset since then?
Since then, Cardi B has given birth to their daughter, Kulture Kiari Cephus, who has meant the world to both of them. Unfortunately, Kulture's arrival into the family didn't mark a drama-free year like most new parents would hope for.
Cardi B got into a heated ongoing fight with fellow artist Nicki Minaj. Additionally, Offset was charged with felony weapon possession during a traffic stop. 
Cardi B then took to Instagram in December to announce that the pair had split up. Stating that they had simply grown apart over the previous few months, she said that she would always love him as Kulture's father but they had decided to move forward with divorce proceedings.
Offset then took to his own social media and posted a video apologizing for his behavior that had led to the break-up, calling himself a "selfish and messed-up husband." Offset later showed up to one of Cardi's concerts with a huge cake reading "TAKE ME BACK CARDI" and a giant bouquet of flowers in order to try to convince Cardi of a reconciliation. She had the cake and flowers removed from the stage and continued the concert.
Offset has been accused of cheating, again
Offset was accused of hitting on Tekashi 6ix9ine's girlfriend, Jade, by sending her a flirty DM on Instagram. Jade shared a video of opening a message from Offset's account reading: "Miss u fr [for real]."
Jade captioned her video with: "Your wife @iamcardib has a OPEN CRIMINAL CASE , why are you writing me you don't respect her ??????? Theirs a lot of s— I haven't exposed yet , but there's a time for that 😭😭😭🌈 I'm the QUEEN 👑 of talking s— now I'm backing it up 🎼😂🤡," she wrote beside the video.
Cardi B took to her social media account to defend Offset. It's clear the rapper doesn't believe the accusations against Offset.
"Babe, I know you done some dumb s—, everybody know he's done some dumb s—, but c'mon, n—s ain't dumb, n—s ain't crazy," she said.
"We've been so good, we had a sweet weekend, life has been good," continued Cardi B. "That's why I ain't getting no rowdy. Simple as that. Okay, love you guys."
Are Cardi B and Offset together today?
When the 2019 Grammys came around in February, the pair were clearly back together. Cardi B even thanked Offset during her acceptance speech for Best Rap Album. She said that he was the one encouraging her to finish the album, telling her repeatedly that she would be able to do it all, from finishing her album to giving birth to their daughter. And she did.
Fast forward to just a couple of months ago, and Cardi B had posted an anniversary shout-out to Offset on Instagram, saying that marriage is about learning and growing, and that's apparently what they've been doing during their on-again-off-again relationship. Cardi B and Offset are still married and never actually went through with their divorce.
While the current accusations are still fresh, Cardi B's support for Offset suggests this allegation isn't going to split the pair up.