Are Carmelo Anthony and La La Anthony Still Married?
Find out the marriage status of Carmelo Anthony and wife Lala.
Carmelo Anthony and La La Anthony had some very public disputes in their marriage that threatened to tear them apart. However, even after all the drama became public, the pair seemed to be working things out.
Fans may be wondering where things stand for the power couple these days. As it turns out, there are definitely ongoing developments in the state of their relationship. Here's what we know. 
The Anthonys have been together for more than a decade
Carmelo and La La met in 2003. They were introduced to one another by a mutual friend.
At the time, they were both early in their respective careers but clearly on separate paths for success. La La was co-hosting MTV's Total Request Live, and Carmelo was transitioning from college to professional sports, getting drafted to the Denver Nuggets.
The relationship progressed quickly: They were engaged on Christmas Day in 2004.
Despite the quick move into engagement, the pair did not get married for quite some time. They had their son, Kiyan, in 2007. Three years later, wedding bells finally rang as Carmelo and La La made it official in July 2010. The event was huge and included guests like Kim Kardashian, LeBron James, and Justin Timberlake. 
Less than a year later, Carmelo was traded to the Knicks, and the family returned to their New York roots where they would remain — despite some challenging times for the Knicks as a team and Carmelo as an individual athlete — for several years. 
Infidelity and instability threatened their relationship
Throughout their time together, the marriage was barraged with rumors of infidelity. Once called "New York's first couple," the Anthonys struggled to cope with the reports that Carmelo had been unfaithful.
In 2012, a 19-year-old woman claimed to have had a two-month relationship with Carmelo after he messaged her on Twitter. 
For her part, La La also faced rumors of cheating herself. She was accused of having an affair with rapper Maino and her potential infidelity was also the source of some heated words between Carmelo and fellow NBA player Kevin Garnett.
In 2017, rumors surfaced that Carmelo had not only been unfaithful again but that he had also fathered a child with the other woman. This looked like the end for the couple. 
On top of all of that, Carmelo's career grew increasingly uncertain. It was clear that he wouldn't remain on the Knicks for much longer, but he didn't want to uproot his family. When the news came in 2017 that he had been traded to the Oklahoma City Thunder, it became one more obstacle for an already stumbling marriage. 
Carmelo and LaLa Anthony have a history of breaking up and making up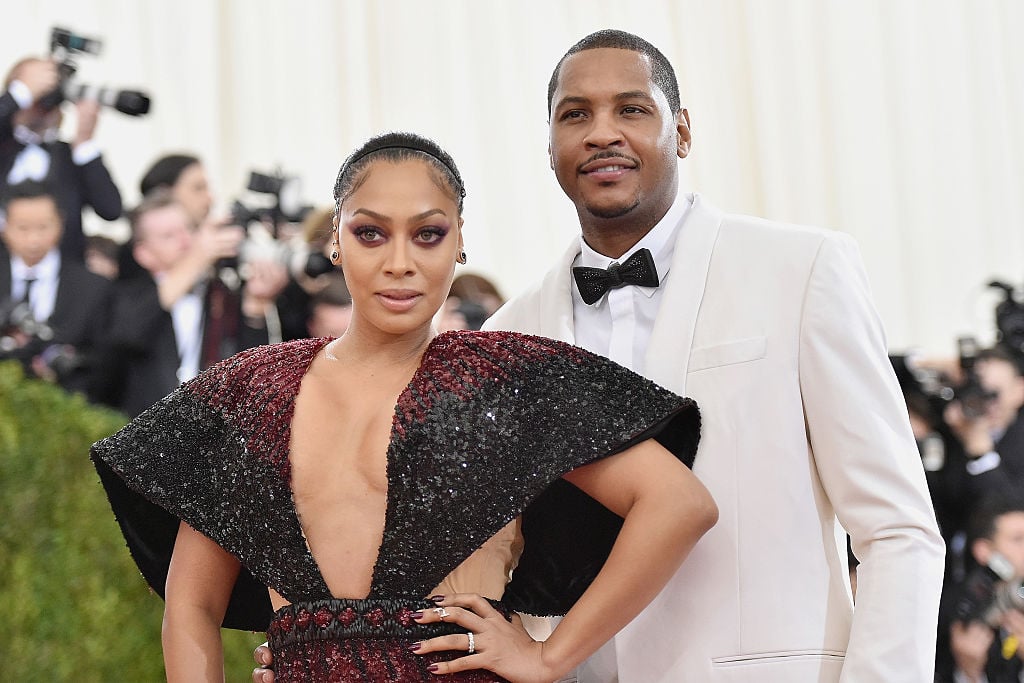 While it certainly seemed like the situation was dire for the Anthonys, it wouldn't be the first storm they had weathered together. They had broken up in the past and then gotten back together. 
Carmelo's career, like his marriage, continued to take some twists and turns. He was only in Oklahoma a single season before moving on to the Houston Rockets in 2018. Then he moved again in 2019, making an impressive debut with the Portland Trail Blazers. 
His new role in Portland prompted La La to create a heartwarming and supportive post.
She also was in the stands for the November 25 Trail Blazers game where Carmelo moved up to the 18th spot for overall career points scored. She adorably Facetimed their son so he could watch the historic moment live. 
These touching moments had many fans speculating they may have once again managed to patch things up in their relationship. Unfortunately, that doesn't seem to be the case.  For one thing, La La is not wearing her wedding ring. For another, reports say that she is moving forward with official divorce proceedings. 
After so many ups and downs, it seems the pair may finally be calling it quits, but only time will tell for sure.