Fans Think 1 Duggar Is More 'Brainwashed' Than the Rest
It's hard to deny that the Duggars live a very different life from most Americans. And the kids were raised the way they are thanks to the rules and regulations of Jim Bob Duggar, their father. Fans think that for the most part, all of the kids are exactly like their parents, yet they still believe some are more brainwashed than others.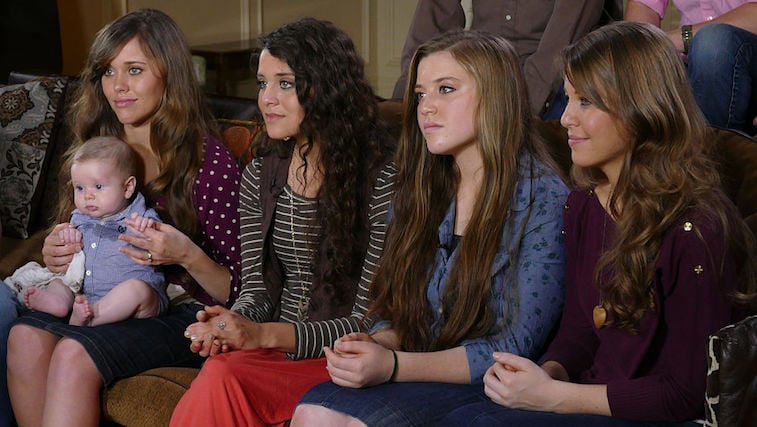 Jim Bob Duggar raised his kids with very strict rules and beliefs
The Duggars first got a TLC show because of the size of their family. However, they didn't have 19 children because they wanted so many. They had 19 children because they believe that's how many kids God wanted to give them. Jim Bob and his wife, Michelle, are very religious. They only believe in what God deems appropriate, so they don't allow their kids to have premarital sex or show any intimacy prior to being married. (The kids are only allowed to give side hugs while courting.) The family also doesn't believe in things such as gay marriage and abortion, since Christianity frowns upon both. In addition to the large family, part of the reason the Duggars have their own show is because they have such a strict set of family rules. The women can only wear skirts, and they aren't allowed to dance or listen to modern day music.
Some fans think Jana and Jessa are more like their father than the others
Now that the Duggar children have started to grow up, we've been able to see whether they live their lives the same way their parents did. Seven of the Duggar children are married, and six of them have children of their own. Reddit users opened up a discussion about which Duggar they think is the most "brainwashed" … Meaning, the most likely to stick with Jim Bob's strict set of rules.
Several users agreed that Jana is very much like her father. Their reasoning was that she is almost 30 years old, and despite being unmarried, still lives under her parents' roof. People thought Jana would have wanted to live her own life and have moved out by now, but she still shares a room with her younger sisters. On the other hand, people feel that Jessa is also living just like her parents. She's had three children in five years, and she seems very content being a stay-at-home-mom and taking care of her children.
People think Jinger is the most rebellious Duggar
When it comes to the least-brainwashed Duggars, fans feel that Jinger is the least likely to follow her parents' rules. Once she married Jeremy and moved out, she began wearing pants and tank tops; she's even been spotted in shorts. She and Jeremy also recently moved to Los Angeles, which is widely known to be a very liberal city.
On the contrary, some believe that the least-religious Duggar is Josh without a doubt. This makes sense, since Josh has actually committed some very unholy crimes growing up. He was at the center of a sexual abuse scandal that took place in the early 2000s (though it wasn't leaked until 2015). He also admitted to having an addiction to pornography and creating multiple Ashley Madison accounts to cheat on his wife.
Check out Showbiz Cheat Sheet on Facebook!